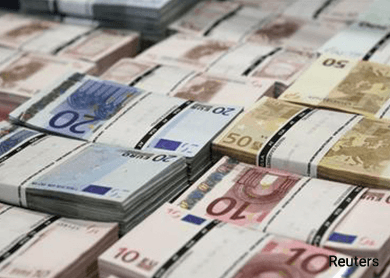 LONDON (Feb 7): Beset by political worries, the euro was set for its biggest daily fall of 2017 on Tuesday against a broadly stronger US dollar.
The single currency shed 0.8% against the US dollar, with investors fearing far-right, eurosceptic candidate Marine Le Pen was gaining momentum before France's presidential election.
The cost of hedging volatility in the single currency against the dollar around the time of the final French vote on May 7 rose to its highest in over a week.
Elections in the Netherlands, Germany and possibly Italy, more wrangling over Greece's bailout and an upcoming reduction in the European Central Bank's monthly bond-buying volumes are also playing on investor nerves, analysts said.
The US dollar itself, recovering from its worst start to a year in three decades, gained against a basket of other currencies, rising 0.7%. It was on track for its biggest daily gain since early January.
That strengthening accelerated after China reported its foreign exchange reserves unexpectedly fell below US$3 trillion level in January for the first time in nearly six years.
"The euro is on the defensive with markets nervous not only about European political risks but also the upcoming reduction in ECB bond purchases," said Jeremy Stretch, head of currency strategy at CIBC.
"All in all its been a virtuous tailwind for the US dollar this morning and there is also fear of capital flight (from China) which is feeding safe-haven flows."
The Japanese yen gave up earlier gains against the US dollar and at 0900GMT was down 0.4% at 112.12 yen to the US dollar.
The British pound fell as much as 0.9% to US$1.2347, its lowest in two weeks, although it was steady against the euro at 86.24 pence
The Australian dollar shed 0.5% to US$0.7621, after the Reserve Bank of Australia left interest rates unchanged. The New Zealand dollar dropped 0.3% to US$0.7303.
On the data front, analysts said US trade numbers due later on Tuesday could help determine the future direction of the US dollar.
Widespread predictions late last year that the US dollar would gain in early 2017 were upset by a combination of worries over US President Donald Trump's protectionist bent and hints he would prefer a weaker currency.
"With the protectionist trade stance the United States is seemingly poised to adopt now a key market theme, the December US trade data due later today garners attention," said Masafumi Yamamoto, chief FX strategist at Mizuho Securities in Tokyo.
"A trade deficit that exceeds forecasts would weigh on the (US) dollar by raising caution in the market towards top US officials, who may speak out against perceived (US) dollar strength."