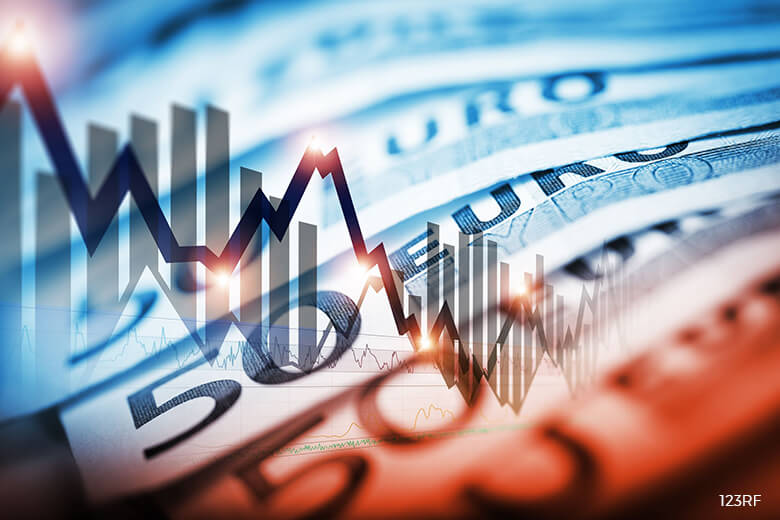 LONDON (April 6): The euro hit a three-week low on Thursday after the head of the European Central Bank said he saw no need to deviate from the ECB's policy path, which includes record-low interest rates and bond-buying until at least the end of the year.
The single currency had jumped above US$1.09 in March for the first time since early November, after ECB chief Mario Draghi signalled a diminishing urgency for expansionary policy, with investors moving to price in a chance of an interest rate hike in early 2018.
But ECB policymakers have since indicated that markets moved too far in pricing in policy tightening.
Draghi continued in that vein on Thursday, saying that before altering its policy stance, the ECB must have sufficient confidence that inflation would return to target over a medium-term horizon, even when the central bank's expansionary policy was scaled back.
The euro, which had been trading slightly up on the day, fell after Draghi's comments, hitting a three-week low of US$1.0629, leaving it down 0.2% on the day.
"Draghi made it very clear that he's not intending any change in the forward guidance, that policy still needs to remain expansionary for a very long time, and the more positive outlook depends on this expansionary stance," said Commerzbank currency strategist Esther Reichelt, in Frankfurt.
The US dollar benefited from the euro's weakness, edging up 0.1% against a basket of major currencies.
It had risen to a three-week high of 100.850 overnight on an upbeat ADP report on US private-sector employment.
But the currency fell from the three-week high despite hawkish-sounding minutes from the latest US Federal Reserve meeting, which showed most policymakers think the Fed should begin trimming its US$4.5 trillion balance sheet later this year and was on track for two more interest rate hikes in 2017.
Against the yen the US dollar traded down 0.2% to 110.53 yen, staying weak against the safe-haven Japanese currency because of caution over an impending US-China summit and wider geopolitical concerns.
"Although the contents of the Fed minutes should have been supportive for the dollar, it was dragged down by ensuing price action in other markets, which saw equities react negatively to the minutes and Treasury yields fall," said Shusuke Yamada, senior strategist at Bank of America Merrill Lynch in Tokyo.
"Geopolitical risks are also weighing on the dollar. The market is only starting to factor in recent developments regarding North Korea, and it now wants to figure out the geopolitical implications of the US-China summit," he said.
Regional tensions have risen after North Korea test-fired a ballistic missile on Wednesday, just a day before a summit between US President Donald Trump and Chinese President Xi Jinping, where North Korea's arms development drive will take centre stage.