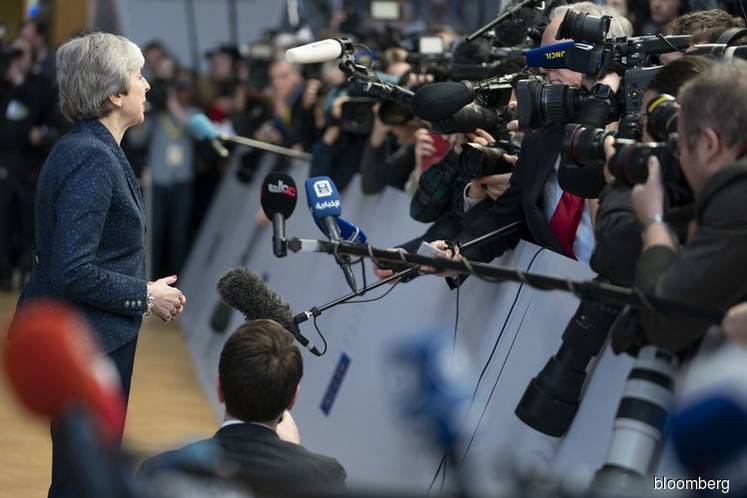 (March 22): European leaders maneuvered to stop a chaotic no-deal Brexit happening next week, handing the U.K. an extra two weeks to try to figure out a way forward. The cliff-edge that investors were dreading has been postponed -- but only until April 12.
Key Developments:
EU leaders offer an unconditional extension of the Brexit day deadline to April 12, according to a communique and officials from member states who briefed reporters April 12 is cut-off because that's when U.K. has to decide whether to take part in EU elections EU is increasingly worried about avoiding the blame of a no-deal scenario May told leaders she still thinks she can get her deal passed; that was met with skepticism
Read More: Europeans Lose Faith in Britain's Unpredictable Leader
EU Proposes Delaying Brexit to April 12, Draft Says (9:38 p.m.)
EU leaders propose extending Brexit day to April 12 unconditionally, according to a draft summit communique. This would remove the immediate threat of a no-deal Brexit.
The proposal sets a deadline of May 22 for membership to continue -- but this extension depends on May's deal getting through Parliament.
The move will be welcomed by markets, which were preparing for the prospect of a no-deal exit on March 29.
The Latest Idea to Avoid No-Deal Next Week (9 p.m.)
The latest idea discussed among EU leaders is still taking a cliff-edge off the table next week, but it's less ambitious than the previous plan, according to an official familiar with the matter. This plan would give Theresa May an extension until April 11 -- unconditionally, so even if the vote on the Withdrawal Agreement next week is rejected.
If the deal is approved, the extension would run until May 22, to allow enough time for its implementation. The latest plan is still not final as discussions among leaders continue.
May Said to Tell Leaders Deal Would've Gone Through (8 p.m.)
May told fellow leaders that her deal would have been approved by Parliament if the speaker, John Bercow, had not scuppered her plan to bring it back for a third vote, according to an EU official.
She told them she was confident she could still get the agreement through Parliament, the official said. This was met with skepticism in the room, the official said.
EU Said to Mull an Unconditional Delay (7:50 p.m.)
EU leaders are now considering granting an extension through May 7, irrespective of whether the House of Commons manages to approve Withdrawal Agreement by next week, according to people familiar with the matter. It was Macron's idea, according to one of them.
The U.K. Parliament would have to decide on whether to accept the withdrawal agreement or notify the EU by April 11 that it needs a longer extension -- that's the cut-off for deciding whether to take part in European elections.
If the U.K. Parliament doesn't approve withdrawal agreement and the government doesn't ask for a longer extension, then it will exit the EU without a deal on May 7.
Leaders Haggle Over How Short is Short (7 p.m.)
Tusk's plan to offer U.K a short conditional extension until May 22 is meeting resistance among some leaders. According to two familiar with the discussion, the reference to May 22 from the draft communique may be removed. One of the people said that it may be replaced with an earlier date, May 7, while a third official said leaders are debating every single element of the draft communique.
No date may be set for the short extension, a fourth official said.
EU Said to Mull Nine-Month Delay if Deal Defeated (6:30 p.m.)
The EU is considering persuading the U.K. to extend Brexit by nine months if the British Parliament defeats May's deal next week, according to a person familiar with the discussions. Leaders would probably return to Brussels in the second half of next week and tell May that the only options left are either a lengthy extension or no deal.
The EU doesn't want to be blamed for a no-deal Brexit so leaders would try to convince May to accept the plan. She and the 27 other leaders would have to be on board.
The EU thinks May would then have to go back to Parliament to get approval after the summit, the person said.
Leaders are still talking -- they've been in for more than three hours already but only half of them have had their turn to speak, according to the person. They're already discussing what to do if her deal is rejected again next week. It's expected to go on late.
May Spoke for 1.5 Hours With Sore Throat (5:10 p.m.)
May spent about an hour and a half in the summit room trying to persuade her counterparts to give her the short extension until June 30 that she wants, one official said. That's the longest time she's spent talking to leaders on Brexit since negotiations started in 2017.
The prime minister is still struggling with a sore throat that last week forced her to pull out of a speech in Parliament.
Now each of the 27 leaders is due to open an envelope containing the draft Brexit statement that they'll publish at the end of the summit, written in English and their own language. Usually the draft has gone through several revisions by diplomats in the days before the meeting. But this has been kept tight after early versions of a text were leaked at the December summit.
Each of the 27 leaders is due to speak for a few minutes and then work will begin on a final version of the statement, which will take a total of about four hours, the official said. Then May will be briefed on their decision, either in the room full of leaders or just by Tusk. The final statement will set out the leaders' approach to May's request for a short extension and confirm their support for the reassurances she won on the Irish backstop.
Tusk Proposes Conditional Delay to May 22 (4:55 p.m.)
Donald Tusk proposed the EU grants a Brexit extension until May 22, but only if the U.K. Parliament approves the deal by next week, according to a draft statement discussed by European leaders and seen by Bloomberg.
The discussion among leaders is ongoing, and the end-date for the conditional short extension could change in the final communique. The proposal confirms that May's request for an extension that lasts until June 30 is on course to be rejected.
Macron and May Failed to Meet (4:15 p.m.)
French President Emmanuel Macron, who's taking the hardest line against the British at the summit, failed to hold a meeting with May at the summit as expected, according to officials on both sides. The timing didn't work out, and they will try again later, May's spokeswoman and an official on the French side said.
EU Leaders Resist May's June 30 Extension (3:10 p.m.)
May's request for an extension until June 30 met with resistance even before she had the chance to present her case to her European counterparts in Brussels.
In comments to reporters as they arrived at the summit, EU leaders including Luxembourg's Prime Minister and Austria's Chancellor cited insurmountable legal obstacles to a delay beyond the European Parliament elections in May.
Crucially, leaders including EU Commission President EU Commission President Jean-Claude Juncker, and French President Emmanuel Macron, said failure to ratify the deal struck last November could lead to a hard, no-deal Brexit after an emergency summit to be held in Brussels next week.
Barnier: We Have Done Our Best (2:30 p.m.)
The EU's chief Brexit negotiator Michel Barnier said extending the deadline "should be conditional on" Parliament voting for May's agreement next week. "We have done our best," he said as he arrived at the summit. The answer now lies in London, he added.
Macron: Failure to Ratify Deal Means Hard Brexit (1:50 p.m.)
French President Emmanuel Macron said another failure by the U.K. Parliament to back Theresa May's Brexit dealt "will guide everyone to a hard exit." France is ready for such a scenario, he told reporters in Brussels. Any delay to the process must be "technical" and the current situation can't be extended, he said.
Juncker Says Ready for Another Summit Next Week (1:50 p.m.)
European Commission President Jean-Claude Juncker said if Parliament doesn't back May's deal then there will be another summit next week.
"I would like the British Parliament to approve what Mrs May and I agreed, last week it was I think, in Strasbourg," Juncker said. "I didn't know my patience could last this long."
Merkel Vows to Keep Pushing for Orderly Exit (1:40 p.m.)
Merkel told reporters she'll keep pushing for an agreement, and said there's still hope that May's deal gets approved next week.
"We must proceed with caution and, above all, until the last hour, do everything possible to ensure that Britain can leave the European Union in an orderly way," she said.
Business Says U.K. Faces 'National Emergency' (1:15 p.m.)
The country's biggest business lobby and an umbrella group of labor unions have written to Theresa May to say the U.K. is "facing a national emergency."
Confederation of British Industry Director General Carolyn Fairbairn and Trades Union Congress General Secretary Frances O'Grady requested an "urgent meeting" with the premier, saying that avoiding a no-deal outcome is "paramount" and securing an extension to the process is "essential."
"Our country is facing a national emergency," they wrote. "Decisions of recent days have caused the risk of no deal to soar. Firms and communities across the U.K. are not ready for this outcome. The shock to our economy would be felt for generations to come."
They urged May to abandon the idea that the choice is her Brexit deal or no deal, saying a Plan B "must be found" that protects workers, the economy, keeps an open border with Ireland and can be supported by both the EU and Parliament. "A new approach is needed to secure this," they said. "Whether through indicative votes or another mechanism for compromise."
Sweden Says Delay Hinges on U.K. Passing Deal (1:15 p.m.)
Swedish Prime Minister Stefan Lofven said the EU will accept a short Brexit extension as long as British lawmakers ratify the divorce deal.
"We believe it's very important that the House of Commons actually agrees on the agreement we have, then we can talk extension," he said in Brussels ahead of the EU summit.
May Still Hopes to Leave With a Deal (12:56 p.m.)
As she arrived at the EU summit in Brussels, May said she still hopes to leave the EU with a deal, but suggested the U.K. will exit without one if Parliament can't reach an agreement. A short Brexit extension will give lawmakers a "final choice" to leave the EU "in an orderly way," she told television crews.
"What's important is that Parliament delivers on the result of the referendum and that we deliver Brexit for the British people," she said. "I sincerely hope that we can do that with a deal."
She added: "We are nearly three years on from the original vote. It is now the time for Parliament to decide."
Petition to Cancel Brexit Gathers Pace (12:55 p.m.)
More than 800,000 people signed an online petition urging the government to cancel Brexit, with support rocketing in the wake of Theresa May's statement on Wednesday. Parliament's petitions website repeatedly crashed as the number of signatures shot up -- fueled by endorsements from singer Annie Lennox, actor Hugh Grant, science broadcaster Brian Cox and comedian David Mitchell.
Read more: Petition to Cancel Brexit Attracts More Than 800,000 Signatures
May's Statement Angers MPs (12:50 p.m.)
Theresa May's attempt to blame Parliament for her Brexit problems has upset the very MPs whose votes she needs to win. Labour's John Cryer, a euroskeptic, told the House of Commons it was "one of the most contemptuous statements that I've ever heard."
Conservative Sam Gyimah told the BBC: "Democracy loses when a prime minister who set herself against the House of Commons and then blames MPs for doing their job." He added that colleagues were already receiving death threats. In response, May's spokeswoman Alison Donnelly told reporters she would "flatly reject'' the idea that the prime minister's comments had put MPs in danger.
Speaker of the House of Commons John Bercow made his own intervention, telling the chamber: "None of you is a traitor. All of you are doing your best."
Varadkar Offers May Hope (12:20 p.m.)
Irish Prime Minister Leo Varadkar continued his softly-softly approach, seeking to aid Theresa May's efforts to steer a way through Brexit. He told reporters in Brussels that there's an openness "across the board" to extending the Brexit process. "Everybody wants to avoid a no-deal," he said.
No-Deal Risk Suddenly Alive for Traders (12 p.m.)
Pound investors are ripping up their playbooks as the chance of a no-deal Brexit flares again. According to Rabobank, there's a 40-50 percent chance of the U.K. leaving the EU without an agreement and option traders are betting on further losses in the currency. The pound fell as much as 0.7 percent today.
Read more: No-Deal Brexit Possibility Suddenly Comes Alive for the Markets
Leadsom: Can't Legislate to Stop No-Deal Brexit (11:30 a.m.)
Leader of the House of Commons Andrea Leadsom told lawmakers it isn't possible to pass a law to rule out a no-deal Brexit.
"You can't legislate to take no deal off the table," Leadsom said. "This House has already rejected a customs union, a second referendum, a no-deal Brexit; it's rejected the prime minister's deal. The House has said a lot about what it doesn't want to do. What it needs to do is to say what it does want to do."
She also urged MPs to back the prime minister's deal -- which she said "really is having our cake and eating it."
Leadsom: Government to Put Deal to Another Vote (11:10 a.m.)
Leader of the House of Commons Andrea Leadsom confirmed to lawmakers that on Monday there will be a debate on an amendable motion on Brexit, and that the government still intends to put its Brexit deal to a third meaningful vote.
She said the timing of that will be subject to the outcome of this week's EU summit, and that she'll make a further timetabling statement when she is able.
DUP Not Yet Persuaded to Back May's Deal (11 a.m.)
DUP Brexit spokesman Sammy Wilson suggested Theresa May's effort to win the party's support for her Brexit deal are bearing little fruit. He told RTE radio that the Northern Irish party -- which props up May's government -- is no closer to backing the agreement, and said the prime minister is trying to shift the blame to politicians for her failure to win Parliament's support.
Verhofstadt: Impossible to Extend Beyond May 23 (10:30 a.m.)
European Parliament Brexit coordinator Guy Verhofstadt said the view of the assembly is that any extension of the Brexit process should not go beyond the bloc's legislative elections slated for May 23-26.
"The message of the European Parliament is that it's impossible to have an extension beyond May 23," Verhofstadt told reporters in Brussels on Thursday. A delay later than the European Union ballot "that would create an enormous problem," he said.
"It's time we conclude this whole negotiation," Verhofstadt said. "We don't want in the coming months, coming years to be busy with Brexit; we want to be busy with the renewal of the European Union."
Merkel Opens Door to May's Delay (Earlier)
German Chancellor Angela Merkel indicated she's ready to support Theresa May's request to delay the U.K.'s departure from the European Union, vowing to fight to avoid a no-deal Brexit.
"We will do everything we can in the few remaining days to make sure we achieve an orderly Brexit," Merkel said in a speech to Germany's lower house of parliament.
Read more: Merkel Opens Door to May's Delay to Fight No-Deal Brexit
Hunt Defends May's Tone (Earlier)
Foreign Secretary Jeremy Hunt said May's statement Wednesday night reflected her "frustration" at the Brexit process, adding that members of Parliament need to get behind her deal or face "extreme unpredictability."
"We should not forget the extreme pressure she's been under and she does feel a sense of frustration," Hunt said in a BBC radio interview. "No prime minister in recent years has been tested in the way she has."
Options are limited if Parliament refuses to ratify the Brexit deal this week, Hunt said. MPs could vote to revoke Article 50, the EU could grant an extension with conditions attached, or there could be a no-deal Brexit. "So the choice that we have now is one of resolving this issue or extreme unpredictability," he said.
Hunt also said politicians in a hung Parliament "have a special responsibility, because a decision cannot happen without Parliament giving it approval." The comment was quickly criticized by lawmakers on Twitter.
Earlier:
Brexit Standoff Takes U.K. to Edge of No-Deal as May Seeks Delay What Next in Brexit? Two Cliff-Edges and a Summit: The Timeline Brexit Bulletin: Over to EU Brexit Deadlock Sparks Renewed No-Deal Fears for U.K. Companies. - Bloomberg