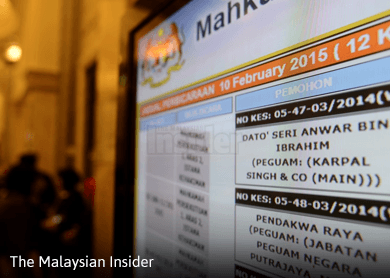 KUALA LUMPUR (Feb 11): The European Union (EU) and Canada have expressed concern over the Federal Court's decision to uphold de facto PKR leader Datuk Seri Anwar Ibrahim's conviction for sodomy, with the EU reminding Putrajaya the importance of trusting the judiciary in a democratic system.
A spokesman for the Delegation of the European Union to Malaysia said the conviction and sentencing of the opposition leader raised serious questions about the due process of law.
This came after the end of Anwar's long-running legal battle yesterday over a sodomy charge that was brought against him by his former aide Mohd Saiful Bukhari Azlan in 2008.
Anwar started his five-year jail term yesterday after the Federal Court quashed his appeal.
"The European Union regards Malaysia as a key political and economic partner in Southeast Asia.
"In that spirit of partnership, the EU wishes to underscore that trust in the administration of justice is an essential component of the democratic process." the spokesman said in the statement.
Based on previous reports, the European Union is Malaysia's third-largest trading partner. Exports include electrical and electronic products, palm oil, chemicals and chemical products, rubber products, optical and scientific equipment.
The High Commission of Canada in a separate statement said it was concerned about judicial independence and selective prosecution under the Sedition Act in the country.
"The rule of law is a core value and principle vital to the flourishing of democracy and the institutions of a peaceful and prosperous society.
"Canada values its long-standing and warm relationship with Malaysia, and we will continue to encourage Malaysia to apply the rule of law in a transparent and fair manner." the statement said.
Canada was one of the first countries to establish diplomatic relations with the newly independent Federation of Malaya in 1957.