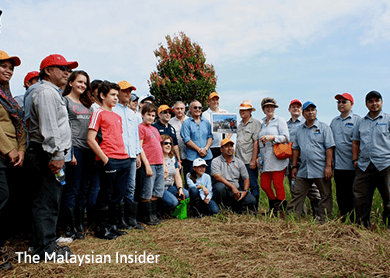 (June 19): Six European Union (EU) ambassadors and their family members visited the Raja Musa Forest Reserve (RMFR) to participate in the peat swamp forest rehabilitation activities recently.
The ambassadors and their families joined public volunteers to plant more than 600 trees in one hectare of the degraded peatland area at the RMFR.
This was in celebration of World Environment Day 2015 and in association with the Sustainable Management of Peatland Forests in South East Asia (SEApeat) project funded by the European Union.
They were hosted by the Selangor state government, the state forestry department and the Global Environment Centre (GEC).
Almost half of the 81,304ha RMFR has been degraded due to fires.
GEC is currently focusing on 500ha of this degraded area.
Other portions are being allowed to regenerate naturally, while some have been adopted and are being rehabilitated by Sime Darby foundation, HSBC Bank Malaysia and the Selangor Forestry Department.
Speaking to The Malaysian Insider, GEC director Faizal Parish said peatlands store 10 to 15 times more carbon per ha compared to other types of forests.
"In a regional context, the protection of these peatlands , especially during the dry season is crucial as 90% of transboundary haze that plagues this region is from peat fires," he said, adding that this being an El Nino year (with unusually warm temperatures) calls for more surveillance and protection of peatlands from fires.
Parish said most of the fires that destroy peat swamps in the region are from fires started deliberately via human activity, particularly land clearing.
"There is no such thing as natural fires, it is always related to human activity," he said.
The locals often enter the forest for fishing and hunting activities. This is where awareness programmes conducted by GEC and government agencies have helped teach the communities the importance of protecting the area from encroachment, and sustainable ways to carry out their activities in the forest like hunting and fishing.
Head of the EU delegation HE Luc Vandebon watering a sapling during the visit. – Pic supplied, June 19, 2015.Head of the EU delegation HE Luc Vandebon watering a sapling during the visit. – Pic supplied, June 19, 2015.Many of the villagers in the area have become the eyes and ears of the authorities and report any illegal or suspicious activities.
The SEApeat project has been implemented by the GEC in partnership with the Asean Secretariat and Asean member states since December 2010 and will come to a close later this year.
Selangor Forestry department director Dr Mohd Puat Dahalan said: "The RMFR was gazetted in the 1990s. Prior to this it had been severely damaged due to illegal encroachment by people for agricultural and settlement activities which resulted in peat fires."
He said incidences of fire have been brought under control and reduced since then.
No new cases of encroachment have been detected, and natural regeneration is now taking place in areas where the peat hydrology has been restored.
"There is now much greater resources available and a higher level of stakeholder involvement," said Puat, adding that the department has mobilised its Fire Patrol Team to detect and respond to illegal encroachment and fires.
Head of the EU delegation HE Luc Vandebon said all the effort put in to preserve and regenerate the peat forests fits neatly into a series of events that took place in the context of the European Climate Diplomacy Day, which is a joint effort made by the EU and its member states across the world to promote awareness on the change and the urgent need to tackle it effectively. – The Malaysian Insider