This article first appeared in Enterprise, The Edge Malaysia Weekly, on December 31, 2018 - January 06, 2019.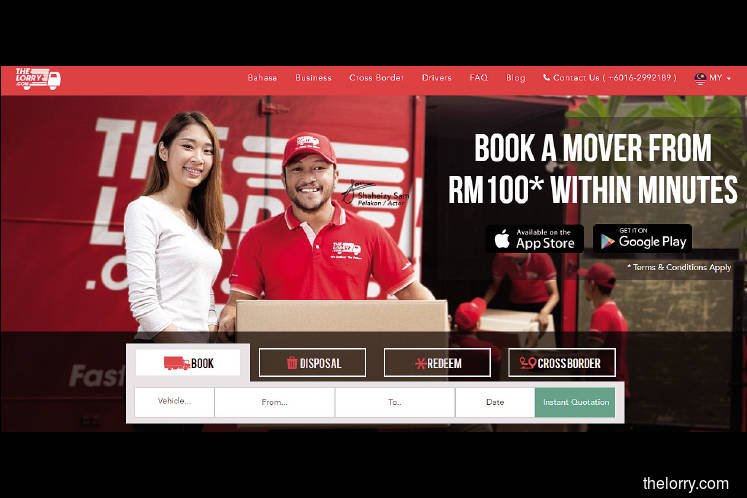 The Lorry is disrupting the logistics scene by offering on-demand truck services for individuals and businesses. This four-year-old start-up, with its simple premise, raised US$1.5 million at its Series A funding round in 2016. Last year, its two founders — managing director, Goh Chee Hau, and executive director, Nadhir Ashafiq,  were included in the Forbes 30 under 30 list.
"When we started the journey, our idea was to inject technology into a Jurassic industry that is inefficient and uses a lot of manual processes. The idea was to raise industry standards and change the ecosystem using technology," says Nadhir.
For individuals, the service comes in handy when they are moving house or simply need to get rid of some furniture. "What we are building today is to improve the lives of different stakeholders. On the consumer side, it is a change from the old way of going to trees and lamp posts to look for a truck service. Now, we have a safer way — an online service and a trackable experience," he says.
The Lorry helps businesses solve issues such as an insufficient supply of transport vehicles due to budget constraints, difficulties in tracking vehicles or no-shows by drivers at the last minute. It also has a variety of trucks available.
"The variety is one of the advantages we have versus traditional players. We can immediately serve all our customers with our network," says Nadhir.
The Lorry matches requests from customers with a network of partners on its digital platform.
"We also have route optimisation, tracking capabilities and application programming interfaces that connect different systems together. Basically, we do not need any paper transactions," he says.
The Lorry is currently in Malaysia, Singapore, Thailand and Indonesia with close to 6,000 vehicles in its fleet. Its customers include multinational and local brands such as Unilever, Padini and Mudah.my.