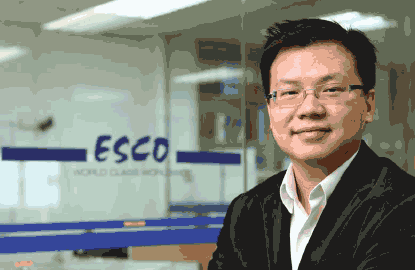 Lin Xiang Qian may only be in his early thirties but he was pivotal in transforming his family business from a local equipment manufacturer into a global life sciences and medical equipment product developer with its own extensive distribution channel. In the process, it has grown from a $10 million company into a $100 million one.
Esco Group of Companies was founded in 1978 by Lin's parents, specialising in manufacturing clean room products. Lin was 13, and a student at Raffles Institution, when he first started doing odd jobs at the family business.
His first proper job came about when Esco's servers broke down and its IT manager could not rectify the problem. When Lin, who taught himself computers, stepped in and managed to fix it, his father appointed him the company's new IT manager. He was tasked with repairing its PCs and setting up its email and web servers.
Lin subsequently built a website for Esco, which was launched in 2000. When the company started receiving enquiries from overseas customers who learnt about their products from the website, Lin's father told him to set up an export department. Lin was just 18 and studying at Victoria Junior College.
"I systematically put together a product catalogue, samples and pricing, and then systematically contacted distributors around the world, offering them these clean room products," says Lin, now group president and CEO of the company. "In the first year, I sold a million dollars worth of products, just by doing it very systematically."
Setting up distribution channels
The export business began through partnership with overseas distributors. Lin, however, was not content with the situation. "It was the classic export model [and it meant] not having your own local marketing, not being able to take care of the after-sales services for these products yourself, not being able to segment the market and work with different dealers or different channels that are addressing these different market segments."
So, in the last decade, the group started to set up its own sales offices in larger geographical markets such as Europe, US and China. "That is, in effect, becoming our own distributor, and gives us more coverage and better market access versus working with a distributor," Lin says.
He was studying for engineering and economics degrees at The Wharton School University of Pennsylvania when he was setting up Esco's US export operations. He subsequently dropped his engineering studies and took a year off to focus on the business. "I remember that year, sales increased from $15 million to $25 million."
When asked how he coped with school and Esco, Lin jokes that he was a "fulltime worker, part-time student". "I'm not the smartest, but I have a fairly large mental capacity. I can take in information and absorb and process quite quickly." In fact, he enjoys hiring people who are smarter than him. "I make it a habit," he quips, "especially in R&D."
Changing course
In 2000, Lin saw the opportunity for Esco to diversify into designing and manufacturing its own life science products. "I realised that some of the equipment products that we had were more promising than the others and proposed to my parents that we focused on making those on our own."
Lin took charge of R&D as well as product development because he was "in touch with the customers" and "knew what the customers wanted".
"We started by bringing in consultants, advisers, experts from the US, people who had developed such products before. Today, we have a fairly diversified life science equipment and medical device portfolio, and our competitive advantage stems from the fact that we are addressing a number of $100 million to $200 million global markets where there are not so many large MNC competitors in these product categories."
Esco has three major product segments. The life science lab equipment segment includes products such as biosafety cabinets and incubators, while the biopharma equipment segment includes products like isolators used in aseptic manufacturing. For the in vitro fertilisation (IVF) medical devices segment, the group makes products like embryo incubators with an integrated time lapse imaging system.
Lin is particularly proud of its IVF segment. "In IVF, the success rates are generally 30% to 40%. Most IVF cycles fail, and do not result in a live birth. So patients and physicians alike are hungry for new technologies and devices that can improve the success rate."
According to Lin, the group's time lapse imaging device for embryo incubators allows human embryos to be cultured uninterrupted for a number of days. "In the previous method, you would have to take the embryos out once a day from the incubator and observe them under the microscope to grade them. In this system, we have integrated the imaging system into the incubator, which captures an image every five minutes and generates a time lapse video of the embryo's development. This gives the embryologist new information that was not available before, based on which there is potential to make better embryo selection decisions to improve the success rate. So, this technology has the potential to be the standard of care worldwide."
Esco now employs 800 staff — including 70 engineers — worldwide, including in the US, Europe and at its biggest manufacturing plant in Indonesia.
Venturing into start-ups
Lin has also set up Esco Ventures, a $5 million corporate venture fund that invests in biomedical start-ups focused on women's health. It provides seed funding for about three years. If the product sees promising animal data and validation, then the fund would assist the startup in raising funds for its continued research. "[Esco Ventures is our] tool to gain access, to invest in start-ups that are developing technologies in adjacent areas that would help to broaden our perspective and eventually, also broaden the product portfolio. We can get a first look at companies and these could be future acquisition targets," Lin explains.
"We are focused mainly on women's health because we are already in the IVF medical device market," he adds. "This is an underserved market, with many unmet needs."
In Singapore, however, Esco Ventures is focusing on what Lin refers to as the "venture creation model" owing to the lack of suitable biomedical startups in the country. "We are approaching it from a different angle, not from the technological angle, but from unmet clinical needs. We start by identifying unmet clinical needs within women's health and then search the whole world for technologies and scientific collaborators that we can work with to start these companies, to develop medical devices or diagnostics that address these unmet needs."
One of the start-ups it currently funds is engaged in the discovery of new biomarkers that predict preterm birth. According to Lin, preterm birth affects about a tenth of live births, and while preventive treatment for preterm birth is already available, obstetricians and gynaecologists are lacking tools that accurately predict which women require the preventive treatment. "We already have some promising animal data, and we're going to start the first clinical study to develop a diagnostic kit that we hope will be able to help physicians determine which patients need the preventive treatment."
Succession planning
On hindsight, Lin realises it was not by accident that he was initiated into the company at 13. His father was merely planning his succession, way ahead of time.
Lin hopes to bring his daughter, now just a year old, into the business even before she turns 13. "We are going to study some German companies that have been very successful family businesses and we would like to see how we may be able to do that as well. We don't have to be the biggest business but we want — within our market areas — to contribute, provide good employment and develop innovative solutions. We are investing for the long term."
As for Esco, Lin sees validation for what he has done in the takeover offers he has received. "We had unsolicited takeover offers from some large global MNCs, [and] we can say this with pride because these are sophisticated, large global companies," he says with a grin. "If they see value in our products and distribution channel, that means we did something right."
Lin Xiang Qian
Group president and CEO of Esco Group of Companies
How many hours do you work in a week?
80-90 hours. I'm pretty much working all the time. Now, I have a young daughter, so I need to try to spend more time with the family, but I'm a workaholic. I'm absolutely a workaholic and I travel too much. I'm travelling more than 50% of the time.
What's the biggest mistake you have made?
I've definitely made mistakes and I've learnt from them. Inevitably, the mistakes were always people related. There's this phrase in my mind — zhao dui ren, zuo dui shi. You need to do the right thing at the right time at the right place with the right people, and then it will work out beautifully.
On hindsight, I could have been more decisive. If you end up with the wrong people, things cannot progress the way that they should. I've really benefited from these mistakes, and been able to gain a better instinct for people.
What's your advice to budding entrepreneurs?
Find the right people to work with. It's hard for anyone to do it alone because business is very competitive, and markets are global and complex. You have to have the right people. This is the most difficult.
This article appeared in the Enterprise of Issue 728 (May 16) of The Edge Singapore.