This article first appeared in The Edge Financial Daily, on October 26, 2017.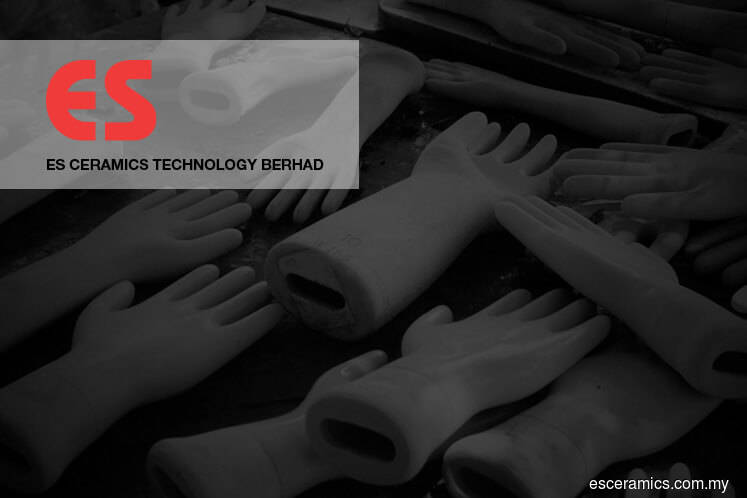 KUALA LUMPUR: ES Ceramics Technology Bhd, which reported its first drop in annual net profit in six years for its financial year ended May 31, 2017 (FY17), is looking at developing new ceramic formers for other dipping industries to reduce its reliance on the glove-making market.
"We want to further diversify our portfolio to include complementary new products within the dipping industry," its chief executive officer Wong Fook Lin told reporters after the group's annual general meeting yesterday.
This came amid declining utilisation in ES Ceramics' Thai factory, said Wong, who did not provide an exact percentage but said that it is "rather low" at the moment.
The decline, he said, is in tandem with the decline in the group's order book over the last few months. "Price competition among glove producers is stiff in the marketplace today. Some of our customers have taken a stand not to participate in the price war and, hence, [they] lose out on sales."
"Their clients are also taking a wait-and-see approach [on prices before placing new orders]. All these pose an environment that is very difficult for us to operate in," he added.
ES Ceramics saw its net profit drop 28.8% year-on-year (y-o-y) to RM6.33 million in FY17, despite revenue rising 11.06% to RM33.27 million. It attributed the lower profit margin to higher energy and material costs, as well as more competitive pricing of its products.
While emphasising that the global market demand for rubber gloves has seen single-digit growth y-o-y over the last few years, Wong is not expecting a significant rebound in the group's performance for FY18.
"It does not help that key glove makers have been expanding so aggressively over the years," he said.
"There is a price competition because some players are hungry. Why? Maybe they have increased capacity, but utilisation has not caught up.
"The market environment will be challenging, [at least] until all this excess capacity is taken up or normalises," he added.
On its part, ES Ceramics has diversified from producing moulds for different glove types — examination, household, industrial and specialty — to include breathing bags and balloons as well. Wong did not reveal the latest products that ES Ceramics is looking to include in its list, noting that discussion is still at its infancy stage.
"We are talking to local and overseas customers who are not alien to us," said Wong. "While this may not significantly impact our top line, this may help improve our utilisation rate and thus margins."
The ACE Market-listed company has put some plans on the back-burner such as its intention to diversify into product packaging or the chemical sector and its planned transfer to the Main Market as it tackles hiccups in the adoption of automation — a company agenda since 2015 — to reduce operating costs.
The real issue in implementing automation, Wong said, is human capital. "We do not have the advantage of some manufacturers who can purchase turnkey machinery [to adopt automation]. Our machinery needs to be modified and tested. For that, we need engineers.
"But some engineers are from fields that are relevant to our operations, and some are inexperienced. We have been hiring and firing, that has caused our staff costs to increase slightly, but that will stabilise when the right team is established to speed up the adoption," he added.
"Right now, our factories are not applying automation at a significant level," said Wong. The group is currently focusing on less critical parts of the manufacturing line to allow for more room for modifications.
"The first objective is to make sure automation can work before it is being applied across the board. Only then can we look at improving quality," he said, without giving a timeline for the adoption to be meaningful to ES Ceramics' financial performance.
As at end-FY17, the group's cash and bank balances stood at RM23.69 million — up 8.96% from RM21.74 million in FY16 — with relatively no borrowings. On that note, Wong assured shareholders that the cash pile provides the company with much-needed flexibility to stand by for the aforementioned activities.
"When the need and opportunity arises, we can have an edge over our competitors if there is sufficient ammunition and room to gear up the company in order to take action," he said.