This article first appeared in Enterprise, The Edge Malaysia Weekly, on October 14, 2019 - October 20, 2019.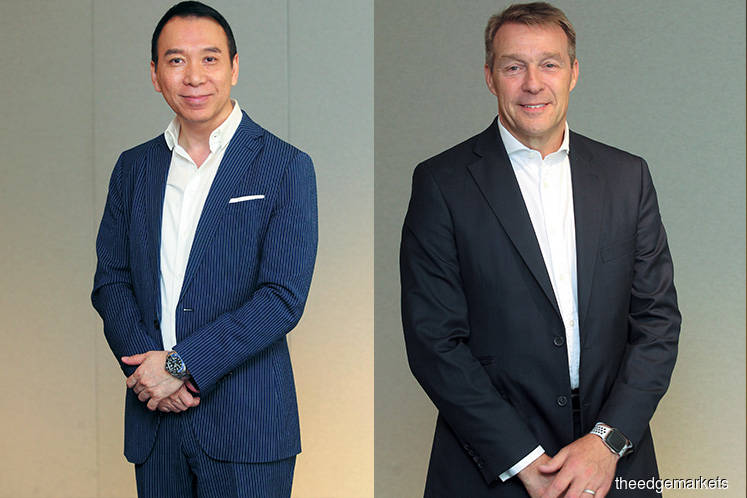 Epicor Software Corp, one of the oldest software-related concerns in the world, is not only helping companies grow their business and increase their efficiency through enterprise resource planning (ERP) software and systems but also assisting them in their Industry 4.0 journeys.
Andy Coussins, senior vice-president and head of international, says the software giant — which started in 1972 as a manufacturing software company — has put major investment dollars into Industry 4.0 technologies such as artificial intelligence (AI), Internet of Things (IoT), data analytics and drones to complement its ERP solutions since CEO Steve Murphy came on board two years ago. "So, we are really looking at where the market is going, what is driving the industry and what will help our customers be more competitive in the marketplace," he tells Enterprise in an interview.
But Epicor is not just looking at these technologies in general. It is honing in on solutions for industries such as manufacturing, retail, food and beverage and distribution. "We look at the key elements a company would need to make it more competitive in the marketplace, win market share and grow its business," says Coussins.
ERP, for the uninitiated, refers to a suite of integrated applications that a business can use to collect, store, manage and interpret data from its business activities. It provides an integrated and continuously updated view of core business processes and helps a company to keep track of its resources such as cash, raw materials and production capacity, as well as the status of its business commitments such as purchase orders and payroll.
Epicor regional vice-president for Asia Vincent Tang cites the example of Ka Shui Manufactory Co Ltd. The die-casting company, which makes automotive parts, has its head office in Hong Kong but its production factory in China has benefited from Epicor's solutions.
"Before they used Epicor, everything was disconnected. The Hong Kong office would take orders from overseas customers and then, it would need to issue a purchase order to the factory in China. Once the products were manufactured, they would need to ship the finished goods to Hong Kong. And from Hong Kong, the goods would be shipped out to the customer," he says.
Tang points out that it was an unnecessarily lengthy process with a lot of redundancy. "Using Epicor, they connected the Hong Kong office with the factory. So basically, when they receive an order, the job order for the factory is generated automatically and the goods are manufactured."
Once the goods are manufactured, they are shipped out and the customer is automatically sent an invoice. "There are fewer errors and more efficiency because they do not need to retype everything," he says.
How much did Ka Shui spend on the software? "The investment was not big. It was about US$200,000. I do not have the key performance indicators so I do not know how much it saved. But I do know that when Ka Shui started using Epicor, it had two small factories. Now, it has moved to a factory that is about four times bigger than the previous two combined. It has gone from being a small manufacturer to the third largest die-casting company in Hong Kong and southern China. And it has gone public," says Tang.
He adds that Epicor has also helped Ka Shui in its digital transformation journey. "The company wanted to go on its Industry 4.0 journey. After a few years of using the Epicor system, it did an internal review of where it was at, and it has just received its Industry 4.0 accreditation level 1.0, which is an important step."
Tang says the Hong Kong Productivity Council is working with a German company, Fraunhofer IPT, to provide the accreditation. Hong Kong has recognised that getting Industry 4.0-ready is a long and involved process as no company can implement everything at one go. It has to be done in stages.
He points out that Industry 4.0 is not about ERP alone. "It is a combination of quite a number of solutions around ERP, including MES [manufacturing execution systems], PLM [product lifecycle management] and also big data, AI and robotics.
"At the end of the day, the manufacturer wants to have all these solutions integrated. What Epicor provides today is the ERP, MES and big data. But with our open technology, we can integrate our solutions with robotics and PLM."
Tang says the Hong Kong Productivity Council, a semi-government body that provides consultancy to manufacturers in Hong Kong, has actually set up an Industry 4.0 solution centre that includes ERP, MES and PLM solutions as well as robotics. "Everything is integrated over there. This is the way to educate local manufacturers so they understand what the journey to Industry 4.0 entails and how to do it phase by phase. They cannot get there overnight."
In Malaysia, fire protection equipment manufacturer and supplier Unique Fire Industry Sdn Bhd decided to use Epicor's solution to streamline its operations and improve the efficiency of its processes such as sales order processing and inventory.
Ryan Liew, its director of product engineering and services, said on the company's website that it realised it needed an ERP system because its various departments were operating in silos and it lacked the end-to-end visibility it needed to achieve its full potential. "Decision-making was often subject to delays and our forecasting was inaccurate," he added.
Once the company implemented Epicor's ERP system, its stock control improved so much that it only needed to maintain minimum inventory. "Our accounts receivable process is also much more efficient with more accurate and faster debt collection," said Liew.
Who is Epicor's target market? Tang admits that its solutions may not be for small companies that do not have the budget. "There is a market that we do not serve. We cannot do everything. So, the market we serve is the mid-market," he says.
This market has its own set of challenges, says Tang. "They have a limited budget for ERP investment, need a short implementation time and yet require flexibility. This is where Epicor is very strong in providing a global solution to fit the needs in the vertical market and allow them to scale.
"So, we are not focusing on the really small enterprises, not only because of budget constraints but also their level of knowledge and understanding about ERP. A lot of our customers are already using small, local ERP software, which automates their accounting or does a little bit of inventory control. So, they have some level of knowledge, which prepares them to take up Epicor solutions."
He adds that once they start using Epicor solutions, they usually continue to do so for the next 10 years.
Epicor currently has about 200 customers in Malaysia, mainly in the manufacturing industry. "Our target market is the manufacturing industry — metal fabrication, die casting, automotive parts and machinery manufacturers. We need to be focused so we can constantly improve our offerings," says Tang.
Despite its avowed focus, 20% of its customers in Malaysia do not belong to the manufacturing sector. These include construction, publishing and food and beverage companies.