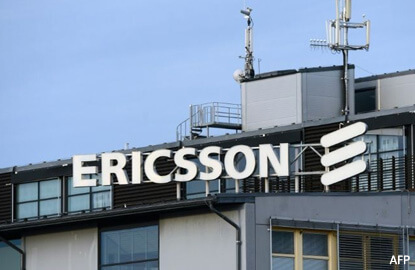 STOCKHOLM (March 28): Sweden's Ericsson will book up to US$1.7 billion in provisions, writedowns and restructuring costs in the first quarter as its new CEO outlined his strategy to lead the telecom equipment maker out of its worst crisis in a decade.
The sweeping measures mapped out by Borje Ekholm include exploring options for its loss-making media arm as well as restructuring its business designing, building and managing networks for operators.
The Swedish business insider and veteran board member took over as CEO in January and investors have been keen to hear how he plans to deal with shrinking markets and mounting competition from China's Huawei and Finland's Nokia.
"Restoring profitability is key and we will start by focusing the portfolio to fewer areas and securing effectiveness and efficiency in operations," Ericsson said in a statement on Tuesday.
The company said it would take provisions of 7-9 billion crowns (US$797 million-US$1.02 billion) in the first quarter "triggered by recent negative developments related to certain large customer projects."
Ekholm declined to name those contracts in a conference call, but said they were few and isolated, and not related to the group's strategy change.
"What has happened in the first quarter that makes them take provisions of 7 to 9 billion? It's a lot of money. It seems very strange to me," said Inge Heydorn, fund manager at Sentat Asset Management, who has a short position in Ericsson.
Ericsson's shares fell as much as 4.6%, but were down a more modest 0.7% by 0926 GMT. Ericsson shares have fallen 26% over the past year.
The company said it would write down intangible assets within the Media and IT & Cloud businesses in the first quarter, with an estimated impact on operating income of 3-4 billion crowns, and that it would "explore strategic opportunities" in those businesses.
It estimated restructuring charges would amount to 6-8 billion crowns in 2017, up from an earlier estimate of 3 billion crowns, of which it would book 2 billion in the first quarter.
The company said it did not see a change of its previous forecast for the mobile infrastructure market to decline by 2 to 6 pct in 2017 and Ekholm said on the call with investors he didn't foresee any big announcements on job cuts.
Ekholm said he expected significant improvements from the actions already in 2018.
"Beyond that I am convinced that Ericsson, on a sustainable basis, can at least double the 2016 Group operating margin, excluding restructuring charges," he said.
(US$1 = 8.7838 Swedish crowns)