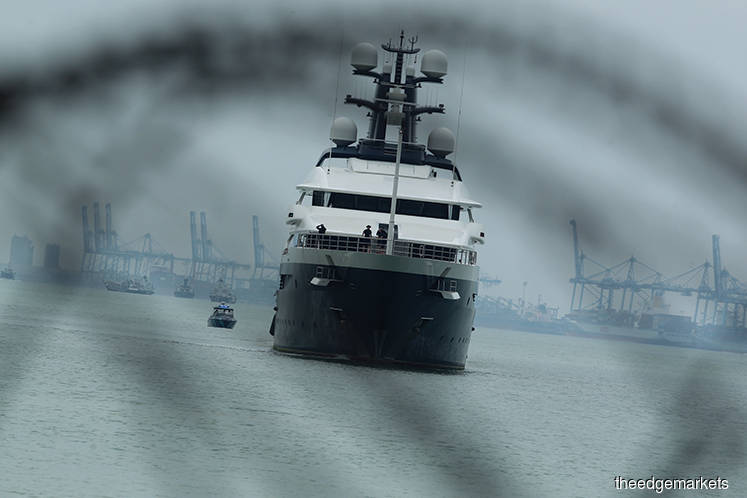 KUALA LUMPUR (Aug 7): The luxury yacht "Equanimity", which was allegedly bought using funds misappropriated from 1Malaysia Development Bhd (1MDB), has been 'properly seized' according to the Attorney General's Chamber (AGC).
In a statement today, AGC said it had invoked the Admiralty jurisdiction of the High Court of Malaya at Kuala Lumpur against the yacht yesterday, Aug 6.
On Aug 6, 2018, the court issued a warrant of arrest against the yacht.
"Accordingly, the 'Equanimity' is properly seized under the laws of Malaysia," the chamber announced.
The AGC said the seizure of the yacht, which arrived this afternoon at Pulau Indah in Port Klang, was done at the initiative of the US Department of Justice (US DoJ), which asserted ownership of the yacht on behalf of Malaysia and 1MDB because monies belonging to Malaysia were used to purchase it.
The yacht was seized by the Indonesian authorities in Bali on Feb 28 this year on DoJ's application.
"As a result of the Mutual Legal Assistance Treaties (MLAs) between Indonesia, the US and Malaysia which were activated recently, sensitive and delicate negotiations were conducted at the highest levels of different agencies in the three countries to accomplish this feat," AGC said.
Among the Malaysian agencies involved in this operation were the Royal Malaysia Police, the Royal Malaysian Navy, the MACC and Chambers.
"We would like to express our profound gratitude to the governments of Indonesia and the US, especially the Republic of Indonesia Police (POLRI) in extending cooperation and collaboration to us to enable this to be accomplished," AGC added.
Earlier today, the yacht's owner Equanimity (Cayman) Ltd claimed the seizure by the Malaysian government is "in direct violation of an existing Indonesian court decision and an order of the US court".
In a statement today, Equanimity Cayman called the seizure "troubling", considering it was done despite opposition by the US DoJ, which is the custodian of the yacht, pursuant to an order from the Central District of California.
Nonetheless, Reuters reported that the US DoJ wants to suspend its legal efforts to take possession of the superyacht, impounded as part of a hunt for assets linked to the multi-billion dollar 1MDB scandal.
The US DoJ, which had sought custody of Equanimity as part of its anti-kleptocracy investigation into 1MDB, reportedly said proceedings in the US courts should be suspended until it finds out what Malaysia would do with the yacht.
Yesterday, Finance Minister Lim Guan Eng said the federal government will eventually monetise the yacht after a public viewing by Malaysians.