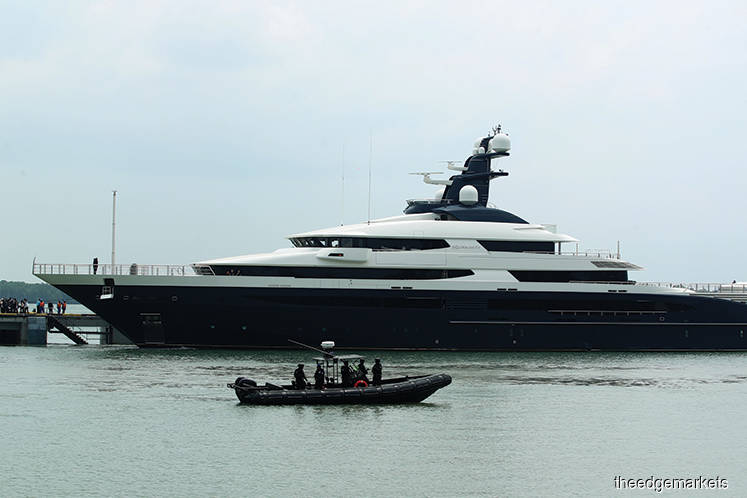 KUALA LUMPUR (Dec 5): The disposal of Superyacht Equanimity is reported to be able to fetch a nine-digit disposal tag, and the sale is expected to be done before March 31 next year.
A nine digit price ranges from RM100 million and just below RM1 billion. 
According to a local media report, 1Malaysia Development Bhd (1MDB) lawyer Sitpah Selvaratnam issued a statement today to say the Sheriff of the Admiralty Court would be seeking necessary court orders to commence the second phase of judicial sale by private treaty.
"The nine-digit asking price will be available on application, once approval of court is obtained, and will be commensurate with a 4 and a half-year-old Oceanco-built luxury yacht, with the specifications of the Equanimity as she lies," Sitpah was quoted as saying, adding that the Sheriff is considering various aspects of the offers received at the closing of submission of bids on Nov 28, which begun on Oct 29 this year.
The Sheriff, according to Sitpah, believed the second stage of judicial sale process will help secure optimum value for Equanimity's disposal.
It was reported that Sitpah together with her team, and Senior Federal Counsel, Alice Loke acting on behalf of the Malaysian government, were present before Admiralty Court Judicial Commissioner Khadijah Idris during the proceedings in chambers today.
On Oct 19 this year, the Kuala Lumpur High Court ruled that 1MDB Energy Holdings Ltd and 1MDB Global Investment Ltd, the subsidiaries of 1Malaysia Development Bhd (1MDB), are the rightful owners of the superyacht Equanimity.
The judgment-in-default was made by judicial commissioner Khadijah Idris in her chambers, after no one came forward to challenge the claim jointly made by the Malaysian government and 1MDB on Aug 6.