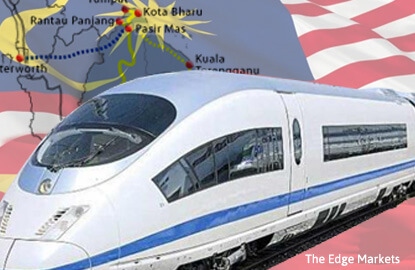 KUALA LUMPUR (Nov 3): The controversial 600-km East Coast Rail Line (ECRL), which is estimated to cost RM55 billion, is under the purview of the Economic Planning Unit (EPU) and not the Ministry of Transport (MoT), Parliament was told today.
This was the reason given by Deputy Transport Minister Datuk Aziz Kaprawi on why he could not answer queries posted in Parliament regarding the ECRL when he was wrapping up his speech when debating the Budget 2017.
"In regards to ECRL query, I cannot answer that because it is under EPU. I will let EPU Minister answer that," he said.
He was responding to a question by Taiping member of Parliament Nga Kor Ming on the rationale behind the price of ECRL, which was equivalent to a construction cost of about RM92 million per km.
On Monday (Oct 31), Treasury secretary-general Tan Sri Mohd Irwan Serigar Abdullah confirmed with local media that ECRL project has been awarded to China Communications Construction Co Ltd (CCCC).
He also said the engineering, procurement, construction and commissioning (EPCC) contract and a financing framework were among the agreements that he would sign during his visit to China with Prime Minister Datuk Seri Najib Razak.
Irwan Serigar also reportedly said while the EPCC contract was awarded to CCCC, the financing agreement would be arranged with Export-Import (Exim) Bank of China.
On Nov 1, local mainstream media reported that Malaysia has sealed the deal to build the ECRL with CCCC, with financing via soft loans from the Exim Bank of China, during a ceremony witnessed by both Najib and his Chinese counterpart, Li Keqiang.
EPU is a unit within the Prime Minister's Department. The current minister in charge of the unit is Datuk Abdul Rahman Dahlan.