This article first appeared in The Edge Malaysia Weekly, on March 25, 2019 - March 31, 2019.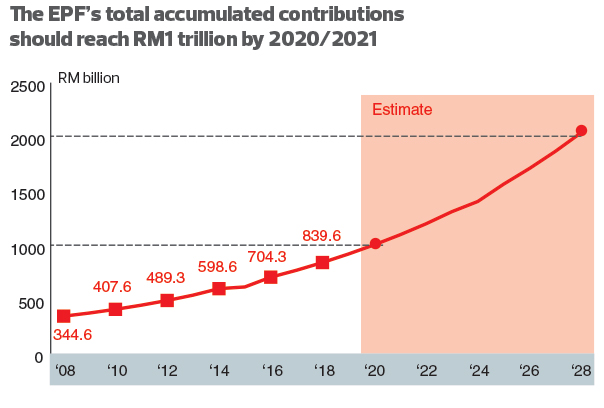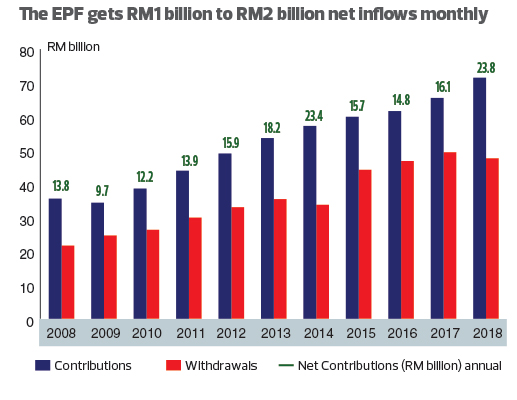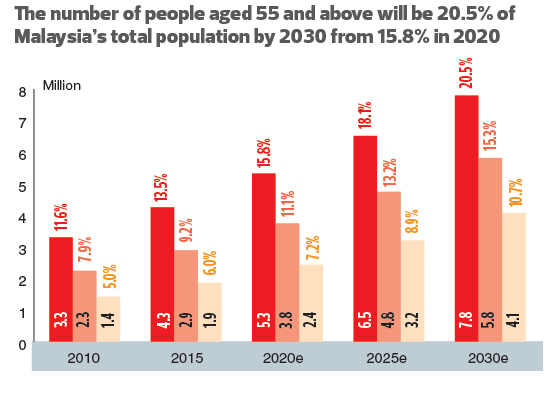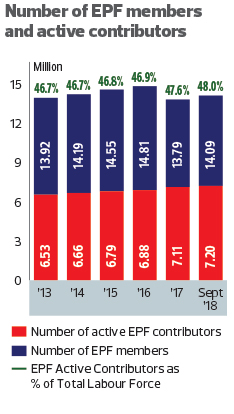 THE Employees Provident Fund (EPF) is set to reach RM1 trillion by 2021 or as early as next year.
That is if its accumulated members' contributions continue to grow at about 9.3% yearly — its average annual growth in the past decade — to reach RM839.6 billion as at end-2018 from RM344.64 billion in 2008, back-of-the-envelope calculations show.
Reaching RM1 trillion is only a matter of time. The pace at which it gains the next trillion, however, is an uncertainty. Here is why.
Last Tuesday, EPF CEO Tunku Alizakri Alias — who declared that the EPF will be a trillion-ringgit fund "very soon" — audaciously said that it may cease to exist in our lifetime.
"There may come a point in time in our lifetime when the EPF might no longer exist because the amount of money being taken out will no longer be supplanted by the amount of money coming in," Alizakri said in a dialogue titled "New mandates, new opportunities" during the Invest Malaysia 2019 conference in Kuala Lumpur on March 19.
Calculations show that the EPF could break the RM2 trillion mark as early as 2028, if accumulated contributions continue growing at the same 10-year average compounded annual growth rate (CAGR) going forward. Yet, that is a big IF with the youngest of the baby boomers — those born between 1946 and 1964 — reaching 55 years of age this year.
Fifty-five is the age at which EPF members can choose to withdraw all their money at any time, although the retirement age in the private sector was raised from 55 to 60 years, following the Minimum Retirement Age Act that took effect in August 2012. Partial or full withdrawal of savings in Account 2 (30% of savings) can be done when an EPF member reaches the age of 50, according to data on the EPF's website.
Incidentally, annual withdrawals from the EPF rose 31% to over RM44 billion in 2015 from about RM34 billion in 2014, with the number of applications up by one-fifth to nearly two million.
While 2015 was around the time the youngest baby boomer turned 50, it was withdrawals among those who had reached 55 years of age that rose over RM7 billion y-o-y to RM21.4 billion in 2015, data in the EPF's 2015 annual report shows. Meanwhile, withdrawals by 50 year olds as well as those who opted to transfer funds to unit trusts managers under the EPF Members Investment Scheme, both saw about RM1 billion y-o-y increase in withdrawals.
Going forward, the size of withdrawals will likely be the EFP's first wild card in a marathon towards its RM2 trillion mark.
In 2017, withdrawals reached a high RM49.4 billion before easing to RM47.6 billion last year. With record contributions of RM71.5 billion, collections rose to a record RM23.85 billion last year.
For now, the EPF is still seeing strong monthly net inflows. Save for the dip in 2009 when Malaysia's economic growth contracted amid a global recession, official data shows that the EPF receives an average of RM1 billion to RM2 billion in net inflows every month (after deducting withdrawals). In other words, the EPF has been amassing RM12 billion to RM24 billion net contributions annually for the past decade.
The bulk of the inflow is from the 11% statutory monthly EPF contribution from private sector wage earners and 12% (13% for a salary below RM5,000 a month) matching contribution from employers. Employees can also add up to RM60,000 a year or ask for deductions above the statutory rate.
The EPF's 7.4 million active contributors comprise 48% of the total labour force last year, about the same as 47% five years ago.
Together with about 1.6 million civil servants, the number of people covered by the EPF as well as the public pensions system is only about 40% of the working population (defined as those aged 15 to 64 years) — potentially leaving a sizeable portion of the self-employed, freelancers, housewives, fishermen and farmers without any formal retirement plan.
According to the Department of Statistics, 1.36 million people, or 9.4% of total employment, was in the informal sector in 2017. Of these, 82.1% were urbanites and 64.7% had secondary education. About 20.9% had primary or no formal education while those with tertiary education made up 14.4%.
To facilitate savings and maintain its relevance as more people opt for freelance gigs or non-permanent jobs the EPF encourages   the self-employed and those without regular income to contribute up to RM60,000 a year through the EPF's voluntary retirement savings scheme i-Saraan (Caruman Sukarela Insentif Persaraan), which was formerly known as the 1Malaysia Retirement Scheme (SP1M).
The government contributes 15% or up to RM250 per person yearly through i-Saraan until 2022. Its contributors will enjoy the same dividend rate as other EPF members. Grab Malaysia, for instance, agrees to give 5% or up to RM80 a year to encourage its ride-sharing driver-partners to invest for their retirement, according to a Memorandum of Understanding signed in August 2017.
This second wild card was also mentioned by Alizakri at the conference: whether the pension fund can stay relevant amid workforce changes in a booming gig economy, where independent wage earners and their employers are not obliged to make a monthly contribution
The latter could burden the taxman as well, should there be fewer people paying individual income taxes or not paying the right and fair amount as those with traditional employment. The additional headache for policymakers is the prediction by some experts that digitisation and the Fourth Industrial Revolution (4IR) could wipe out 40% of existing jobs within the next two to three decades.
In the US, where the gig economy is a growing part of the employment market, there are already proposals to rework social safety nets, which are often tied to permanent employment and thus, potentially leave freelancers vulnerable. These include portable benefits that are attached to the individual security account with multiple employers sharing contributions.
The greater policy concern would be the existence of a sizeable group of seniors without a good family support system or income to have a decent life in their golden years. The government is already encouraging corporates to hire those who are 60 years or above by reducing the minimum statutory EPF contribution of the corporates to 4% (from 6%) effective February 2019 to allow them to remain productive. Employees above the age of 60 would also no longer need to make EPF contributions, down from 5.5% previously, which gives them the choice of using their wages immediately.
Reflecting the trend globally, there are already discussions for the government to raise the retirement age beyond 60 years, given that a newborn is now expected to live up to 75 years (77.6 years for females, 72.7 years males). A man who has reached 65, is expected to live for another 15 years while a woman is estimated to live another 17.2 years to over 82 years, the 2018 statistics show.
This is why the EPF guides that someone retiring at the age of 55 should plan to have enough income to last for at least 20 years. At the current RM1,100 minimum wage, one should have at least RM264,000 in the kitty. That may not be enough to maintain the living standard for many, with the 2017 median individual income at RM2,160 a month.
Alizakri also mentioned the need to change one's false perspective of the EPF as a tax rather than a retirement fund. That and the generally low level of income  of most Malaysians are key factors that determine why most members reportedly use up their EPF savings within five years of retirement.
"You should put the money with Amanah Saham Nasional Bhd (ASNB) and the EPF", managing director of Khazanah Nasional Bhd and former EPF CEO Datuk Shahril Ridza Ridzuan said in reply at Invest Malaysia last week when asked what one should do with RM100,000.
The obvious solution to the lack of retirement savings and general well-being in one's golden years may well have come from Prime Minister Tun Dr Mahathir Mohamad who said when asked for his life principles: "When you reach retirement age, keep on working! The first time I became prime minister, it was at the age of 56. That was the age of retirement. I was just beginning. I don't have to tell you what my age is (now)."
Save by subscribing to us for your print and/or digital copy.
P/S: The Edge is also available on Apple's AppStore and Androids' Google Play.