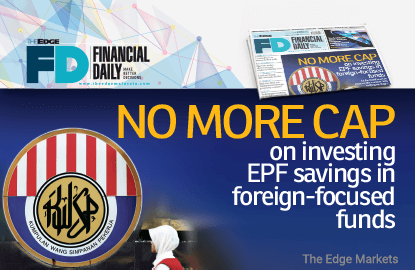 This article first appeared in The Edge Financial Daily, on July 25, 2016.
KUALA LUMPUR: From Aug 1, Employees Provident Fund (EPF) members can invest in unit trust funds that are fully focused on investing overseas, as long as they are funds recognised by the EPF, as it has removed its 30% foreign fund exposure cap on investments undertaken by members.
Currently, members can use part of their EPF savings — money parked under Account 1 — to invest in unit trust funds, including those with no more than 30% foreign exposure, though a 5% allowance in excess of the 30% threshold is permitted if it is due to share market movements and/or redemption activities conducted by investors.
Now, the EPF is going to relax this limitation to allow for asset diversification, it said in an email to The Edge Financial Daily. "It is now fully liberalised with no ceiling or threshold."
That means more investment options are now open to members, as more funds will now qualify to be considered for inclusion under the EPF's Members Investment Scheme (EPF-MIS).
According to the EPF, 47 new unit trust funds with overseas exposure have been approved for the EPF-MIS under the new amendment.
Fund managers welcome the removal of the cap, saying it would liberalise the investment industry.
Investors will see the benefit of diversification, with fewer correlated assets in their portfolio, possibly limiting exposure to similar risks and taking advantage of a wider range of investment opportunities, they said.
"This is a welcome move as it opens up a broad investment universe in terms of investment themes, in addition to wider geographical opportunities for local investors," said Franklin Templeton GSC Asset Management Sdn Bhd country head for Malaysia Sandeep Singh in an email reply.
Sandeep said the move presents the firm with an opportunity to tap into this segment in the future, though Franklin Templeton is not a participating investment firm of the EPF-MIS yet. "We have a broad suite of global investment offerings that will be able to serve the gap in the local market."
The liberalisation will double Affin Hwang Asset Management Bhd's range of products that can be made available under the scheme to 16, from eight now.
"We have been anticipating this liberalisation. We are very pleased with the development. We believe this change is both necessary and important for capital markets to grow further," said its chief marketing officer Chan Ai Mei.
Currently, Affin Hwang Asset Management's approved funds for the EPF-MIS have between 25% and 27% foreign exposure.
Besides existing customers, Chan said, the fund house will target "those who have been sitting on the sidelines while seeking a more diversified portfolio of investments outside Malaysia".
Eastspring Investments Bhd, whose portfolio under the EPF-MIS has a 6.4% foreign exposure now, said it will introduce three new funds, namely the Eastspring Investments Asia Pacific Equity MY Fund, Eastspring Investments Asia Select Income Fund and Eastspring Investments Global Leaders Fund, for EPF members to choose from after the new ruling is enforced.
Aside from lifting the cap on overseas exposure, the EPF also raised the score of simple average rating for consistent returns (SACR) to 2.33 and above, from 2.00 currently, to provide further protection for investors as it screened out the bottom performers.
The SACR was introduced by the EPF in 2010, and computed based on the fund's aggregate performance over a three-year period, while taking into account its peers and the industry's performance.
"When it was first introduced, the industry had been notified that the eligibility criteria score would be amended and raised gradually to enhance and ensure the quality of funds offered under the scheme. We raised the benchmark in 2013 to 2.00, and it is now time to raise it to 2.33," the EPF said.
Affin Hwang Asset Management's Chan said it is a good move as a higher score means only funds with consistent performance will make it into the EPF-MIS list.
Eastspring concurred. "After all, these are hard-earned monies of our investors. Such [a] move will ensure that fund managers do a better job and ensure [that] investors can select [from a range of] funds with superior quality," the firm added.
Meanwhile, the EPF will also allow fund management institutions (FMIs) to trade in warrants except call warrants, which are now prohibited.
The EPF first introduced the EPF-MIS in 1996 to help members optimise their retirement funds by placing their EPF savings with approved FMIs that can potentially deliver higher returns.
This was in view of the fact that Malaysians were living longer, while inflation and medical costs were escalating, causing members to be faced with insufficient funds for their retirement.
As at April 1, there had been 234 active trust funds qualified to be offered under the EPF-MIS, according to the EPF's website.
There are 24 appointed FMIs under the EPF-MIS, including Maybank Asset Management Sdn Bhd, Public Mutual Bhd, Hong Leong Asset Management Bhd, Pacific Mutual Fund Bhd, Eastspring and Affin Hwang Asset Management.