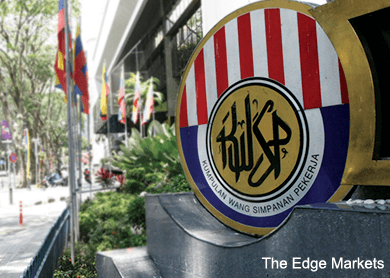 KUALA LUMPUR (May 21): The Employees Provident Fund (EPF) said its investment income grew 20% to RM10.63 billion for the first quarter ended March 31, 2015 (1QFY15), from RM8.83 billion in the previous year, largely due to returns from its equity investments.
Meanwhile, its total investment assets grew to RM663.75 billion, attributed to net contributions of RM5.90 billion and the reinvestment of investment income generated during the quarter.
In a statement, EPF chief executive officer Datuk Shahril Ridza Ridzuan said the fund's improved performance was due to its equity investments.
"This was supported by economic developments, including the stabilisation of oil prices and positive progress from the Eurozone, leading to a number of global markets registering encouraging growth," he said.
He added that the strengthening of the US dollar had boosted returns from EPF's global investments, which contributed to 44% of its total income.
As at March 31, EPF's global investments made up 25% of its total investment assets.
"Under the current low interest rate environment, the EPF has further diversified its investments in equities, real estate and infrastructure, to ensure the preservation of its members' savings and to generate the desired real rate of return," the EPF's statement further read.
For the quarter, equities accounted for 43% of its total investment assets and contributed RM6.36 billion or 60% of its total income, up 31% from RM4.84 billion in 1QFY14 — mainly due to the higher income recognised in the EPF's global portfolios, which capitalised on a price rally in both emerging and developed markets during the quarter.
The asset size of its real estate and infrastructure investments expanded 43% to RM20.93 billion, which brought in an income of RM251.54 million during the quarter.
"The asset class is expected to receive more dividend income in the coming quarters, and to recognise the gains from recent property disposals," said the EPF.
A major portion of its investments are now in fixed income instruments, which accounted for 50% of its total investment assets in 1QFY15.
The EPF said fixed income investments continued to provide a steady stream of income amid the low interest environment and that it is presently taking opportunities "to capitalise on yield movements to rebalance the portfolio's yields", as rates are expected to remain at historical lows in the near-term.
Meanwhile, its investment into Malaysian government securities (MGS) generated RM1.70 billion of income in 1QFY15, up 7% or RM116.91 million, compared to the previous year's RM1.58 billion.
Loans and bonds, on the other hand, contributed an income of RM2.03 billion, compared to RM2 billion in 1QFY14; money market instruments contributed RM278.20 million in income.
The fund also revealed it had invested more than 40% of its funds in shariah-compliant assets, in anticipation of the launch of a fully shariah-compliant fund in the future.
On the overall market outlook, Shahril said "global growth remains moderate, with uneven prospects across countries and regions, particularly contrasting outlook for emerging and developed markets.
He also said it is widely anticipated that there is a higher risk now of US interest rates normalising and this will spur demand for the US dollar, which will impact global currency and capital markets.
"While we managed to achieve a good start for the year, we remain cautious for the quarters to come, due to the uncertainty of both economic and investment environments on the global and domestic fronts.
"As a retirement fund, the EPF continues to focus on our long-term strategies to meet our targets for an inflation-adjusted return," Shahril added.