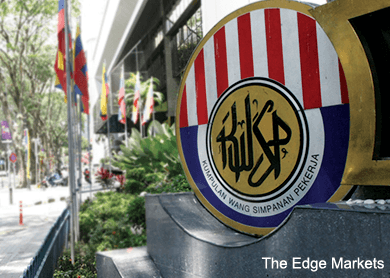 KUALA LUMPUR (Nov 20): The Employees Provident Fund (EPF) recorded a 7.58% investment income decline to RM9.54 billion in the third quarter ended Sept 30, 2015 (3QFY15), compared to RM10.32 billion last year, due to heightened market uncertainties.
Its chief executive officer Datuk Shahril Ridza Ridzuan admitted that the third quarter had been a challenging period for Malaysia's premier retirement fund but pointed out that its global diversification "cushioned" the impact.
"We had been anticipating difficult market conditions and adjusting our strategies accordingly. As with other investors, we were not spared the impact. Nevertheless, we were still able to generate returns from other markets in the world when the domestic market performed lower than expected," said Shahril.
As at Sept 2015, 27% of EPF's assets were global investments, which contributed around 45% to the fund's total income year to date. Currently, it stands at RM31.58 billion.
For the cumulative nine-month period, its total investment assets rose by RM31.03 billion to RM667.56 billion.
Its total income year to date rose by 6.72% to RM30.52 billion from RM28.6 billion in 2014. Investments involving global expertise contributed more than 19% to its revenue and represented around 15% of EPF's investments.
Segmentally, equities, which represents 43% of the fund's total investment assets, contributed the most to the investment income at RM4.71 billion or 49.38% of the total income.
The Malaysian Government Securities was up by 12.23% to RM1.82 billion from RM1.62 billion last year while loans and bonds recorded a 48.54% increase to RM2.54 billion from RM1.71 billion a year ago.
Money markets instruments contributed RM220.33 million and real estate and infrastructure generated RM247.12 million.