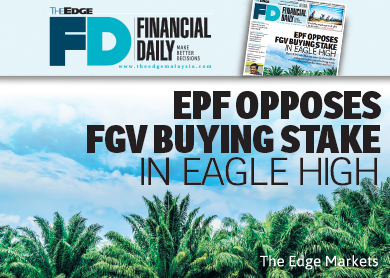 KUALA LUMPUR: Felda Global Ventures Holdings Bhd's substantial shareholder, the Employees Provident Fund (EPF), is opposing the plantation group's plan to buy a 37% stake in Indonesia's PT Eagle High Plantations Tbk for US$680 million (RM2.55 billion).
The provident fund's representative voiced its unhappiness at the proposed acquisition at FGV's annual general meeting yesterday, which could have ramifications for the proposal.
The EPF officer questioned the rationale behind the RM2.55 billion purchase, particularly the generous premium accorded to the deal.
"The representative addressed FGV shareholders and the management, saying that a premium of 30% to market prices would still be acceptable. But a premium of 70% points to a pricey deal," said a shareholder who attended the AGM.
To recap, FGV is proposing to buy a 37% stake in Eagle High from its controlling shareholder, Rajawali Corp, for approximately US$680 million, of which US$632 million will be paid in cash for a 30% stake, while the remaining 7% stake will be settled via an issue of 95 million new FGV shares.
Besides, FGV will also buy an equity interest of between 93.3% and 95% in Rajawali's sugar project for US$67 million.
While FGV stands a good chance of pushing through the deal, given the majority stakes held by shareholders within the Felda group, the EPF's concerns may be shared by other GLC funds and private asset managers who have been unimpressed with FGV's stock price performance since its listing in June 2012.
"Granted, the EPF holds just 5% stake in FGV, but it did send a strong signal to FGV's management. The other funds were not as vocal during the AGM," the source added.
Apart from the EPF, Lembaga Tabung Haji and Kumpulan Wang Persaraan-Diperbadankan (KWAP) hold 7.8% and 5.6% stakes in FGV respectively.
Other notable shareholders of FGV include Amanahraya Trustees Bhd (4.13%) and the Pahang state government (5%).
However, FGV chief executive officer Datuk Emir Mavani Abdullah defended the deal, explaining that an independent valuation report will be published in due course.
"I believe that if the numbers speak for themselves and the returns are there, shareholders will approve it. We are in the process of doing a thorough due diligence on this deal, and everything is subject to [shareholders'] approval. If it is possible, we would like to get 100% approval."
Eagle High owns 425,000ha of land bank, with 67% in Kalimantan and the rest in the Papua, Sulawesi and Sumatra provinces. Of this, some 137,000ha are planted with trees with an age profile of 36% immature, 50% young and 14% prime, translating into an average crop age of eight years.
Elaborating on Eagle High, Emir said the young age profile of Eagle High's planted land bank and its value accretion potential to FGV are major plus points, aside from the opportunity to tap Indonesia's large edible oil market.
"We like the location of the land as well as the yield factors. Indonesia also offers excellent opportunities in terms of consumer products, distribution, and especially the B15 biodiesel initiative."
Emir further said FGV's pricing represents a fair valuation for Eagle High's assets, noting that transactions done over the past couple of years have been pricier. The total consideration for the deal implies a cost of approximately US$17,400 per planted ha for Eagle High's land bank.
"We find that this figure is fair. Remember that this is just for the planted area. There is also access to the rest of the land bank."
On its ongoing cost optimisation and assets rationalisation exercise initiatives, Emir confirmed that FGV had received bids for its loss-making downstream operations in Canada. The assets, which comprise a canola and soybean crushing plant and an oil refinery, are estimated to carry a market value exceeding US$200 million.
"Yes, we have some bidders, but I cannot disclose who they are. We hope to announce something in one or two months' time. The group still intends to divest all non-performing and non-core assets," he said.
This article first appeared in The Edge Financial Daily, on June 17, 2015.