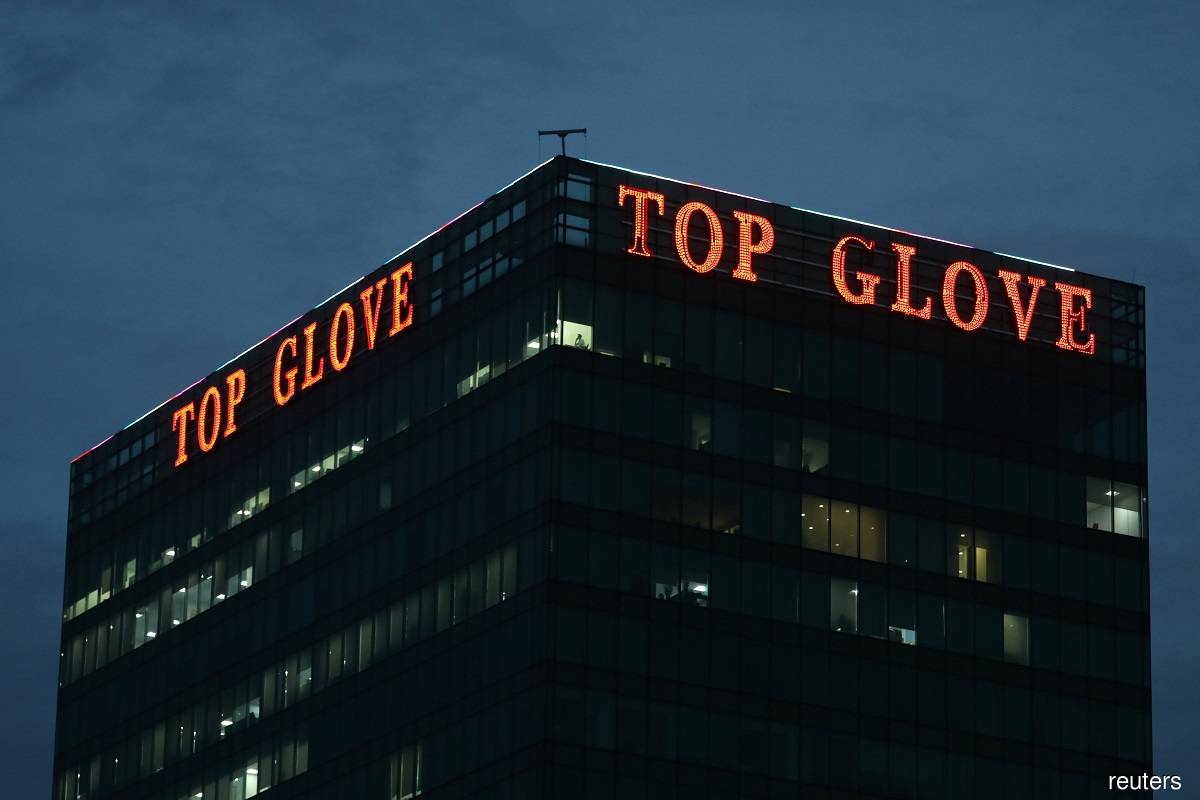 KUALA LUMPUR (Feb 25): Top Glove Corp Bhd executive chairman Tan Sri Dr Lim Wee Chai and the Employees Provident Fund (EPF) have raised their equity stakes in the rubber glove manufacturer, which had in recent days bought back more shares in the company, as news on global Covid-19 vaccination schemes battered glove manufacturers' share prices.
According to Top Glove's Bursa Malaysia filings on Wednesday (Feb 24), Lim raised his direct shareholding in the company to 26.368%, comprising 2.11 billion shares, after he acquired 3.77 million shares yesterday at RM5.28922 each.
He also has an indirect stake of 8.651% in Top Glove, comprising 692.19 million shares, according to the company.
Over the last five months, Lim's direct and indirect stakes in Top Glove had risen to the current levels from 25.681% and 8.495% respectively on Oct 22, 2020, according to the company's filing then.
At that time, Lim's direct and indirect stakes comprised 2.09 billion and 691.82 million shares respectively, Top Glove said.
Meanwhile, the EPF has raised its direct stake in Top Glove to 5.98%, comprising 478.46 million shares, after acquiring a net 3.7 million shares on Monday (Feb 22), according to Top Glove's filing yesterday after acquiring 1.48 million shares on Friday (Feb 19).
In another filing on Feb 24 on Top Glove's share buy-back, the company said that between Feb 10 and Monday (Feb 22), the company had bought back 23.79 million Top Glove shares on Bursa for RM141.8 million.
Top Glove said it paid a minimum and maximum prices of RM5.78 and RM6.15 for each share purchased.
According to Top Glove, the 23.79 million shares, which were retained as treasury shares, brought the number of Top Glove's treasury units to 202.15 million.
Lim and the EPF raised their stakes in Top Glove, as news on global Covid-19 vaccination schemes battered glove manufacturers' share prices. News on the availability of vaccines to curb the spread of the pandemic appears not to bode well for rubber glove manufacturers, on expectation of less demand for gloves when the Covid-19 outbreak is curbed.
Top Glove's share price fell three sen or 0.57% to RM5.20 today, following the news on Wednesday.
At Bursa's close yesterday, however, the counter rebounded and gained seven sen or 1.34% to close at RM5.30, which valued the group at about RM43.48 billion. Top Glove has 8.2 billion issued shares.
Share prices of rival glove manufacturers Hartalega Holdings Bhd and Supermax Corp Bhd also fell. Hartalega dropped 26 sen or 2.5% to RM10.14, while Supermax declined five sen or 0.99% to RM4.99.
Top Glove's share price has fallen to current levels, from RM7.05 on Feb 2, 2021.
On Wednesday (Feb 24), Bernama reported that Prime Minister Tan Sri Muhyiddin Yassin had taken his first vaccine jab to kick-start a nationwide exercise which aims to provide Covid-19 immunisation for free to people in Malaysia, locals and foreigners alike.
It was reported that Muhyiddin had received the Pfizer-BioNTech vaccine shot at the Putrajaya Health Office in Precinct 11, which is among the Vaccine Dispensing Centres (PPV) identified for the National Covid-19 Immunisation Programme.
Globally, Reuters reported that the US had administered 66.46 million doses of Covid-19 vaccine in the country as of yesterday (Feb 24) morning, and had distributed 88.67 million doses.
Quoting the US Centers for Disease Control and Prevention, Reuters reported that the tally of vaccine doses was for both Moderna and Pfizer-BioNTech vaccines.
Tan Choe Choe & Chong Jin Hun