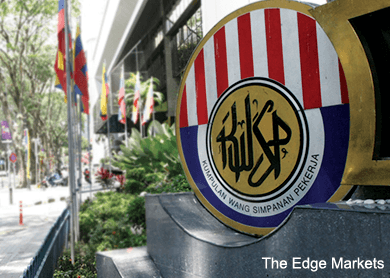 KUALA LUMPUR (April 13): The Employees Provident Fund (EPF) launched an online portal today to provide members with information on unit trust funds offered under its Members Investment Scheme, as well as fund management institutions (FMIs) which are managing these unit trusts.
The portal, named EPF Members Investment Scheme Information Portal (EPF-MIS), is managed by an external party and can be accessed by members through their i-Akaun and is free of charge, said EPF in a statement today.
EPF deputy chief executive officer (investment) Mohamad Nasir Ab Latif said the portal is an initiative by the EPF that allows members to conduct their own research on the offered unit trust funds, as well as the FMIs, before investing.
"There are 333 unit trust funds managed by 24 FMIs, under the EPF MIS. However, for the period of 2015/2016, only 216 unit trust funds are qualified to be offered. Information on these unit trust funds and FMIs are available in this portal," he said in the statement.
Mohamad Nasir said all information provided in the portal are general and do not carry any form of investment advice or recommendations on any of the unit trust funds and FMIs.
He said members are strongly advised to understand the costs and risks involved before investing, and that members are fully responsible for their own investment decisions.
"There is no guarantee that all investments will always be profitable, because the performance of the unit trust funds managed by the FMIs today is not an assurance of their future performance. Members are advised to seek advice and details from qualified advisers or financial planners, before deciding to participate in the EPF-MIS," said Mohamad Nasir.
EPF-MIS is a scheme that allows members to voluntarily transfer a portion of their savings from Account 1 for investment, which offers them an option to enhance their retirement savings.
"Under this scheme, members can invest through FMIs appointed by the EPF, not more than 20% every three months, of the total savings from Account 1 in excess of their respective basic savings," the statement further read.