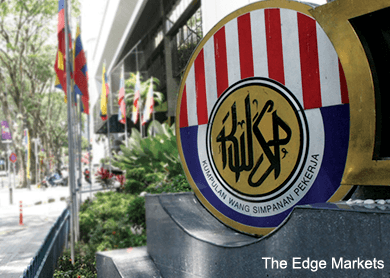 KUALA LUMPUR: The total exposure of the Employees Provident Fund's (EPF) financing portfolio in government-linked companies (GLCs) as of March 31, 2015 was RM77.99 billion, said Finance Minister Datuk Seri Najib Razak.
"The financing exposure of EPF to the GLCs is in the form of fixed rate loans and bond/sukuk subscriptions that are partially backed by asset mortgages, government guarantees and bank guarantees.
"EPF's investment in 1MDB (1Malaysia Development Bhd) was RM200 million [which was its limit] and has government guarantee," Najib said this in his written reply to Shah Alam Member of Parliament Khalid Abdul Samad.
Khalid had asked Najib to state the list of GLCs that are financed by EPF funds such as Pembinaan PFI Sdn Bhd, 1MDB and Felda Global Ventures Holdings Bhd and the total amount that has been used.
He also asked Najib whether this is the reason why the EPF is unable to pay lucrative dividends to contributors as well as its need to buy 50% of Malaysian Government Securities (MGS) that have low investment returns of around 4% to 5%.
Najib also said the EPF's exposure to Pembinaan PFI stood at RM25.29 billion.
To recap, the Auditor-General reported that at the end of 2013, RM18.6 billion from the original RM20 billion loan from EPF had been spent by Pembinaan PFI.
But Najib told Parliament that the EPF has so far not given any financing to FGV.
Najib also said that more than 50% of EPF investments are invested in fixed-income instruments that comprise MGS and level coupon bonds that include loans and bonds for both mandates.
Therefore, EPF returns are naturally influenced by interest rate movements and inflation, he said.
Seeing that the inflation rate has been rising since 2009, Najib said the EPF has continued to invest and further diversified its investments in inflation asset class and inflation-linked investments comprising real estates and infrastructure guided by the EPF's strategic asset allocation in efforts to create optimum returns with sound investment risks.
This article first appeared in The Edge Financial Daily, on June 12, 2015.