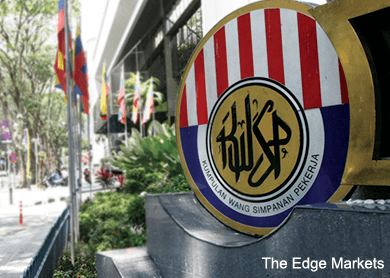 KUALA LUMPUR: The Employees Provident Fund (EPF) announced that 94.4% of the 96,448 respondents it surveyed have indicated their preference for retaining full withdrawal of their savings at 55 years old, with new contributions made thereafter to be drawn only at age 60.
According to the EPF chief executive officer Datuk Shahril Ridza Ridzuan in a statement yesterday, the survey results had a 0.35% margin of error at a 95% confidence level, indicating that the results were statistically significant and representative of the opinion of all EPF members.
On its initiative to align minimum contributions with the minimum wage legislation, the EPF said 74.6% or 71,950 of members have agreed that this proposal will help increase low-paid employees' retirement savings.
"Members agreed that the proposal was timely as it would address the low savings of employees whose contributions are lower than they should be under the minimum wage legislation. This would make it compulsory for both employers and employees to calculate their EPF contributions based on wages stipulated by the minimum wage legislation," it said.
As for its proposal to extend dividend payments from age 75 to 100, EPF said 61.3% of its members who wish to continue to keep their savings with EPF after they retire, indicated their preference to continue receiving dividends until age 100.
The EPF also said 71% of its members have agreed with the proposal to allow its members to switch to syariah-compliant retirement savings from the existing retirement savings scheme, based on ethical investment guidelines.
"There is demand for syariah-compliant retirement savings by our members. Based on the number of responses from the consultation, we are confident the take-up rate for the syariah-compliant retirement savings scheme will be encouraging for both Muslim and non-Muslim members," said Shahril.
The EPF also said 65.7% of its survey respondents were members aged 40 and below; 24.9% were between 41 and 50, 9.2% were between 51 and 60, and 0.2% were above 60.
"This demonstrated that younger members are increasingly interested in actively taking charge of their future retirement planning," the retirement fund noted.
The EPF said 83.1% of its respondents were from the private sector, 12.1% from the public sector, and 4.8% from the self-employed group; 57.6% were male and 42.4% were female.
"This information can assist us in our plans to engage with the government and to look at the best way of implementing the initiatives," said Shahril.
This article first appeared in The Edge Financial Daily, on May 19, 2015.