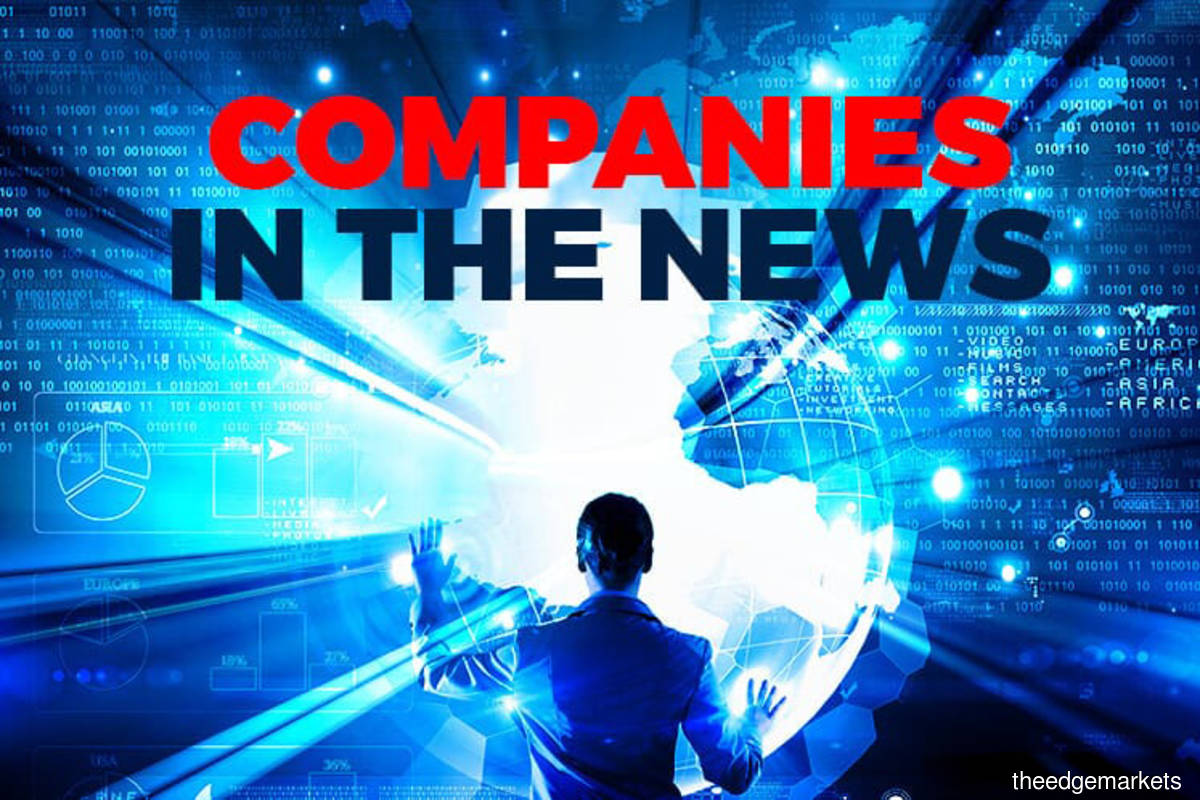 KUALA LUMPUR (Jan 5): Based on corporate announcements and new flow today, the following companies are likely to be in focus tomorrow, Wednesday (Jan 6): Eonmetall Group Bhd, Cymao Holdings Bhd, Top Glove Corp Bhd, KPower Bhd, Minho (M) Bhd, MCT Bhd, Ecobuilt Holdings Bhd, ATA IMS Bhd and Kimlun Corp Bhd.
Eonmetall Group Bhd plans to dispose of a parcel of land in mainland Penang with a building erected on it for RM58.8 million. The group said it expects to incur a gain of RM4.34 million from the sale of the land measuring 62,887 square metres, located at the Valdor Industrial Area in South Seberang Perai. Eonmetall said its subsidiary Eonmetall Industries Sdn Bhd entered into the sale and purchase agreement with the buyer, Power Portal Sdn Bhd, today. It expects the disposal to be completed in the second quarter of 2021.
Cymao Holdings Bhd, whose shares jumped 28% today, has received an unusual market activity (UMA) query from Bursa Malaysia. Bursa Malaysia asked Cymao to declare if there are any corporate developments that have not been announced that could be the reason for the rise. The company was also asked if there are any rumours surrounding Cymao's business that may account for the elevated trading activity.
Top Glove Corp Bhd chairman and founder Tan Sri Dr Lim Wee Chai bought 3.62 million shares at an average price of RM5.5217 per share, or RM19.99 million in total, on Jan 4 — the first trading day of year 2021 — when its share price plummeted as it became the target for regulated short selling. The latest share purchase raised Lim's direct interest to 2.11 billion shares or a 26.25% stake. He also holds an indirect stake of 691.82 million shares or 8.62%, according to the company's filing with Bursa Malaysia. Meanwhile, the Employees Provident Fund acquired 3.42 million shares on Dec 30, bringing its direct shareholding to 5.32% or 426.54 million shares in Top Glove.
KPower Bhd inked an agreement to supply polymerase chain reaction (PCR) tests for Covid-19 in Indonesia for a minimum contract price of US$6 million (RM24.05 million).The group said its wholly-owned subsidiary KPower Healthcare & Technologies Sdn Bhd was awarded the contract by PT Area Cahaya Medika.
PT Arna will make a purchase order with the KPower subsidiary and the latter will then request the kits from an approved manufacturer and deliver the kits to PT Arna's warehouse in Jakarta.
KPower also said it would be acquiring a 70% stake in Granulab (M) Sdn Bhd for RM1 million from Sirim Bhd's wholly-owned subsidiary Sirim Tech Venture Sdn Bhd. Granulab is a medical device manufacturing company for gradual synthetic bones graft "Granumas". KPower said the acquisition is part of its overall strategy to expand its business into healthcare and technology-related activities that can generate long term revenue growth and income sustainability.
Minho (M) Bhd said its paper manufacturing subsidiary temporarily halted operations for four days, after 21 workers at its premises tested positive for Covid-19 on Dec 31, 2020. The group said the infections were detected after the subsidiary, Indah Paper Industries Sdn Bhd, completed a full screening of its 96 workers for the coronavirus. Subsequently, the subsidiary halted operations from Jan 1 to Jan 4 for cleaning and disinfection, while those affected were isolated at a designated quarantine centre.
MCT Bhd is looking to launch seven new developments, worth RM2.2 billion, this year. Comprising residential units and commercial projects, the launches include Aetas Damansara in Tropicana Golf & Country Resort, Damansara; Alira in Metropark, Subang; and Sanderling Lakefront Residences in Cyberjaya. Other projects include a boutique commercial centre at Lakefront Cyberjaya; the maiden phase of Cybersouth Town Centre in Dengkil; and new residential developments in USJ Subang and Cybersouth.
Ecobuilt Holdings Bhd has secured a RM72.32 million contract to undertake the construction of a retail and commercial suites project in Kota Kinabalu, Sabah. The group's wholly-owned subsidiary E&J Builders Sdn Bhd has been appointed the main contractor for the project by VTS Property Builders Sdn Bhd. The development includes three blocks of commercial suites and a podium car park, plus retail and office space.
ATA IMS Bhd, which is headquartered in Johor Bahru, has temporarily shut down operations of all its factories there, due to a high daily number of Covid-19 infections. The group said the shutdown has been in effect from Dec 31, 2020 and will last until Jan 7 this year. It said the temporary shutdown is not expected to have a significant financial impact, as the group has communicated with its customers and taken necessary actions to reschedule production output, so that production and deliveries will be back on schedule within the next two weeks.
Kimlun Corp Bhd's unit plans to buy an 11.12-acre freehold commercial land in Bandar Seri Alam, Johor Baru for RM40.5 million.The group said its indirect subsidiary Kii Melodia Sdn Bhd had agreed to acquire the land from Seri Alam Properties Sdn Bhd, the developer of the Seri Alam township and a subsidiary of United Malayan Land Bhd. The purchase consideration translates into about RM83.61 per sq ft.