This article first appeared in Enterprise, The Edge Malaysia Weekly, on July 8, 2019 - July 14, 2019.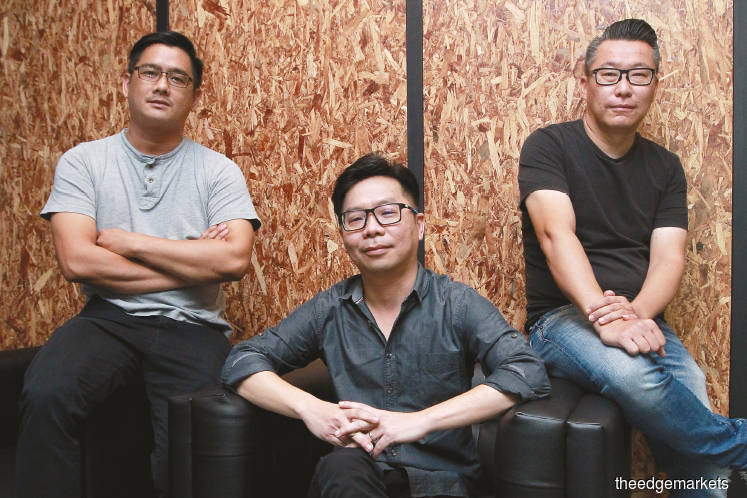 From left: Koh, Wong and Liew
Green Phantom Sdn Bhd is a company that puts paid to the notion that artists do not make good businessmen. The three founders — Liew Wee Long, Wong Yee Ket and S G Koh — who are artists in the truest sense of the word have found a way to use their talent and craftsmanship to exploit a virtually untapped market.
Liew and Wong were classmates at the Saito Academy of Arts while Koh had studied at the Malaysian Institute of Art. When they graduated, they took whatever jobs that came along. Needless to say, there was not a lot of demand for pure artists and none of them was keen on the "starving artist" path.
In 2003, when Liew was in Hong Kong, working for a stamped concrete flooring subcontractor at the Hong Kong Disneyland, he heard that the theme park had vacancies for artists and sculptors.
"My Mexican boss immediately referred me for an interview and when I went for it, they asked me to produce a carving, which was then presented to the art director," he says.
The art director was impressed enough to hire him. "After two months on the job, I was told that Disney required more artists. I negotiated a labour supply contract that was parked under a main contractor. I then flew back to Malaysia, gathered about 50 friends and college mates, including Koh and Wong, and had them produce mock-ups. Disney's fine art director flew to Malaysia to view the mock-ups and they passed his required standard."
It was a dream come true. A sculptor by training but virtually unknown, Liew had done small jobs for stores like Pets Wonderland and Pet Safari — anything associated with props. He landed up in Hong Kong, working hard at non-related jobs and hoping to catch the eye of the right person at Disney, so he could graduate to the big time. And when he got his break, he managed to bring all his friends along.
It was providential that Hong Kong Disneyland was Disney's first project outside the US and Japan and it was still receptive to new talent. The work was for Adventureland, one of the themed sites at Disneyland. Needless to say, the job was highly lucrative and all the sculptors were very well paid for it.
"Back then, we were just freelancers — individual artisans who knew each other in Malaysia. But after that project, we partnered a Hong Kong company, ThemeWorks International, which was owned by a Malaysian, to do another project — a Venetian-style casino — in Macau," Liew says.
When the trio got back from Macau in 2007, they set up Green Phantom. After their two international jobs building sets for theme parks, they felt it was time and that there would be enough market for a company like theirs.
"The company was set up to take on small projects locally while waiting to bid for the Universal Studios project in Singapore. After my stints overseas, I thought it was time to come home and build a base. After all, home is where the heart is," Liew says.
Green Phantom started to build a reputation for its workmanship. "We didn't market very aggressively because we didn't have to. This is actually a very niche market, so people get to know you by reputation. And we had a reputation for doing the job properly and on time, and not cutting any corners. So, people actually approached us rather than the other way around," says Liew proudly.
Although the global financial crisis struck just a year later, the company was not affected by it. "Our projects were very much Asia-based — Hong Kong, China, Singapore and Macau. People got to know us by word of mouth because of the quality of our work and it's a very niche market. In Malaysia, only two or three other companies are in it," says Liew.
As the main asset of the company was the artists and their ability to produce good work, it did not take a lot of money to set it up. "The three of us put together RM100,000 to set up the company."
It also set up a subsidiary in Shenzhen to handle its projects in China. "We set up this subsidiary due to our projects in Zhuhai and Shanghai Disneyland and we have a separate team based there. Currently, our Shenzhen team is working on Universal Beijing," explains Liew.
The key selling point, of course, is the quality of work. "When you bid for a project in this industry, you have to submit mock-ups. So, the client will actually evaluate you in terms of price as well as the quality of your work. They will view your life-size mock-ups."
Completing the work on time is also important. "Like the construction industry, we have something called 'liquidator' damages. If the work is delayed, the client can actually penalise us on a per day basis," Liew says.
Who comes up with the designs? It depends on the client. Clients like Disney and Universal come up with their own drawings and concepts, so companies like Green Phantom are just the builders. But there are other clients who require the company to come up with concepts according to a pre-determined theme.
"So, it depends on what the client wants and whether we need to do any further design development or just purely build according to their designs. For Universal, we were actually required to design and build. It provides the concept but we develop it further by doing more detailed drawing and then building it."
Likewise for Resort World Genting (RWG). "It came up with its own concept and we further developed it and then built it."
Unfortunately, Green Phantom's project for RWG is on hold due to the latter's tussle with Fox-Disney. "We were not affected by the global financial crisis but we have been affected by this," Liew laughs.
Briefly, Fox Entertainment Group had licensed intellectual property for its theme park, Fox World, to casino operator Genting Bhd for a proposed addition to its RWG complex in 2013. Last year, Fox, which has since been acquired by Disney, abandoned the contract, citing "multiple delays". In November last year, RWG responded by suing Walt Disney Co and Twenty-First Century Fox Inc for more than US$1 billion, saying that it had already invested US$750 million in Fox World. It is also seeking punitive damages for bad faith.
Green Phantom was hit where it hurts the most: in the pocket. It had already done some work for the project for which it had only been partly paid.
But if you are in the business of theme parks, this is how the cookie crumbles. So, Green Phantom is not wasting its time crying over spilt milk but is looking around for new business. Theme parks, as Liew points out, are a challenging business. You spend a lot of time waiting around for approvals and oftentimes, the projects do not go through because of the high investment involved.
In fact, standalone theme parks that are not part of a mixed-use development rarely work, Liew points out. So now, Green Phantom is looking around for work that is not related to theme parks.
Recently, he says, it completed a project for the multi-award-winning developer, EcoWorld Development Sdn Bhd. "In one of its shopping malls, there were three pillars supporting the roof and Chinese people said these looked like joss sticks, like you're praying in front of the mall. So we came up with a way to wrap the pillars in a tree house."
The company is very proud of the project. "If you want to do something fantastic, something special, something fun, you would look for us. That's the message we actually want to send out to people. We are not just doing theme parks. We can do design, we can do other things for developers," says Liew.
But why would a developer go to Green Phantom rather than a regular interior design (ID) company, which would charge less? "A normal ID company wouldn't be able to do the things to the scale that we can. And they wouldn't be able to handle the art pieces, the carvings, the rock work.
"It will be more expensive than employing a normal ID firm but we will turn the place into something special, a landmark. For example, the tree houses we built for EcoWorld are already a landmark and because we designed the place to be functional rather than just aesthetic, it can be utilised as an event space as well. So the client spends money, yes, but it gets something in return," Liew points out.
Today, he says, places are all about photo opportunities and Instagram. This is why developers and restaurateurs are falling over themselves to create spaces that are "Instagrammable". This is where Green Phantom has the edge, Liew believes.
The artists who make up the company do not lead flamboyant lives. From day one, says Liew, they have been very careful with their cash. "We run it frugally, Chinaman-style. No flashy cars, nothing like that."
In fact, Green Phantom runs on internally generated funds. In the more than 10 years of its existence, it has never taken out a loan, he adds.
Moving forward, the company's core business will still be theme parks and it will continue to look beyond Malaysian shores for such jobs. "However, I would like to grow our thematic building, interior fit-out and design and conceptualisation departments. There are not many jobs to do in theme parks, so these other segments will provide the company with some stability.
"And who knows, after a few years, we may be able to go for an IPO (initial public offering)."