This article first appeared in Enterprise, The Edge Malaysia Weekly, on April 8, 2019 - April 14, 2019.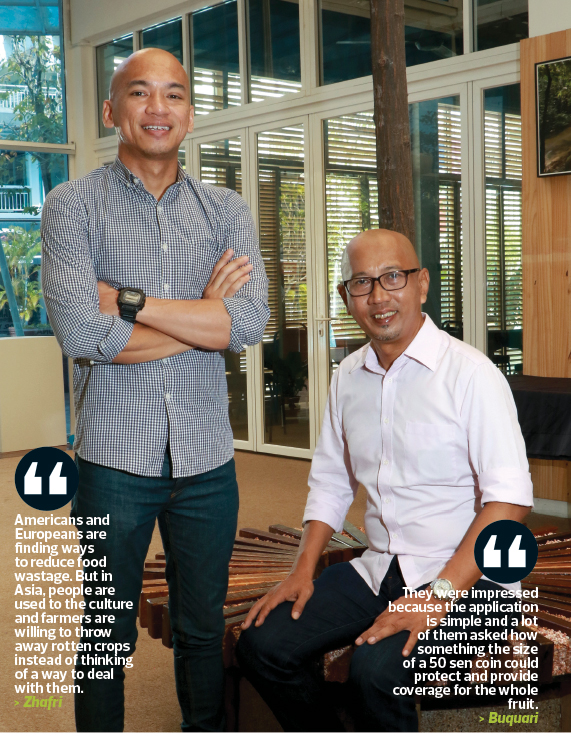 Zhafri Zainudin calls himself a kampung boy from Seremban. He has had a passion for agriculture for as long as he can remember, but he went along with the dominant discourse and did a degree in software engineering instead.
When he graduated in 2011, he could not get a job. This forced him to return to his original inspiration. He quickly turned his attention to fish — specifically, how to get them to grow quickly but in a healthy and sustainable manner.
"Growing up in a kampung, I was surrounded by a lot of plants and animals," Zhafri tells Enterprise, adding that he had always wanted to try his hand at agriculture.
But his interest in all things piscine did not last very long because he ran out of funds. So, in 2013, he shifted his focus to rubber trees. He set up Stimulus Nature Resources Sdn Bhd and developed a soil activator to increase the production of sap in these trees. It was then that he met Buquari Othman, who would be his partner in his most successful venture, StixFresh.
Closer to home, Zhafri's family was dealing with quite a different problem. They operated a small fruit stall in Seremban and if they could not sell the fruits in time, it would go to waste. His friends who also ran fruit stalls complained about the same thing.
"At that time, we were doing some R&D on the soil activator for the Malaysian Rubber Board. We discovered a compound that could repel disease from certain crops," says Zhafri.
The compound was made of sodium chloride and the composite was used to formulate the soil
activator for rubber trees. If you mixed this with some natural ingredients and blended it with beeswax, you will get a sticker that could be put on fruit to slow down degeneration, thereby extending its shelf life.
Zhafri and Buquari believed that they had stumbled on something amazing. "We really believed in the potential of the compound we found, so we started toying with different ideas and materials. We experimented with the compound, sought out the advice of experts and eventually, we hit pay dirt," says Zhafri.
This was when the duo started conceptualising StixFresh and experimented with different materials. They chose to coat stickers with the compound because this would be the easiest and most efficacious way of carrying the technology. The stickers were then adhered to the fruit so they could keep them fresh longer.
StixFresh's post-harvest technology is the first of its kind. The sticker — roughly the size of a 50 sen coin — slowly dispenses the compound on the fruit, which prolongs its shelf life by up to 14 days without affecting its nutritional value.
Although Zhafri and Buquari were pretty pleased with the product, they kept looking for feedback in an attempt to improve their offering. They were led to the Malaysian Agricultural Research and Development Institute (Mardi) to verify their findings and carry out a vitamin C and sugar content test on the fruit with StixFresh.
At Universiti Putra Malaysia (UPM), they tested the product's efficacy on the chok anan mango. The results were amazing. It showed that fruit with StixFresh stickers had a higher level of moisture retention, a higher percentage of vitamin C retention, increased sweetness and reduced acidity. The fruit also retained its cell structure, resulting in increased firmness.
"UPM concluded that the compound used in StixFresh could reduce diseases that attack fruit, which is why it is able to stay fresh longer," says Zhafri.
Fast forward to 2014 and they had developed a prototype and brought it to Fruit Logistica Berlin, one of the world's largest international fresh produce expos, to see if industry players from other countries would be interested in the product. "The prototype was not perfect, but a lot of people were surprised by what we had come up with because it was something they had not thought about. They were impressed because the application is simple and a lot of them asked how something the size of a 50 sen coin could protect and provide coverage for the whole fruit," says Buquari.
The trip to Berlin gave them the impetus to carry on. Truth be told, the duo had been feeling a little discouraged. They had found it difficult to secure funding to carry on developing the product. "Our exposure in Berlin kept us on track and kept us moving forward," says Buquari.
They have an international patent pending for the technology and a Sirim certification following a material toxicity test. They also obtained a GRAS (Generally Regarded as Safe) certification from the US Food and Drug Administration, which opened a lot of doors for them.
The partners spent close to RM1.8 million last year on the various certifications, international patents and product development. But they are looking to spend even more to bring StixFresh into even more markets.
CHALLENGES
Zhafri and Buquari came back from Berlin in high spirits and went once more into the breach, seeking funding for R&D and manufacturing equipment. They also wanted to standardise the look of the product which, as it stood, was a little messy because the stickers were still handmade and unstable, giving different results every time.
It took them two years to get the necessary funding. First, they received RM800,000 from an angel investor. "We used that to develop the product and purchase machines to complete the manufacturing process in December 2014. Then we spent the following year perfecting the product," says Zhafri.
In 2016, Malaysian Technology Development Corp Sdn Bhd invested RM475,000 in the company. That year, the duo started selling StixFresh to small and medium enterprises (SMEs) that came under Negeri Sembilan's Department of Agriculture.
Although Zhafri and Buquari received full support from the department, they were constantly bombarded by the same question: "Does it have steroids?"
"They did not see how purchasing the stickers would help them sell more fruit and make more money," says Zhafri.
Since the stickers extended the shelf life of fruit, it meant that those that rotted quickly could now be distributed further afield. "For example, without the sticker, the harum manis mango can only be transported from Perlis to Johor. But with the sticker, it can be exported to Singapore and even Australia," he says.
Another problem they encountered was the Malaysian attitude towards food waste. According to Zhafri, studies have shown that from tree-to-consumer, about 50% of the supply becomes rotten or cannot be sold.
"That is why fruit is expensive. [Fruit sellers] absorb the cost of perished fruits. So, when you buy one fruit, you are actually paying for part of the crop that was lost," he says.
"Americans and Europeans are finding ways to reduce food wastage. But in Asia, people are used to the culture and farmers are willing to throw away rotten crops instead of thinking of a way to deal with them."
Zhafri believes that farmers need to be educated on new technologies that could help them increase yields. Most rely on traditional practices passed down through the generations while others need to get past the price barrier of StixFresh stickers.
"Negeri Sembilan's Department of Agriculture has done a few programmes to educate farmers and purchased our products to be distributed. But they only do this when they have the budget," says Zhafri.
"In terms of pricing, when we tell them how much it costs, they think it is expensive. But we explain how they can make more money by using the product. Then, they want to buy it. However, most farmers do not even know there is a problem to begin with."
Another question they are frequently asked is whether StixFresh is certified as halal. The partners are working on this because it is an important requirement, especially with regards to the growing halal food industry around the world.
EXPANSION
StixFresh was launched commercially in Malaysia in March last year and managed to sell 1.2 million stickers. It has carried out trials to reduce fruit wastage at Aeon outlets in Sunway Pyramid, Mid Valley Megamall, 1 Utama and Aeon Bukit Tinggi.
"We are working with [Aeon's] suppliers and have successfully done a few proofs of concept to gauge the wastage issue. We will be doing it again soon to obtain customer insights. A few local wholesalers, suppliers and growers contacted us recently to express interest. So, we are hoping to flood the local market this year," says Zhafri.
The product is currently being used in parts of Indonesia, Singapore and Thailand, mostly by small companies that take an
average of 10,000 pieces a month. But Zhafri and Buquari are confident that sales will pick up, especially after the company received the Asean Rice Bowl Startup Awards 2018 (ARBSA) prize for the Best Food Tech/Agri Tech Startup.
Several companies have since approached them and shown interest in representing StixFresh in China. The duo are in the midst of picking one. Zhafri points out that they not only need someone who is committed but also someone who understands the networks and chains in China. The company is also in talks to distribute its product in Japan, Thailand and Vietnam.
Meanwhile, its US chapter, StixFresh USA, was launched last month. Its penetration of the US market started in 2016, when the duo brought the product to the WOP (World of Perishables) Dubai, the only international trade expo for fresh fruit and vegetables in the Middle East.
Moody Soliman, who was at the convention, decided to partner Zhafri and Buquari to bring the product to the US. This makes him one of the co-founders of StixFresh USA, which is based in Seattle.
"It was a good move to partner him because he helped with the patenting process as well as getting the necessary approvals in the US. We collaborated and co-developed the product to enhance our international patent filing, GRAS status and ISO certification," says Zhafri.
Mardi Corp selected StixFresh as one of 14 companies to present their ideas at the AG Innovation Showcase 2018 in St Louis, Missouri. The US market got acquainted with StixFresh when Soliman and Mardi Corp CEO Yazid Hamid presented at the event. StixFresh USA will be retailed to consumers even though it is only sold to businesses in Malaysia.
"In the US, consumers like buying in bulk. So, they can use StixFresh to prolong the shelf life of the fruit they have bought. In Malaysia, people tend to buy three or four pieces at the most," says Zhafri.
The US set-up and development cost StixFresh about US$150,000, which was pumped into the company by the duo's two US partners, families and friends.
FUTURE PLANS
Since the ARBSA 2018 win, many companies have shown interest in the product. This gives the duo more confidence to approach venture capital firms to seek funding, says Zhafri.
He says the company is hoping to penetrate the European market since the anti-food-waste movement there is active. He is willing to offer the rights for StixFresh to operate in these countries, just like in the US.
The two partners are planning to approach large fruit distributors such as Dole and Sunpride. "The aim is to share the technology with people, but not necessarily with our stickers and branding, because their fruit already has stickers that represent their brands. So, we can coat their stickers instead," says Zhafri.
He and Buquari are currently developing a technology that can be used on bananas and smaller fruits, such as berries and grapes, as the current technology can only be used on medium-sized fruits like apples, oranges, mangoes, dragon fruit and papayas. For smaller fruit, they are looking at ways to apply the technology on the packaging rather than on the fruit itself.
They are also planning to adapt the packaging technology for vegetables, using the same concept but different materials. In fact, they are channelling most of their funding to this area of research at the moment.
Last year, the two partners learnt the importance of understanding the market and spent a lot of time analysing market trends. Although their revenue was a decent RM100,000, they realised that the potential was so much greater and more time and effort are needed to penetrate the Malaysian market.
This year, the company is looking to expand its manufacturing capacity and planning to produce 500 million stickers by the year end. But the end game is not just to prolong the shelf life of fruit. It is to get consumers to buy and consume more fruit.
"When we manage to reduce fruit wastage, suppliers will be able to sell them at more competitive prices and the fruit will be of good quality too. Do you remember the last time you bought fruits and did not throw any away? Malaysians tend to buy less fruit because it goes bad fast. Hopefully, with StixFresh, we can encourage people to eat more fruit and become healthier," says Zhafri.