This article first appeared in Enterprise, The Edge Malaysia Weekly, on December 31, 2018 - January 06, 2019.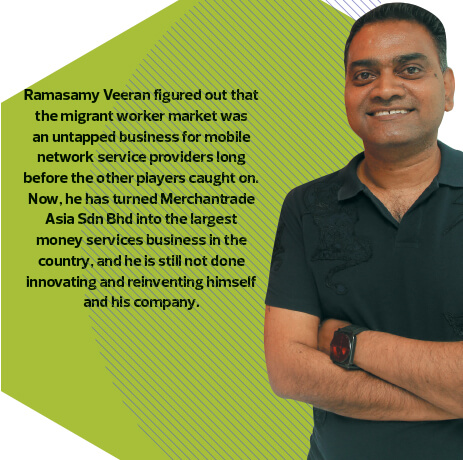 Ramasamy Veeran is always ahead of the curve. Every time his competitors see how well he is doing and come in to cannibalise his market, he quickly figures out his next move.
It all began in 1996, when he established Merchantrade Asia Sdn Bhd to sell telecommunications equipment. Barely a year into its operations, the Asian financial crisis struck the region and dragged his business down.
Ramasamy decided to leave the company dormant and explore other areas of telecommunications. He soon noticed that mobile phones were increasingly pervasive and the country was becoming dependent on migrant labour.
He rebooted Merchantrade in 2001, transforming the company into a telecommunications service provider. "In the early days, phone calls to overseas were very costly. For migrant workers, it was a luxury to contact their families back home. We saw the opportunity and began working to fulfil that need," he says.
So, instead of battling it out with the telcos for a slice of their pie, Ramasamy focused on servicing the migrant segment by providing International Direct Dial (IDD) prepaid calling cards and Voice over Internet Protocol (VoIP) calls. The company was hugely successful but it did not take long for others  to notice.
Just as intense competition began eating into Merchantrade's market share, Ramasamy used his mobile virtual network operator (MVNO) licence (obtained in 2006) to become the country's first MVNO in 2007, offering prepaid mobile IDD and data services in partnership with Celcom Axiata Bhd.
Merchantrade's services became so ubiquitous among migrant workers that their usage patterns presented Ramasamy a goldmine in terms of data. So, in addition to providing connectivity, he sought to offer low-cost remittance services.
In 2007, he received Bank Negara Malaysia's approval for a remittance licence. Today, Merchantrade is the largest money services business in the country with more than 11 million customers.
Last year, RM3.1 billion of retail currency transactions, RM6.6 billion of wholesale currency and RM5.1 billion of money transfers flowed through its system. "We did very well as an MVNO because we were able to grow with the same customer base. We were able to gauge their pulse, as in how they go about doing their transactions, the locations they often visit and so on," says Ramasamy.
It was this success that gave him the confidence to expand the company's offerings to locals and the expatriate community. from 2014.
"Earlier, our business depended too much on migrants. We realised we needed to establish a local presence and keep servicing new segments."
This attracted two institutional investors — Celcom Axiata and Japan-based Sumitomo Corp.
Having built a strong bricks-and-mortar money services business, the company launched eRemit in 2011 and eForex in 2015. Ramasamy says the market was evolving rapidly and Malaysians were comfortable switching between the online and offline services.
According to news reports, RM30 million was transacted over eForex last year. Ramasamy expects this to reach RM80 million this year.
Meanwhile, its online remittance service eRemit saw RM750 million transferred by users during the period. This is expected to increase to RM1 billion by the end of this year.
Ramasamy says these services are particularly beneficial to Malaysians and expatriates who want to send money overseas. "I started the business when I was 27, with little capital. When you believe in a business, you do all you can to make it work. At one point, I had to mortgage my house to put money into the business. Getting that initial capital and sustaining the company through the years was one of my greatest challenges in the early days.
"Another challenge was turning a very bricks-and-mortar business into a technology business. That is a headache because you need to understand the latest technology and make sure that the people you are working with understand it too. Now, I have to reinvest in human capital because you cannot just ask someone who has been a teller for the last five years to upsell a digital product."
Merchantrade is also a last-mile solution provider to companies globally. "We have built a system that is connected to most of the banks in Bangladesh, Sri Lanka, India, Thailand and the Philippines, to name a few.
"For example, say a remittance company in the UK wants to establish a presence in the Philippines. Normally, it would have to go to each bank in the country and sign agreements with each partner. But using our system, all they need to do is leverage on our existing ecosystem. Just plug and play."
These innovations are partly the reason Merchantrade acquired technology and remittance companies overseas and set up an innovation lab in Kuala Lumpur.
"We are doing what customers want and we are building the ecosystem to cater to their needs," says Ramasamy.
For time being, he is concentrating on expanding and fine-tuning the company's latest offering — Merchantrade Money, a hybrid prepaid multi-currency card that can be used at ATMs globally and a digital wallet that allows one to perform transactions online.
"Currencies are still growing and people need hard currencies to get by.
"But the highest growth we have seen is in digital wallets. We found that even though our base is small, the usage of our digital wallet is very high," he says.
Users can load up to RM10,000 to the card digitally via the smartphone app, which has a built-in electronic payment system, and easily convert ringgit into any of the 10 currencies offered.
As the prepaid card is tied to Visa, users have access to all Visa-enabled ATMs. It does not stop there. To ensure that Merchantrade Money serves more than just as a prepaid multi-currency card, the company plans to seamlessly integrate its eForex and eRemit services with the platform.
What is next for Merchantrade? "If you had asked me this question five years ago, I would have said remittance is big for me. But now, I see growth in the digital space. So, maybe, five years from now, there will be something else that I will be looking into. My journey continues to evolve," he says.