This article first appeared in Enterprise, The Edge Malaysia Weekly, on December 31, 2018 - January 06, 2019.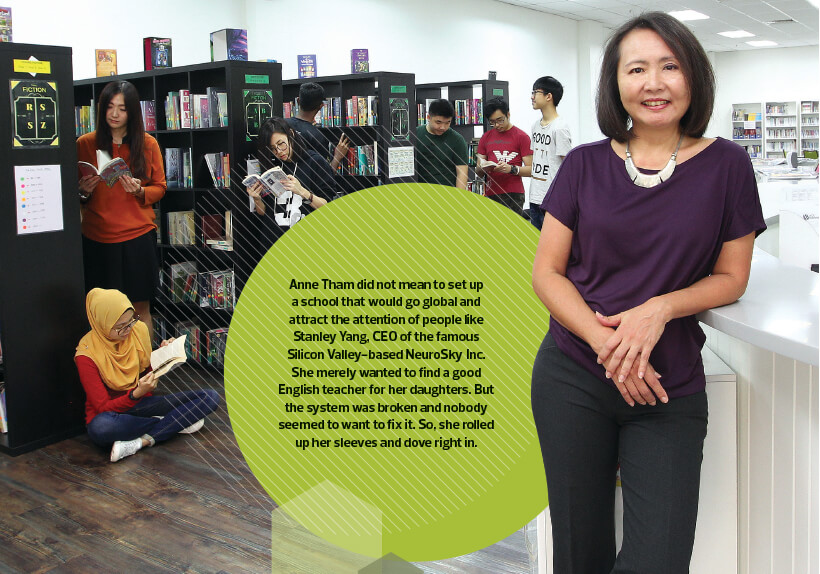 When NeuroSky Inc CEO Stanley Yang flew to Malaysia to inspect a school, he knew he would be seeing something extraordinary. That was why he was going to Kuala Lumpur in the first place.
As he freely admitted to Anne Tham, group CEO of ACE EdVenture (M) Sdn Bhd and founder of Dwi Emas International School, the country had not been on his radar for anything.
But there he was, in Malaysia, at this school, which taught all the peak performance behaviours the brain-computer interface company wanted so desperately to measure. The whole team flew in — the CEO, chief technology officer, regional business managers and a software engineer. And what is even more shocking, they stayed three days to take it all in.
Tham had come a long way since she started a tuition centre in the house of a friend. She had been horrified by the English language capabilities of the students who landed in her class at a private college. Something, she felt, must be very wrong with the system if after 11 years of English classes, they could barely string a sentence together.
As she could not find a proper school to put her daughters in, she designed her own by looking at the language skills students would need when they graduate, and working backwards from there. "A lot of people start at the beginning, with what they think primary school pupils can do and teach them the skills one by one. We never did that," says Tham.
She started her language school in 1995. Then, came her secondary school, Sri Emas International School, in 2012 and primary school, Dwi Emas International School, in 2015.
Tham read Robert Kiyosaki's Rich Dad, Poor Dad when she was running her English tuition centre and because she found the information so relevant, she incorporated nine hours of financial education into her English classes. The students loved it and many of them went on to found their own businesses, based on the simple principles they had picked up.
When she set up Dwi Emas, she incorporated entrepreneurship into the curriculum. On the wall of the school, she put up a mural that included all 12 principles of entrepreneurship such as "think win win win", "trust is the new currency" and "build empowering wealth".
That was what caught the eye of the neuroscientist who had come to the school to talk about NeuroSky's MindWave Mobile (which allows you to turn the electronic signals that flow into your body into digital signals that can be understood by a microcontroller), which culminated in Yang paying the school a visit.
Tham kept innovating her curriculum based on the way students learn and the brain absorbs information. And after 20 years of development, it looks very different from where she started. The job of teachers used to be the transfer of knowledge but today, it is about imparting skills.
She came to understand that memorising by rote (which is employed in nearly all schools in Malaysia) is one of the worst ways to retain information. "We wanted to look for ways to help students remember. That is why we started gamifying our classes. Children love games, which engage their emotions," she says.
Tham's gamification company ChemCaper is looking to turn difficult subjects into games to help students absorb the information and retain it for life in a meaningful way. She employed programmers in Indonesia to help with this, but the concepts were put together by her daughters (products of her system) and their team.
Now, because of this collaboration, she will be starting schools in Indonesia. "The country is moving so fast. We are starting off with a kindergarten and we want to open 22 schools and kindergartens as well as three international schools over the next five years. We have a strong team in Indonesia and are backed by a company there."
Tham is also setting up a school in Hong Kong and the movie stars over there have already pledged to send their children to the school when it opens. "We have just finished the setting up and are waiting for the release of funds to get the whole application process going," she says.
So far, Tham has been bootstrapping her journey, but she realises that growing organically is very, very slow. "Now that we are moving forward, the way we want to grow will require funding. We have a clear proof-of-concept and product and we have been talking to funders," she says.
If that were not enough, she will be setting up a school in Japan in the next few years. "This will be in collaboration with a group. It has nine kindergartens and a primary school, which they have just set up. So, they are focusing on the primary school now. But what they want is our secondary school curriculum," says Tham.
A Malaysian school lending its curriculum to a Japanese one? That has to be a first!
Tham recognised early on that coming from Malaysia would be an issue in all these countries. "So, we had to figure out how to position ourselves. We knew that the entrepreneur component of our curriculum would be a pull. But we still needed credibility. And one way to do that was to tie ourselves with Finland and get its Kokoa certification. We got it for ChemCaper and we are getting some of our other programmes certified as well," she says.
"We have to crack our heads on things like this because even though we were invited to go to Hong Kong, we still needed to get wider public acceptance. Articles have been written about us there and there is some excitement. Hong Kong parents are willing to come over [to Malaysia] for one or two weeks to experience what it is like in our school."
Despite this, there is a perception problem because of Malaysia's global ranking in terms of education. Tham says today's education has to be good enough for the international market because we need to prepare our students to perform at a global level. "Now, how in the world can a school train students to be global if they do not know how to be global themselves?"
She says there are two problems in the current education system. "One is that the system is too old and the other is that it is not equitable. Those who have, can access all sorts of things and those who don't, can't. There is a lot of fight to help bring it forward, to bring those who are left behind to at least come forward to be on a par with those who have. But the whole education system is stuck. Nobody is pushing it forward."
One of her main stumbling blocks is parents who cannot see very far and are only interested in the academic progress of their children. "Most of them do not even know about the fourth industrial revolution. They do not know that human beings are working closely with electronics and robots," she says.
Tham was tired of trying to convince the unbelievers. So, she decided to stick with parents who could actually see the future and wanted their children to be part of that. "We had to do this so we can at least produce a model that is ready for the future. Then, most of the people will follow. Later, the education system will follow suit," she says.
Tham's pet grouse is that soft skills have been gradually eliminated from the education system. "There is so much focus on purely the academic. If a student is really good at connecting with other students, what accolade does he or she get? None. What is encouraged, instead, is competitiveness. And if that competitiveness is there, the teachers are not equipped to get them to be more collaborative," she points out.
Collaboration is one of the 12 pillars of entrepreneurship, according to the way she teaches. Tham says schools today are very divisive, separating the strong students from the weak ones and promoting competition between the strong ones.
"So many of the children are miserable. And the parents are actually putting academic excellence ahead of their children's happiness. And what's worse, if they think their children are happy, they cannot be learning enough. My God!" she exclaims in disgust.
Tham is not waiting for everyone to change their minds because that will take too long. "We are pulling, dragging and pushing education into the future. We are making education relevant to today's world," she says.
To fight the good fight, Tham is focusing on two fronts — honing and teaching 21st century skills that are critical to produce highly productive human beings and measuring those skills. "We are working with NeuroSky to measure the brainwaves for human skills such as creativity, collaboration, engagement, resilience, empathy and decision-making," she says.
She ends the interview with a quote by educationist Sir Anthony Seldon. "In his book, The Fourth Education Revolution, he says, 'We have schools 180 degrees wrong: We are educating our young to become more like machines, like robots, but digital technology and AI machines will always outperform us. Instead, we need to be educating our young to become more fully human.'"
And that is what Tham is doing.