This article first appeared in The Edge Financial Daily, on December 27, 2018.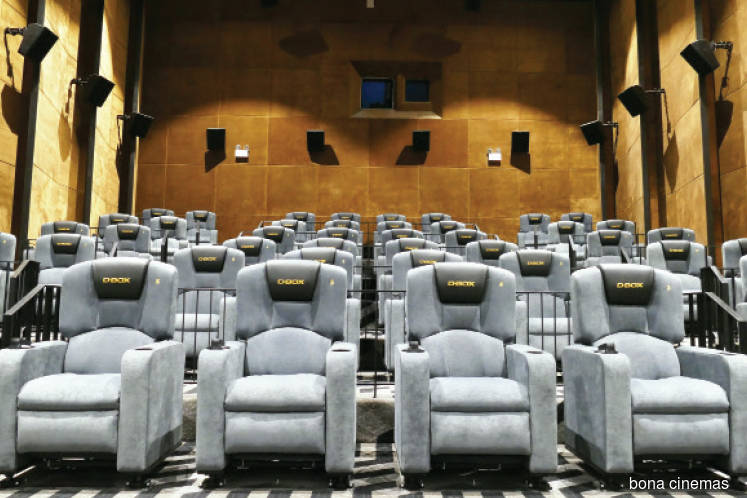 The interior of the Gold Class with D-BOX hall at Bona Cinemas.
Jungle Jam, a brand new and original computer-generated (CG) animation, and Bona Cinemas IMAX, Gold Class with D-BOX halls were launched at Resorts World Genting (RWG) recently.
Jungle Jam, a five-minute show features a dance performance by the reinvented Genting characters — a charming group of animal friends and the unofficial guardians of Resorts World Genting: Tabby the Tiger, Allie the Elephant, Joe the Orangutan, Geno the Dinosaur and two new characters Benny the Entertainer (the Malaysian Sun Bear), and Callie the Dragon.
RWG's executive vice-president of leisure and hospitality Datuk Edward Holloway said: "Our SkySymphony shows have been very successful and popular. We have kept Jungle Jam colourful and fun and the relationship between all the different characters sends a positive message about friendship.
"Hopefully, it will also garner an interest in the environment through the portrayal of the animals and the jungle," added Holloway.
Jungle Jam was created by Genting Malaysia's CG animation entertainment company, Genting Studios, incorporated to deliver premium content in CG animation productions. It will be shown every two hours from 10am to midnight.
Bona Cinemas premiered two new experiences, IMAX and Gold Class with D-BOX halls, at its gilded cineplex to allow its audiences to immerse themselves even further into the realm of motion pictures.
"Whether in the awe-inspiring expanse of IMAX or the engaging luxury of the seats, the experience of watching movies at Bona Cinemas is really impressive and innovative and with the addition of our IMAX and Gold Class with D-BOX halls, there is no better gateway into cinematic perfection in Malaysia than at Bona Cinemas in RWG," Hollaway said.
Bona Cinema's Gold Class with D-BOX hall seats up to 48 viewers. A first in the Malaysian market, Bona Cinemas has combined the luxurious pleasure of Gold Class seats with the dynamic feedback of D-BOX technology. Each D-BOX seat is equipped with patented motion system with four levels of intensity control, which swivels and tilts on a two-axis configuration to truly bring the viewer into the thick of the action.