This article first appeared in The Edge Financial Daily, on May 28, 2019.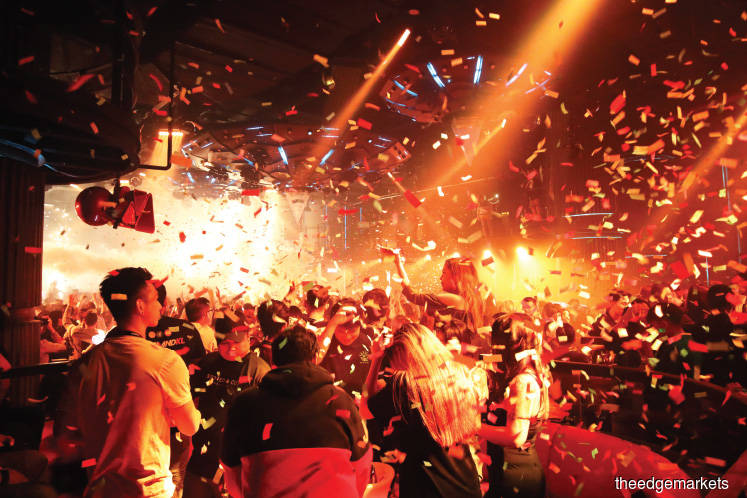 Partygoers enjoying themselves when the confetti cannon went off at the grand opening of Zouk Genting recently.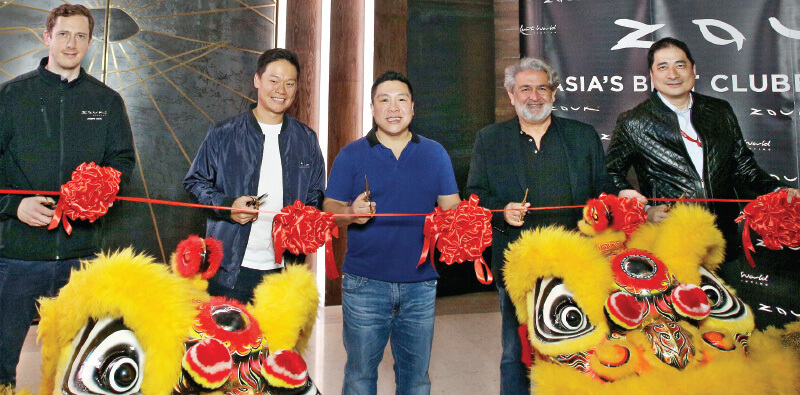 (From left) Ryan, Li, Lim, Holloway and Lee at the ribbon-cutting ceremony at Zouk Genting recently.
RESORTS World Genting (RWG) recently celebrated Zouk Genting's official launch with a ribbon-cutting ceremony where Zouk Group chief executive officer Andrew Li, Zouk Genting special projects director and general manager Joseph Ryan, as well as Genting Malaysia Bhd deputy chief executive officer and executive director Lim Keong Hui, executive vice-president of leisure and hospitality Datuk Edward Holloway, and head of business operations and strategies Lee Thiam Kit were present to officiate the event.
Among the guests was Puan Sri Cecilia Lim, wife of Genting chairman and chief executive Tan Sri Lim Kok Thay. A lion dance troupe including two neon LED lit lions dancing to the beat of EDM was present to lead guests through a cleverly designed tunnel lit with LED lighting to the dance floor.
Opening for internationally known guest, Dutch-Moroccan talent Fadil El Ghoul, better known as R3HAB, was Malaysia's very own DJ BATE. To date, BATE has performed in Melbourne, Seoul, Bangkok and Singapore, and has supported the likes of Calvin Harris, Dua Lipa, Tiesto, Zedd and Deadmau5 on tour.
R3HAB wowed the crowd during his two-hour long set that kept the party going until 3am as partygoers vibed to one of the world's best DJs, who is also known for his talents as a record producer and remixer. R3HAB has been hailed by the likes of Forbes and Billboard magazines as the future of his craft with past hits such as Pump The Party and Prutata with Afrojack.
"Twenty-eight years is how long Zouk has been creating experiences for our fans in Malaysia and Singapore, and we are changing the way we eat, drink, play and even sleep soon. We are very proud to be part of RWG," said Li in his opening speech.
"We are on our way to making Zouk a global lifestyle brand and our proudest accomplishment is our guests having an emotional connection with the brand which takes a long time to achieve."
In an exclusive interview with The Edge Financial Daily, the experience makers of Zouk Group were asked what makes Zouk Genting stand out from other clubs in Asia. To that, Li answered the difference between Zouk Genting and other clubs in Asia is that Zouk Genting has an atrium dedicated to its visitors.
Zouk Atrium, as it is known, comprises hip-hop club Empire, an up-and-coming restaurant and bar FUHU (a brand-new vibe dining concept where Zouk has partnered with three-Michelin star chef Alvin Leung, the Demon Chef of Bo Innovation), currently operating gaming bar RedTail, RedTail Karaoke and the newly opened superclub Zouk Genting. To this, Ryan added that Zouk Atrium is a 35,000-sq ft location where flexibility is provided for visitors as they can go between any of the five establishments as they are in the same vicinity and yet not feel stranded in one establishment for the evening.
Zouk Genting, said Li, was built and designed with the idea of being able to rejuvenate its interior every few years to keep up with its competitors and provide its visitors with the experience available in clubs around the world.
Currently, Zouk Genting is designed with a high ceiling and is equipped with more than 1,000 LED lights, infinite lasers, CO2 jet canisters and a 50ft x 20ft LED screen, said Ryan. He added that with world-class lighting, The Void sound system and the installed aerial acrobats' equipment, Zouk Genting has become one of the most technologically advanced clubs in the world.
Li and Ryan went on to elaborate that the Zouk experience dives into personal attention to detail and starts when visitors arrive at RWG, which is a takeaway Zouk learnt from the casino and resort's mentality. Making a human connection with Zouk's customers is what makes Zouk stand out from other clubs as it makes visitors feel that they belong in Zouk rather than just having Zouk as a venue, added Ryan.
Li said the next Zouk would be in the new Genting casino in Las Vegas in two years' time, which will have a space of 110,000 sq ft, while adding that Zouk will be bringing in more lifestyle brands from overseas into Asia.
He added that there will also be Zouk concept beach clubs and restaurants in Genting Hong Kong's cruise ships, and that Zouk is also looking into having Zouk concept hotels in the near future.