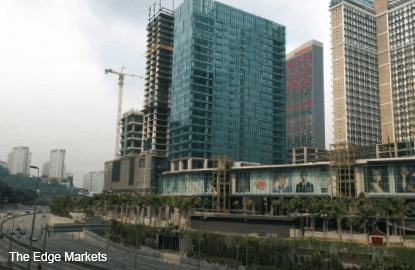 This article first appeared in The Edge Malaysia Weekly, on March 21 - 27, 2016.
AMID the cyber chatter over the delay in the completion of the Empire City project in Damansara, the focus has shifted to one of the major lenders of the development — AMMB Holdings Bhd.
It is understood that the local banking group has loaned nearly RM900 million to the developer. Given the substantial amount, observers wonder whether AMMB has undertaken any pre-emptive measures to maintain the quality of the loan. There is market talk that the top officials of the group visited the site of the project recently.
When contacted on this, AMMB, in an email reply, says it is unable to comment.
Bankers whom The Edge spoke to say AMMB's management is "aware of the loan".  An industry observer points out that perhaps the top officials of AMMB went to the ground and visited the project site to keep tabs on it and to get an update on the development.
The completion date for the Empire City project has been a moving target. Originally scheduled for the end of 2014, the date was moved to 2015 and now to September this year.
The RM5 billion development occupies 23 acres — half the size of Mid Valley City — across the road from the PJ Trade Centre. It comprises several blocks of office towers, serviced residences, five-star hotels and a huge mall with some two million sq ft of space.
Its developer is Mammoth Empire Holdings Sdn Bhd, the same name behind commercial development Empire Subang in Subang Jaya, which was successfully launched in 2010.
While industry observers and parties with vested interest wait for the completion of Empire City with bated breath, an analyst with a local research outfit points out that AMMB's asset quality has been stable. "It is the only bank that has earned income from writebacks since Dec 31, 2014. This is partly because it made a lot of provisions in the past. So, from an asset quality point of view, the banking group seems to have taken an overcautious and prudent stance," she says.
Affin Hwang Capital notes in a Feb 29 report that the bright spot in AMMB's financials for the nine months ended Dec 31, 2015 (9MFY2016), was its credit recovery and sound asset quality.
"Despite subdued operating results in 9MFY2016, a credit recovery of 19bps versus a credit cost of 4bps in 9MFY2015 mitigated the decline in pre-provision operating profit. Sound asset quality was reflected by a continued improvement in the gross impaired loans ratio from 1.95% in 2QFY2016 to 1.8% in 3QFY2016 while loan loss cover stood at 95.2%," states the report.
AMMB's gross impaired loans ratio had improved to 1.8% from 1.95% as at Dec 31, 2015. In 9MFY2016, the local banking group saw its net profit fall 27% year on year to RM1.88 billion. Stripping out the one-off net gain of RM210 million from the disposal of its insurance units in 9MFY2015, AMMB's net profit in 9MFY2016 was 15% lower y-o-y partly due to margin compression.
ANZ in or out?
Over a week ago, news broke that the foreign major shareholder of AMMB — Australia and New Zealand Banking Group Ltd (ANZ) — is exiting its "emerging corporate" businesses in five Asian countries and cutting jobs. The five countries are Singapore, Vietnam, Hong Kong, Indonesia and Taiwan.
This fuelled speculation here in Malaysia that the Australian shareholder may divest itself of its stake in AMMB.
When asked if ANZ was in talks to sell its stake in AMMB, the Australian lending group says in an email reply: "We do not comment on M&A."
News that ANZ is considering selling its stake in AMMB is not new. 
The Edge, in 2014, reported that investment bankers were looking at prospective buyers for the stake.
As at June 30, 2015, ANZ held 23.78% equity interest in AMMB.
"The issue is pricing … How much can they (ANZ) sell the stake for now?" asks the banking analyst with the local research house.
ANZ had bought into AMMB in 2006, paying an average price of RM3.625 per share for a 24.9% stake, undertaken in two separate tranches. AMMB's share price dipped to a 10-year low of RM1.569 on Oct 28, 2008, and touched a 10-year high of RM7.18 in Aug 13, 2013. It has since declined, closing at RM4.68 on March 18.
According to ANZ's 2015 annual report, the carrying value of its investment in AMMB had marginally decreased to A$1.424 billion in 2015 from A$1.465 billion. Nevertheless, the carrying value was still higher than what it was in 2012 — A$1.14 billion.
ANZ's market value of its investment in AMMB, however, had fallen to A$1.048 billion as at FY2015 ended Sept 30, from A$1.72 billion a year earlier.
It has been reported by the Australian media that ANZ's new CEO, Shayne Elliott, is expected to trim the bank's overseas operations, which consumed nearly a third of its capital in FY2015 while accounting for less than 20% of profit.
Whether or not ANZ's stake in AMMB will be a part of the expected trimming exercise remains to be seen.