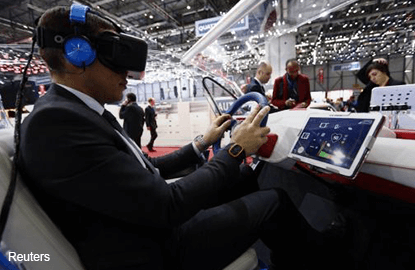 SINGAPORE (Jan 4): Emerging technology such as smart homes, digital assistant devices, virtual reality, and drones could drive the US consumer technology industry to record-high retail revenues of US$292 billion (S$423 billion) in 2017.
This is according to an industry report published Tuesday by US-based Consumer Technology Association (CTA).
The CTA consensus forecast reflects US factory sales-to-dealers for more than 300 consumer tech products.
"Our forecast reinforces our belief that connectivity is going to be one of the driving trends of our time," says CTA president and CEO, Gary Shapiro.
CTA says smart homes are evolving to become consumers' most popular means of Internet of Things (IoT) engagement.
From smart thermostats and smart smoke detectors to IP/Wi-Fi cameras and smart locks, the smart home category is expected to see sales revenue increase by 57% y-o-y to US$3.5 billion.
However, one of the biggest money-makers is 4K Ultra High-Definition (4K UHD) TVs, which is expected to rake in some US$14.6 billion this year, up 38% from 2016.
"4K UHD TVs are one of the industry's fastest growing segments, driven in part by next-generation technologies such as high dynamic range and wide colour gamut," says CTA.
Meanwhile, digital assistant devices, such as Amazon's Echo and Google Home, are expected to grow 36% y-o-y to US$608 million in revenue.
"These products present an opportunity to understand how home tech products will integrate artificial intelligence over time," says CTA.
Other emerging tech that is capturing consumers' imaginations are virtual and augmented reality devices as well as wearables. VR and AR devices are forecast to grow by 43% to US$660 million, while wearables such as fitness activity trackers and smartwatches are expected to grow 3% to S$5.5 billion.
Drones are forecast to climb to US$1 billion in revenue for the first time, up 46% y-o-y.
"2016 was an important year of transition – with potentially game changing products including VR headsets and digital assistant devices gaining steam within mass consumer markets," says CTA chief economist Shawn DuBravac.
"I expect 2017 to be a year where many of these emerging tech categories find their footing and really take off," he adds. "While still in a period of massive experimentation, we're increasingly moving away from what is technologically possible and focusing on what is technologically meaningful."