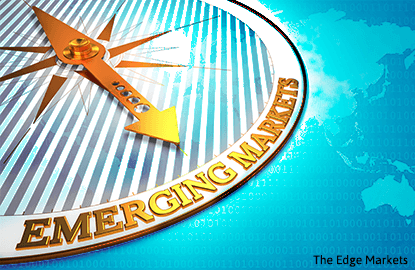 LONDON (Jan 18): Emerging stocks rose for a second day on Wednesday but currencies struggled to build on their gains in the wake of recent US dollar weakness with South Africa's rand and Turkey's lira coming under renewed pressure.
MSCI's emerging market index rose 0.5%, lifted by bourses in Asia hovering close to a three-month high and solid gains in other major markets such as Russia.
Currencies diverged after chalking up solid gains in the previous session when US President-elect Donald Trump sent the US dollar to multi-week lows, saying its strength against the Chinese yuan was "killing us".
Trump — who will be inaugurated on Friday — had threatened previously to declare China a currency manipulator after taking office.
"In terms of Trump and the impact on emerging markets, the market is still trying to figure out what will happen. There are still a few more days before he is sworn in," said Cristian Maggio, head of emerging markets strategy at TD Securities.
"China is a big player and Trump's rhetoric so far has been quite aggressive against China. Currencies are bouncing back and forth, and the renminbi is not immune from these fluctuations."
The onshore yuan gained 0.3% and traded at its strongest in two months, supported by a surge in onshore forwards on expectations of tighter liquidity over the long Lunar New Year holidays and by Beijing stepping up capital controls and tightening investment rules.
Russia's rouble nearly matched those gains despite oil prices giving away early gains to weaken on the day.
But South Africa's rand weakened 1% after data showed inflation accelerated in December while markets had expected it to slow.
"If that was a single print it wouldn't be too much of a concern, but the reality is that since August inflation has been steadily on the rise," said Maggio, adding this could force the central bank to hike rates.
"Where you have an economy that is struggling to gain traction, any additional rate hike will add to the negative developments. It may derail the recovery and it might compromise the government's attempts to achieve a certain level of budget deficit."
Turkey's lira weakened 0.6%, despite the central bank not opening its repo auction while offering a form of swap transaction in its efforts to shore up the currency, which has lost nearly 7% since the start of the year.
Both countries are seen as vulnerable due to large external financing needs, and both have central bank policy meetings scheduled for next week.