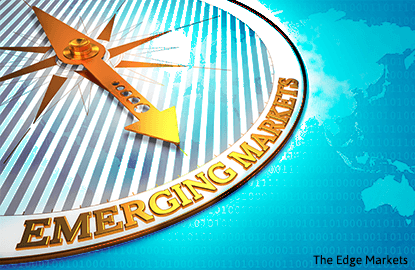 LONDON (Feb 16): Emerging equities rose to a 19-month high on Thursday, tracking gains in developed markets, while the Russian rouble held at 1½-year highs, but other currencies eased after recent solid gains.
The benchmark emerging stocks index climbed 0.3% and is up almost 10% so far this year.
Asian outperformers included Hong Kong, up 0.5% to a five-month high, Chinese mainland shares which rose 0.5%, and Philippines stocks which jumped 1.5%.
Gains extended to some European markets, with Turkish shares up 0.5% and Bucharest stocks up 0.2% to touch their highest since July 2015, after recent underperformance.
An outlier was South Africa's banking index, which fell as much as 1%, a day after the country's competition watchdog recommended heavy fines against lenders it accused of colluding to rig trading in the rand.
Per Hammarlund, chief emerging markets strategist at SEB, said emerging stocks were being pulled up by developed markets to some extent, as they looked better value.
"There's a risk appetite component to it as well. Portfolio flows to emerging markets have stayed strong," Hammarlund said. "Given the momentum in the market, it seems the rally has some legs."
World stocks hit a record high on Thursday after the latest signs of strength in the US economy, with retail sales rising more than expected in January and gains in manufacturing output.
Hammarlund said the fact that US Federal Reserve Chair Janet Yellen had signalled no major changes in monetary policy in testimony to lawmakers this week was also providing support.
"The Fed is still signalling a very gradual increase in interest rates, and emerging markets can handle a gradual and predictable tightening of US monetary policy," he said.
The Russian rouble held steady near a 1½-year high, supported by oil prices near US$56 a barrel and monthly tax payments, which prompt export-focused Russian companies to convert US dollars into roubles.
Russian Finance Minister Anton Siluanov said on Wednesday the rouble would be strengthening even faster if foreign currency purchases were not being carried out with the aim of stabilising the market.
Other emerging currencies were mostly a touch weaker after strong performance in recent days. The South African rand slipped 0.8% against the US dollar, easing off a 17-month high, while the Turkish lira slipped 0.6% from a five-week high.
The Indonesian rupiah was steady ahead of a central bank meeting at which it is expected to keep rates on hold at 4.75%. Indonesian exports rose at the fastest pace in more than five years in January, giving the economy a solid start to the year after a sluggish 2016.
Malaysia also posted 4.5% growth in fourth quarter GDP, but this failed to lift the ringgit, which weakened 0.2% against the US dollar. Tim Condon, an analyst at ING, said increased political uncertainty had made the ringgit an underperformer.
Other Asian currencies did better, with the Taiwan dollar climbing to a 20-month high.
The Egyptian pound was 0.5% firmer ahead of a central bank meeting expected to keep rates on hold at 14.75%, although inflation skyrocketed to 30.86% in January.