This article first appeared in City & Country, The Edge Malaysia Weekly, on September 2, 2019 - September 08, 2019.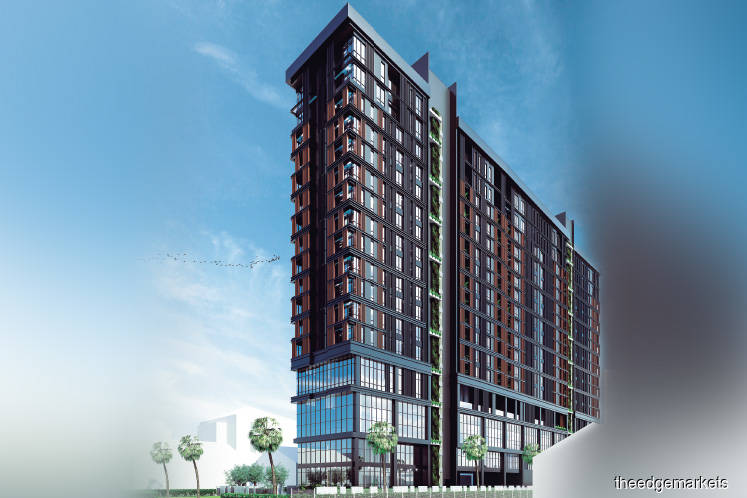 Artist's impressions of Embique (above) and its lobby (below). Pictures by HLT Land
New kid on the block HLT Land Sdn Bhd will be unveiling its first boutique development, Embique Condotel in Jalan Parameswara, Melaka, on Sept 6. The launch will be held during Bique Fest Melaka, a weekend arts bazaar that will run from Sept 6 to 19 at the developer's on-site Embique pop-up sales gallery.
Located 3km from Melaka's central business district, Embique comprises 152 units in a 17-storey block on a 1.19-acre freehold parcel. The units come in several layouts: 1-bed 1-bath with built-ups of 460 sq ft and 503 sq ft; 2-bed 2-bath with built-ups of 862 sq ft, 936 sq ft and 1,062 sq ft; and  dual key 2-bed 2-bath plus a studio with built-ups of 1,062 sq ft and 1,139 sq ft. They come fully furnished and are priced at an average RM880 psf, or RM423,000 to RM1.07 million per unit. The developer is offering free SPA, legal fees and disbursement.
Directors William Lau Wee Loon and Will Hew Yau Zin tell City & Country in an exclusive interview that Embique is designed as a boutique hotel to offer buyers an investment opportunity to profit from the revenue earned from the units as well as space set aside for amenities — four event areas, two restaurants and common spaces, tentatively measuring up to 14,700 sq ft.
"All the units will be managed by us and we are also retaining some of the units ourselves. We hope to deliver a unique product and provide long-term after-sales services to our buyers," says Lau, who like Hew, is in his 30s. To date, 45 units have been taken up, leaving 62 units available as the developer plans to hold the remaining 45 units. Embique is slated for completion in 4Q2022.
"We are targeting a mix of local and international investors. In terms of tenants, we are leveraging the growing number of tourist arrivals to the state, which hit 18 million last year," adds Lau, who is from Melaka.
He says the site was acquired in 2016 for RM10 million and he formed HLT Land with Hew in 2017 to start the project.
"We were previously in the legal industry and got to know of this piece of land after working on a deal for it. Since we know Melaka quite well, we wanted to see what we could do [to unlock the potential of the land]," he says.
Paying homage to Melaka's history, the name Embique is derived from the scientific name of the Melaka tree, Phyllanthus emblica, and "unique". The founder of Melaka, Parameswara, is said to have rested under the shade of this tree when he witnessed a mousedeer bravely defending itself against his hunting dogs.
"We wish to share the culture of Melaka with those who stay at Embique," Lau says. The The main lobby features a creative reinterpretation of the emblica tree, suspended from the bar lounge on the second floor.
Explaining the investment opportunity, Hew says Embique allows purchasers to share in the revenue collected from the management of the property based on a 60:40 ratio. "Sixty percent goes to the purchasers and 40% to the management. While most developers only share collected revenue from rooms [or units], we are sharing everything, including whatever we receive from the common rentable areas.
"We are planning to lease out the rentable components to operators and run them just like how a hotel is run," he says.
The stipulated management contract term is five years, and owners are given the option to reelect or maintain the management when the contract term is over.
Lau says owners only need to pay for the sinking fund "as we are using the 40% profit collected for the maintenance of the building for the long term. The 40% of revenue collected by the management will cover operating costs."
The duo are confident about the project in view of the growing number of tourist arrivals in the state. "Melaka has an average occupancy rate of 60%, and within Melaka City, from 70% to 80%. We are targeting to achieve at least 50% occupancy and hoping to cooperate with tour guides and travel companies," Lau says. "Compared with market rates, you don't usually get a unit as spacious as the ones offered at Embique for RM350 and with the services we are providing," he adds.
"Based on 50% occupancy and a rate of at least RM350 night, we are projecting a minimum return of 8%," Hew says.
Embique will feature a fully automated basement parking system, which the developer claims to be the first in the state. The management committee will manage the 82 parking bays, 64 of which will be automated.
"We are providing valet services. When you reach the lobby, the car will be handled by in-house staff and will be ready for you when you check out," says Lau.
"At Embique, we are offering the best value for money for the services offered, from security and parking to food and comfort. Everything will be provided for."
The development is about 11 minutes by car from Jonker Walk, six minutes from Newton Food Court, 15 minutes from Impression City Melaka, and three minutes from Dataran Pahlawan.
Moving forward, HLT Land is looking to carry out more projects in Melaka as the founders are familiar with the state.