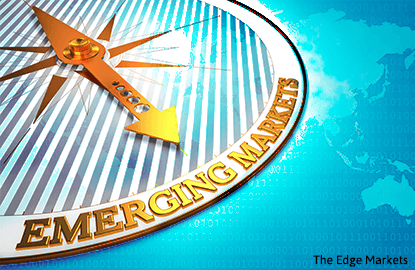 LONDON (Jan 20): Emerging stocks fell on Friday and were set to end the week down, snapping a three-week winning streak, as risk appetite eased ahead of US President-elect Donald Trump's inauguration, while currencies struggled to make headway.
Some investors worry that Trump's arrival in the White House will herald a rise in protectionism, with the introduction of tariffs that could harm export-dependent economies in the developing world.
"Trade protectionism is an impending risk," said Jakob Christensen, head of emerging markets research at Danske Bank, highlighting the possibility of a deepening stand-off between the United States and China.
The tough talk from Trump and his incoming administration against China has set the stage for showdowns on everything from security to trade, with Trump threatening to label China a currency manipulator.
"The Chinese response has been muted so far as they have been waiting for Trump to make formal changes. Now there is a chance of concrete measures there is a risk of escalation, which would be negative for emerging markets, as global risk sentiment would weaken," Christensen said.
The benchmark emerging equities index was down 0.4% and set to end the week down around 0.5% after three weeks of gains.
Asian manufacturing markets bore the brunt of the losses, with South Korea down 0.35% and Hong Kong shares down 0.7%. Indian stocks fell around 1%, dragged down by a 6.4% fall in Axis Bank after a 73% plunge in profits.
Chinese mainland shares bucked the trend, gaining 0.7% after data showed the economy grew at a forecast-beating 6.8% in the fourth quarter, albeit driven by higher government spending and record bank lending.
"With tailwinds from policy stimulus now fading, we expect clearer signs of a renewed slowdown to emerge during the next couple of quarters," Julian Evans-Pritchard, China economist at Capital Economics, said in a note.
Eastern Europe, which is more reliant on trade with Western Europe, also rose. Hungarian shares added 0.5% after robust wage growth and Prague stocks were up 0.3%.
Emerging market currencies struggled as the US dollar firmed 0.2% against a basket of currencies.
The South African rand led the fallers, down 0.3%, while the Chinese yuan fell 0.15%.
Short-term funding costs in China fell sharply after the central bank pumped a record amount of liquidity into the markets, in an apparent attempt to avert a cash crunch ahead of the week-long Lunar New Year holiday.
The Turkish lira, which has come under sustained selling pressure all month, was down 0.16%.
The central bank held another forex depo auction aimed at shoring up the currency, but investors are looking for a sharp rate hike when policymakers meet next week.
The Russian rouble firmed 0.2% after oil prices rose 1.2% towards US$55 a barrel. Russia's economy minister said the economy could grow by 2% in 2017 as long as there were no external shocks such as a renewed fall in oil prices.
The trajectory of the US dollar remains key for emerging market currencies, after falling almost 2% so far in January.
A lack of detail around Trump's promised fiscal stimulus package and his comments that the US dollar is too strong has made some question whether the rally that took hold after his election win is running on air.
"The market is in wait and see mode — there needs to be some clarity on the fiscal side fairly soon, or the market, which has priced in part of this fiscal stimulus, will lose patience, which could mean lower interest rates and a weaker US dollar," Christensen said.