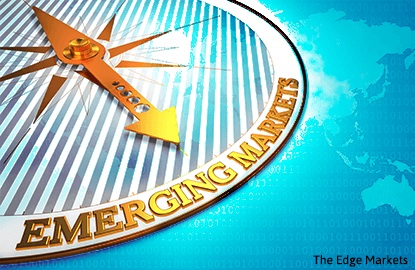 LONDON (Feb 15): Emerging market stocks hit a 19-month high on Wednesday, with even hints of looming US rate hikes and the US dollar's longest unbroken rise since 2012 unable to knock them off their stride.
MSCI's 26-country emerging market equity index hit its latest peak thanks to its ninth climb in the last 11 days, taking its gain since the end of December to almost 12%.
Many of the big EM currencies and bond markets also continued to shine.
South Africa's rand rose 0.7% to go under 13 per US dollar for the first time since October 2015, while Russia's rouble was up, just about, for a tenth day in the last 11 and at its highest since July 2015.
Aberdeen Asset Management's Kevin Daly said the across-the-board strong performances were down to a "goldilocks" combination of factors, including broadly subdued global bond yields, inflation and improving growth.
"If you add it up its a pretty strong backdrop for higher yielding EM assets," Daly said.
"Markets maybe are also picking up on some of the more conciliatory comments from Trump on China on the one China policy and that he hasn't followed through on the currency manipulation talk."
Egypt's pound has been roaring too as investors have swept back in following its devaluation late last year. It climbed 0.3% on the day taking its surge over the last couple of week to almost 17%.
The upbeat sentiment also kept the cost of insuring exposure to South African and Turkish debt pinned near two-year and five-month lows respectively.
Data from Markit showed that five-year credit default swaps (CDS) for South Africa were trading at 190 basis points (bps), close to the 188 bps level hit on Tuesday which was the lowest since early March 2015.
South African headline inflation slowed to 6.6% in January, weaker than forecast, data there showed. Turkey's Finance Minister Naci Agbal meanwhile said its budget spending in January was in line with targets.
RAMPANT REAL, PERKY PESO
William Jackson, a senior emerging markets economist with Capital Economics, pointed to the recent rebound in the Turkish lira which was barely budged on the day at 3.65 per US dollar.
"It might be that the sell-off we saw in January caused it to overshoot and it has recouped some of those losses."
"The central bank did raise interest rates - it wasn't a convincingly large rate hike but it still showed it was able to raise interest rates. That may have helped to ease some of the market's fears."
Nigeria's recently sold bond continued to climb while in central and eastern Europe, Hungary's stock market hit its latest record high, Czech shares continued their strong start to the year, though Poland's took a breather.
Overnight in Asia, there had been mild weakness for the region's currencies such as the South Korean won, Thai baht and Philippine peso after the US dollar got a boost from Federal Reserve Chair Janet Yellen who said another US rate hike was likely in one of its upcoming meetings.
In Latin American, though, the Brazilian real hit its strongest level in more than a year and a half, following a rise in capital inflows and after the central bank resumed currency intervention following a two-week pause.
"The Mexican peso has also been doing very well," said Aberdeen's Kevin Daly. "It looks like the diplomacy (with the US) is improving a little." The peso is up almost 9% since Mid-January.