This article first appeared in City & Country, The Edge Malaysia Weekly, on September 23, 2019 - September 29, 2019.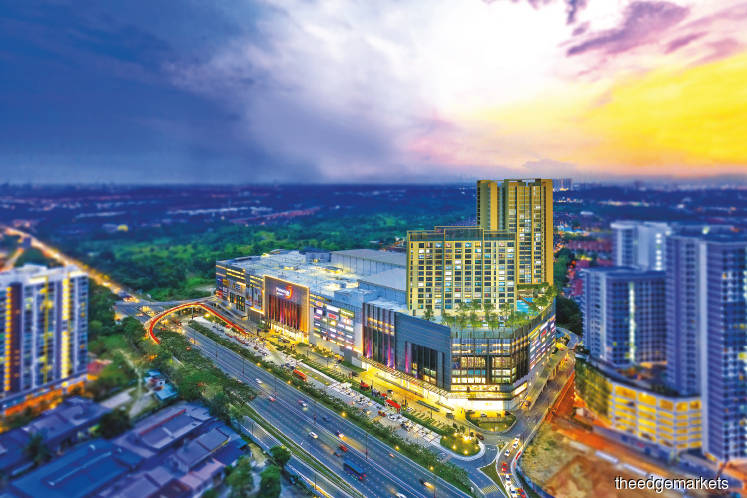 Paradigm Residence will sit on top of Paradigm Mall Johor Baru in Skudai, adjacent to the 204-key Hyatt Place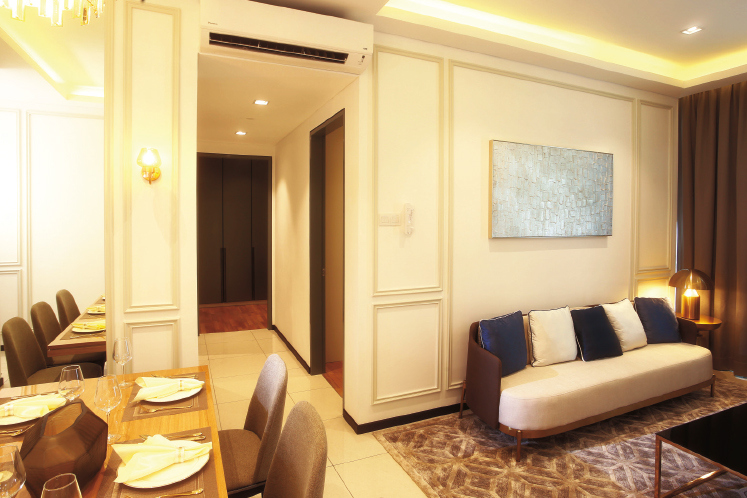 Show unit of Paradigm Residence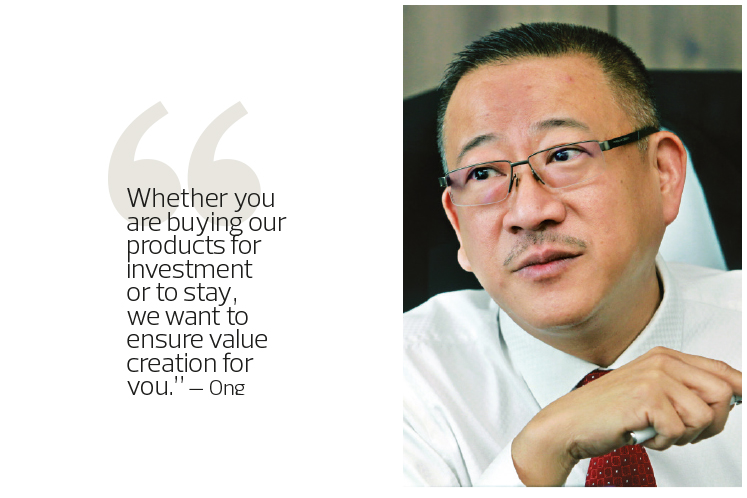 This article has been updated for accuracy.
Ong Chou Wen, property development CEO of WCT Land Sdn Bhd, is a man on a mission. He wants to bring the company out of the shadow of its better known parent, WCT Holdings Bhd.
"When you mention WCT, most people will immediately think of construction," says Ong, who joined WCT Land in April this year. This is only to be expected as WCT Holdings started as a construction company.
Ong hopes the projects in the pipeline — including two master planned developments with a gross development value (GDV) of about RM20 billion — will elevate WCT Land's name.
The developer will first launch Paradigm Residence in Johor Baru on Sept 28.
Paradigm Residence will sit on top of Paradigm Mall Johor Baru in Skudai, adjacent to the 204-key Hyatt Place. Comprising 263 units of serviced apartments, it has a GDV of RM170 million. The serviced apartments, mall and hotel will take up a 12.38-acre parcel.
A place for every market segment
To ensure a wider target market, WCT Land is offering four built-ups for the serviced apartments: 530 sq ft (44 units), 790 sq ft (45 units), 962 sq ft
(90 units) and 1,123 sq ft (84 units).
"The smallest is 530 sq ft, which is a 1-bedroom plus 1-bathroom unit. This is meant for young working people who are very mobile. They could be working in Singapore but choose to live in JB and have no problem moving around," says Ong.
The 2-bedroom units (790 sq ft and 962 sq ft) will cater for small families.
"Young married couples and small families look for units like these. The 962 sq ft unit has 2 bedrooms and 1 study room that can double as a bedroom. The larger families can choose the 1,123 sq ft unit. So, with four different built-ups and configurations, we cover different segments of the market," he explains.
The units are priced from RM318,000 to RM843,000 and come partially furnished with air-conditioners, kitchen cabinets with a two-zone ceramic hob and hood, water heater, shower screen, and solid timber flooring in all bedrooms. Facilities will include a children's playground, games rooms, childcare room, 25m infinity pool, wading pool, poolside open lounge, gym and multi-function hall.
Ong says much thought has been put into the design. "We have the usual facilities but the design will elevate it to another level from the normal affordable range of products. One example is the smallest unit. It is a studio but will have a bedroom. In a studio, guests usually have to go through your bedroom to get to the toilet. Here, we have added a separate door to the bathroom so guests will not trespass on your private domain."
The freehold status is also an added advantage as such developments are getting scarce, especially in the city centre.
One believes the low-density residential units in an integrated development are ideal for the young.
"What are the characteristics of the young generation? They are impatient, they want immediate results and they get frustrated easily. People like me are on the way to the museum but the young will shape our society. So, we have to design our products to fit the lifestyle of the future and that means creating time-centric facilities.
"Imagine coming home from work and heading straight to the mall to buy a takeaway meal. Then you take the lift up to your apartment to have dinner. Or you go home, take a shower and head downstairs to the mall for dinner with your friends. You will get easy access to entertainment, shopping, F&B and groceries.
"We only have 12 units per floor that will be serviced by five lifts, which greatly reduces the waiting time. I believe this is the lifestyle of the future, where people do not want to waste time driving or travelling and trying to find a parking spot. Convenience is key," he says.
Paradigm Residence is strategically located along the Skudai Highway and is about 13km to the city centre and Johor Baru Customs, Immigration, and Quarantine Complex (CIQ); 14km to the North-South Expressway; 17km to Senai Airport; and 25km to the Tuas 2nd Link CIQ.
"It is also about the maturity of the surrounding townships (Taman Bukit Mewah and Taman Tampoi Indah). We talk about live, work and play but in this case, the development is also supported by medical and wellness facilities as well as schools," says Ong.
Hospital Permai, Wawasan Open University and three Chinese schools are within a 5km radius and the Johor Golf and Country Club, Hospital KPJ Puteri Specialist and Hospital Sultanah Aminah, within 10km.
"I believe The Mall in Mid Valley Southkey will also have residences on top in the future but at the moment, ours is the only integrated development in Johor Baru. Integrated developments are common in the Klang Valley but not in the southern part of the peninsula," he adds.
Located next to the Paradigm Residence, Hyatt Place Johor Baru will offer more than 2,400 sq ft of meeting space.
"Hyatt Place is a traveller-class hotel and is a good complement to the entire integrated development. We are constructing the hotel and residences concurrently so that both will be completed at the same time. This will eliminate unnecessary construction noise for guests and residents," says Ong.
While both developments are scheduled for completion by 3Q2022, he expects early delivery as the foundation and podium have been completed.
"Paradigm Residence also has one more advantage as units priced at RM541,000 and above can be sold to foreigners. This will widen our market even more. The minimum purchase threshold in Johor is RM1 million for foreigners but we obtained approval quite sometime ago so we are able to do this."
Big things to come
About two years ago, Tan Sri Desmond Lim became the majority shareholder of WCT Holdings after long-serving managing director Peter Taing and co-founder Wong Sewe Wing sold their shares to Lim's Dominion Nexus Sdn Bhd. Lim is the owner of the Pavilion Group and the main shareholder of Malton Bhd.
Lim's input and expertise have made a significant difference in WCT, says Ong.
"Lim has vast experience in retail management and retail design and with his input, there has been a lot of improvement in our design and products. The success of WCT can be attributed to his approach. For example, our malls have undergone massive revisions to their tenancy mix to bring in the right type of brand and products to make them successful."
According to Ong, Paradigm Mall is currently the trendiest and most successful mall in Johor Baru with a 93% occupancy rate.
"Paradigm Mall is one of the largest with 1.3 million sq ft of retail space. Johor Baru has a number of not-so-successful malls. Some have closed down even after years of operation. For a mall to be successful, it is not just about location, it also has to have the right tenant mix."
WCT Land's doctrines go back to the fundamentals, says Ong.
"We go back to the very basics. The first thing is customer satisfaction, followed by product quality, which includes the design, location and so on. Third is value creation. Whether you are buying our products for investment or to stay, we want to ensure value creation for you."
Two major upcoming developments — WCity OUG in Kuala Lumpur and WCity JGCC in Johor Baru — will showcase the new and improved capabilities of WCT Land. Each will have a GDV of RM10 billion. While Ong is not able to reveal much about the projects at the moment, he says WCity OUG will have a retail village concept that caters for the community.
Announcements on the two projects will be made by the end of the year or the first quarter next year.