This article first appeared in The Edge Malaysia Weekly, on November 11, 2019 - November 17, 2019.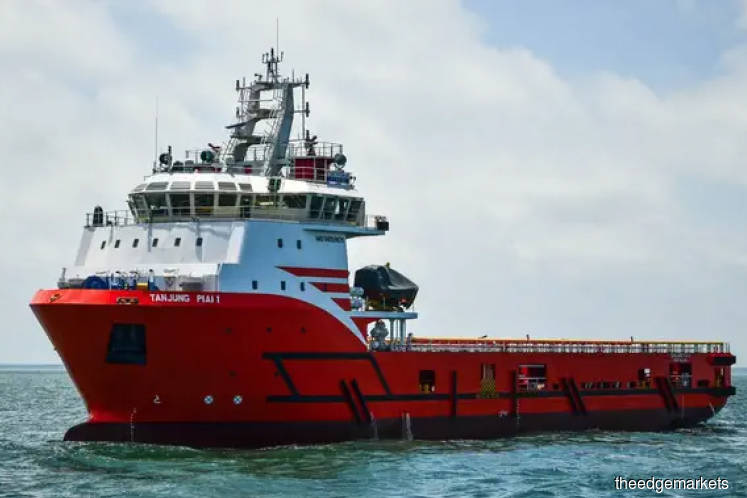 This article has been updated for accuracy.
LAST Friday, offshore support vessel (OSV) player Icon Offshore Bhd closed at 3.5 sen — the lowest level seen since it debuted on Bursa Malaysia 5½ years ago — for 10 out of the last 15 trading days.
At 3.5 sen, Icon's shares are now worth less than 2% of its initial public offering (IPO) price of RM1.85. The company presents a knotty challenge for its major shareholder, Ekuiti Nasional Bhd (Ekuinas).
For a private equity (PE) fund such as Ekuinas, a full exit from Icon has been overdue for several years. It previously told The Edge that its exit horizon is typically three to five years — this month marks the seventh year since its investment clock on Icon began.
A PE fund typically does not hold an investment beyond its exit horizon. Ekuinas calculates its investment performance based on internal rate of return, which declines the longer an investment is held on to.
Icon has been loss-making for four out of the past six full financial years. It is also undertaking a cash call that will see Ekuinas pump a further RM183 million into the company, on top of the RM435.9 million already invested since 2012.
When asked on its exit strategy for Icon, Ekuinas tells The Edge that it is important to recognise the turbulent oil and gas environment since 2014 as crude oil prices plunged from record highs.
"Icon has been focused on maintaining capital discipline and productivity improvements. The strategy continues to be so moving forward," says Ekuinas.
"The focus for Icon Offshore is to strengthen its balance sheet as it will enable the company to capitalise on the industry recovery and be on the path to profitability. As an investor and board representative, we continue to support Icon," it adds.
To be fair, the announcement of the proposed rights issue in August also contributed to the counter tumbling to record lows.
To recap, Icon proposed to consolidate its outstanding shares by a factor of 50 to 1 while issuing rights on a 60-to-1 basis with free warrants. It seeks to raise up to RM250 million. Ekuinas has already committed to subscribe for the exercise for RM183 million.
The proceeds will be used to restructure RM577.1 million of Icon's RM650.51 million debt. If successful, it expects total debt to reduce by 36% to RM412.99 million. Part of the restructuring involves issuing new shares plus free detachable warrants worth RM172,000 to one creditor as settlement.
The exercises are part of its Corporate Debt Restructuring Committee (CDRC) scheme that aims to reduce gearing from 9.16 times to 1.14 times.
On Nov 8, the company said shareholders will vote on the proposal in an extraordinary general meeting scheduled for Nov 26.
Ekuinas is Icon's single largest shareholder with a 42.28% stake, held via Hallmark Odyssey Sdn Bhd. Other shareholders include Minister of Finance Inc vehicle, Urusharta Jamaah Sdn Bhd, with an 8.8% stake and the Employees Provident Fund with 4.01%.
While it has invested RM435.9 million in Icon since 2012 and will put in another RM183 million via the rights issue, Ekuinas did recoup some of its investment via the IPO back in June 2014.
For the IPO, Ekuinas sold a total of 283.02 million shares. At the IPO price of RM1.85, the gross proceeds to the fund would have been RM523.6 million.
Back in January 2017, the PE fund, which ultimately reports to the government, did try to inject its Icon stake into a proposed tripartite merger that included another investment called Orkim Sdn Bhd and what was then UMW Oil & Gas Bhd (UMWOG).
Ekuinas owns 95.5% in Orkim, which ships clean petroleum products. UMWOG has since been renamed Velesto Energy Bhd.
The proposal had aimed to create an integrated offshore service provider with exposure to both upstream and downstream businesses. However, it fell through in May 2017 as the stakeholders found that the expected merger benefits fell short of expectations.
It is worth noting that the proposed merger had valued Icon at 50 sen per share or RM588.6 million. A successful merger would have enabled Ekuinas to reset its investment clock for Icon.
At its close of 3.5 sen last Friday, Icon was worth RM41 million in market capitalisation.
The valuation belies its position as among the largest OSV players in Southeast Asia in terms of fleet size, according to its annual report. It had 32 vessels across six types as at Dec 31 last year, of which 19 were anchor handling tug supply vessels. According to Maybank Investment Bank Research, the average vessel age is 10 years.
In the six-month period to June 30 (1HFY2019), Icon reported a net loss of RM11.45 million (1HFY2018: RM13.3 million net loss) on revenue of RM91.91 million (1HFY2018: RM101.24 million). The company attributed the performance to a higher number of vessels in drydocking, leading to lower utilisation.
In FY2018, Icon recorded a net loss of RM449 million on revenue of RM199.7 million, its biggest full-year loss amid record low revenue.
Of the total FY2018 net loss, RM419.9 million was from a non-cash net impairment of its fleet's net book value. Its annual report states that the impairment was recognised as oil and gas market conditions had remained difficult.
According to Icon, the impairment was determined after an independent valuation process that considered the fair market value of its vessels less the cost to sell them, which was set at 1% of vessel value.
"The recoverable amount of vessels determined based on fair value less cost of disposal is RM208,260,360, which is RM379,073,334 lower than their carrying amount of RM587,333,694," Icon says in its annual report.
That said, in a Sept 3 report, Maybank IB Research noted that Icon was operationally in the black but was hit by higher-than-expected taxes. At the time, Icon was trading at around five sen.
"Excluding the impact of the deferred taxes, Icon registered a core pre-tax profit of RM5 million in 2Q2019 after six consecutive quarterly losses on improved OSV utilisation," says Maybank.
"Coupled with an improving operating outlook, the recent weakness in share price post its restructuring plan is an opportunity to buy. Hence, we upgrade Icon to a 'buy', on an unchanged target price of 8.5 sen."
In August, Icon named Datuk Seri Hadian Hashim as its new managing director, effective Sept 3.
Hadian was the founder of Sona Petroleum Bhd, a special-purpose acquisition company that was ultimately unsuccessful. It will be interesting to watch how Icon performs with his appointment.