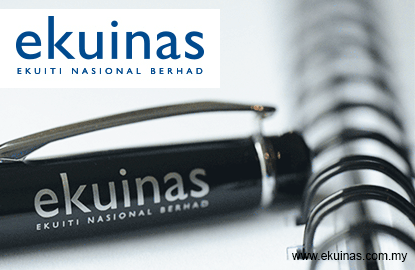 KUALA LUMPUR (March 17): Ekuiti Nasional Bhd (Ekuinas) said its education arm Ilmu Education Group Sdn Bhd's plan to acquire the education assets of Sapura Resources Bhd (SapRes), together with its recent buy-out of minority shareholders in two other education firms, is part of its plan to position Ilmu as one of the largest private education providers in Malaysia.
In a statement today, Ekuinas said the move will cost Ilmu RM363.2 million in total: RM315 million will be on the proposed acquisition of SapRes' assets, while the remainder RM48.2 million is the amount it spent to purchase the remaining 10% stake in Unitar Capital Sdn Bhd (RM13 million) and the remainder 30% stake in Tenby Schools (RM35.2 million).
It bought the stake in Unitar Capital, the owner of UNITAR International University, from Shoraka Square Ltd.
As for the Tenby stake, it is acquired from its founder/director Datuk Lim Si Boon, who has chosen to sell his shares but shall remain as executive director of the company, said Ekuinas.
Ekuinas chairman Tan Sri Arshad Raja Tun Uda said with education being one of Ekuinas' core sectors for investment and constituting nearly 27% of its investment portfolio to date, the government-linked private equity fund is pleased to be able to undertake the buy-outs.
"Ekuinas is aggressively executing our value creation plans for our education portfolio under Ilmu and this next step is a natural progression towards achieving our vision for Ilmu," he added.
Ekuinas chief executive officer Syed Yasir Arafat Syed Abd Kadir said the investments in APIIT, UNITAR and Tenby Schools will further strengthen its position in the education sector, consistent with its strategy to position Ilmu as one of the largest private education providers in Malaysia.
"This latest move will facilitate our efforts to enhance operational improvements throughout Ilmu with a view to expedite group-wide integration since Ekuinas officially launched the group last September," he said.
"Part of the strategy involves intensifying student acquisition and marketing initiatives, implementing process improvement initiatives, and installing new and improved management systems, which are currently at various stages of implementation," he added.
Yesterday, SapRes announced it would be selling its education assets comprising a 49% stake in APIIT Sdn Bhd, 49% stake in Asia Pacific University Sdn Bhd and 37.61% stake in Asia Pacific Institute of Information Technology Lanka Pvt Ltd (the APIIT Education Group) to Ekuinas, from which it would pocket RM315 million, inclusive of a RM68 million dividend from a proposed reorganisation of one the units it is selling.
SapRes said the sale would allow the company to focus on growing its property and aviation businesses.
Ekuinas said in the statement that since its entry into the three education institutions — namely the APIIT Education Group, UNITAR, and Tenby — the firms have collectively increased their total number of students to 28,388 and combined revenue to an estimated RM362.6 million in 2015.
Ekuinas said with these buy-outs, it has undertaken 45 investments to date for a total of RM2.8 billion under its direct investments and outsourced programme.
Through its investments, together with capital from private sector partners, "Ekuinas has facilitated economic deployment of more than RM3.4 billion, which positively impacts the Malaysian economy", it added.