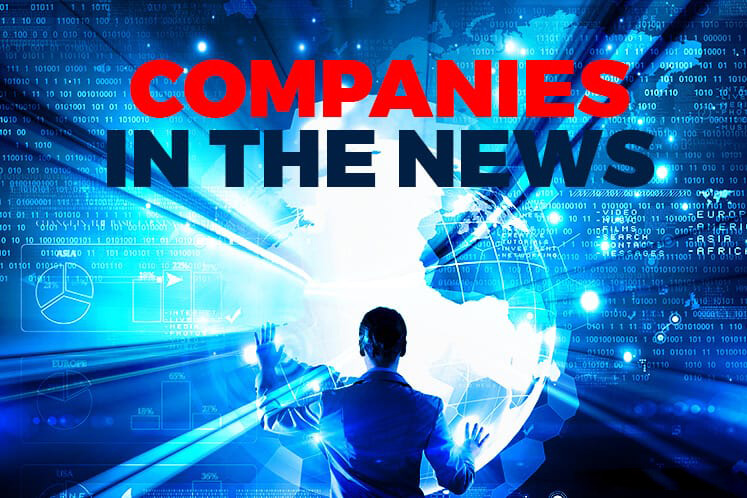 KUALA LUMPUR (March 12): Based on corporate announcements and news flow today, stocks in focus on Tuesday (March 13) may include Ekovest Bhd, UMW Oil & Gas Corp Bhd, Bermaz Auto Bhd, Econpile Holdings Bhd, Malaysia Airports Holdings Bhd, Ho Hup Construction Co Bhd, KSL Holdings Bhd, Nexgram, T7 Global Bhd, Kossan Rubber Industries Bhd, Poh Kong Holdings Bhd and Sedania Innovator Bhd.
Ekovest Bhd has bagged a RM99.89 million contract to undertake the improvement and beautification works under Package 2 – Taman Titiwangsa, Kuala Lumpur, which forms part of the second phase of the River of Life project.
In a filing with Bursa Malaysia today, Ekovest said its wholly-owned subsidiary EkoRiver Construction Sdn Bhd has received a letter of acceptance from the Kuala Lumpur City Hall for the proposed project.
The completion period for the works is 78 weeks.
EkoRiver Construction is also undertaking works on Phase 1 of the River of Life project.
UMW Oil & Gas Corp Bhd (UMW-OG) has been awarded an umbrella contract from Petronas Carigali Sdn Bhd for the provision of 460K drilling hydraulic workover unit (HWU).
UMW-OG said the contract was awarded to its indirect wholly-owned subsidiary UMW Workover Sdn Bhd.
Commencing from Feb 6, the contract has a term of three years with an option to extend for one year.
Bermaz Auto Bhd's (BAuto) net profit for third financial quarter ended Jan 31, 2018 (3QFY18) jumped 61% to RM40.47 million, from RM25.11 million a year earlier, contributed mainly by its domestic operations with the new Mazda CX-5 model recording higher sales volume.
Earnings per share rose to 3.5 sen in 3QFY18 from 2.19 sen per share previously.
Quarterly revenue also rose 65% to RM559.4 million from RM338.68 million.
BAuto declared a third interim dividend of 2.3 sen per share, payable on April 26.
For the cumulative nine months ended Jan 31, 2018, net profit dropped 14% to RM82.88 million from RM96.84 million in the previous corresponding period. Revenue rose 9% to RM1.42 billion from RM1.31 billion.
Econpile Holdings Bhd has bagged a RM25.9 million contract for the redevelopment of an existing seven-storey hospital building and an additional 12-storey building in Kota Damansara, Selangor.
It said its wholly-owned subsidiary Econpile (M) Sdn Bhd has received a letter of award from Putra Perdana Construction Sdn Bhd for site preparation, earthworks, piling, basement, carpark lower ground and retaining wall of the existing hospital and additional building.
The contract's duration is 15 months, and is expected to contribute positively to its revenue and earnings for the financial year ending June 30, 2018.
The number of passengers passing through the 39 airports Malaysia Airports Holdings Bhd (MAHB) manages in the country rose by 4.7% to 7.69 million in February 2018 from 7.34 million a year ago — the highest recorded for the month of February.
"The overall Malaysia passenger traffic growth of 4.7% for February 2018 was mainly driven by the international sector," said MAHB in a filing with Bursa Malaysia today.
The airport operator said international traffic recorded 4.1 million passengers with a year-on-year (y-o-y) increase of 10.8%.
"The international passenger volume for February 2018, despite only 28 days, is also higher than January 2017 which was also the Chinese New Year month," it added.
However, domestic traffic recorded a decline of 1.3% y-o-y to 3.6 million passengers in February 2018.
Systemwide including its Istanbul operations in Turkey, MAHB handled 7.1% more passengers to 10.07 million in February 2018 compared with 9.4 million in February 2017.
Ho Hup Construction Co Bhd's wholly-owned Ho Hup Ventures (Kuantan) Sdn Bhd has signed a joint venture (JV) pact to undertake a mixed development project in Kuantan, Pahang.
The JV signed with landowner Koperasi Serbausaha Makmur Bhd (KOSMA) is to develop a parcel of freehold commercial land measuring 8,129.9 sq m in Kuala Kuantan into a block of seven-storey three-star hotel, three commercial office floors, a block of 23-storey serviced apartments, car parks and retail shops.
Under the terms of the JV, KOSMA will be purchasing the hotel block for RM30.98 million, and the three commercial office floors for RM7.08 million.
KOSMA will also be entitled to a consideration sum of RM25 million.
KSL Holdings Bhd is acquiring two parcels of land totalling 47.74ha in Tebrau, Johor, for RM133.59 million cash. The parcels will be used for landed property development.
The Johor-based property developer said its wholly-owned Goodpark Development Sdn Bhd has signed a conditional sale and purchase agreement with Grace Versatile Sdn Bhd for the exercise.
The two parcels of land situated in the Ulu Tiram locality are for a lease of 99 years, expiring on Jan 3, 2115.
Nexgram Holdings Bhd has inked a strategic cooperation framework agreement with a Chinese-listed Jiangsu Tongguang Electronic Wire & Cable Co Ltd to undertake operations in the field of communications cables.
The tie-up allows Nexgram to carry out all-round operations in radio-frequency coaxial cables, high temperature resistant wires and cables for aerospace, aluminium-alloy electrical cables, submarine optical fiber cables and other optical cables along power transmission lines.
The agreement is for duration of one year with possible renewal.
Oil and gas service provider T7 Global Bhd has bagged a three-year umbrella contract from Petronas Carigali Sdn Bhd for the provision of a hydraulic workover unit (HWU).
In a filing with Bursa Malaysia yesterday, T7 said Petronas Carigali had awarded the umbrella contract to its wholly-owned subsidiary Tanjung Offshore Services Sdn Bhd (TOS) on Feb 6.
The umbrella contract runs from Feb 6, 2018 to Feb 5, 2021, with an option to extend for an additional one year. It is also conditional upon TOS maintaining a valid licence with Petroliam Nasional Bhd.
Kossan Rubber Industries Bhd is buying two pieces of land in Bidor, Perak from Perbadanan Kemajuan Negeri Perak (PKNP) for RM82.42 million cash.
The group said it plans to use the land totalling 824.11 acres for its integrated glove manufacturing expansion.
The proposed acquisition is expected to be completed in the first quarter of 2019.
Jeweller Poh Kong Holdings Bhd saw its net profit fall 20.8% to RM4.81 million in the second financial quarter ended Jan 31, 2018 (2QFY18) from RM6.07 million a year ago, on higher operating expenses.
This resulted in a lower earnings per share of 1.17 sen in 2QFY18 compared with 1.48 sen in 2QFY17.
Quarterly revenue, however, was up 19.3% to RM269.98 million from RM226.32 million, thanks to the increase in demand for gold jewellery and gold investment products and additional revenue contributed from new outlets in the current quarter under review.
For the cumulative six months (1HFY18), Poh Kong reported a 29.7% increase in net profit to RM10.17 million from RM7.84 million in 1HFY17, while revenue grew 19.2% to RM490.91 million from RM411.79 million a year ago.
On prospects, Poh Kong is confident of the group's resilience to weather the challenges ahead for financial year ending July 31, 2018.
Sedania Innovator Bhd has teamed up with Matrix Energy Sdn Bhd (MESB) to jointly deliver green technology (GreenTech) solutions to a major telecommunications company (telco) in Malaysia, aiming to achieve annual savings of 22% in energy costs.
Sedania said its wholly-owned subsidiary IDOTTV Sdn Bhd has entered into an agreement with MESB for the partnership to design, install and commission energy saving devices and provide GreenTech solutions at selected facilities owned by the telco.
"The agreement will start from March 9 and will continue [for] 10 years from the date the GreenTech solutions are installed in each site," it added. The expected time frame for the installation of the solutions to be completed is seven months, ending Sept 30, 2018.