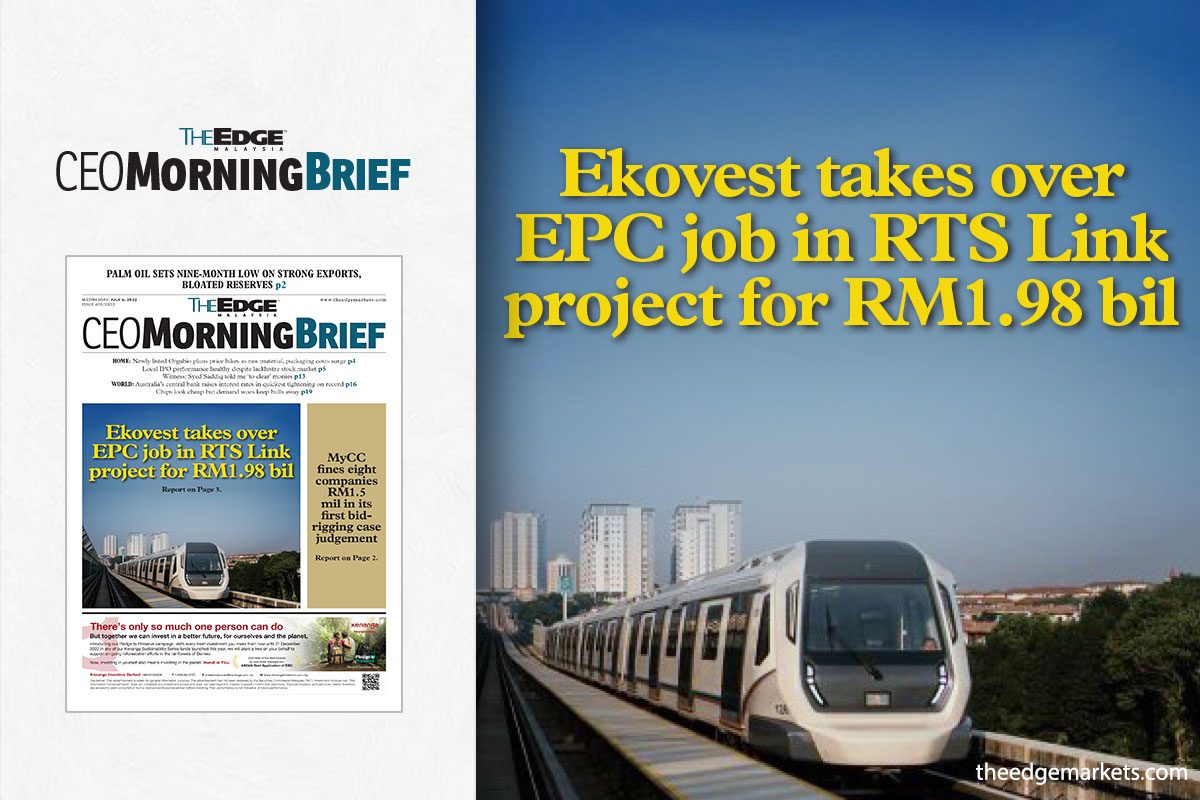 KUALA LUMPUR (July 5): Ekovest Bhd's wholly-owned subsidiary Ekovest Construction Sdn Bhd (ECSB) has been appointed by Malaysia Rapid Transit System Sdn Bhd (MRTS) as the collaborative partner to Adil Permata Sdn Bhd (APSB) — the main contractor of the Rapid Transit System (RTS) Link project.
In a filing on Tuesday (July 5), the construction group said ECSB had on Tuesday (July 5) accepted the RM1.98 billion contract from APSB, which will see ECSB appointed as the engineering, procurement and construction (EPC) contractor for the RTS Link project.
"The participation of ECSB as the collaborative partner of APSB and the EPC contractor to undertake the construction of the RTS Link project will replenish the construction order book and is expected to contribute positively to the financial performance of Ekovest and its group of companies," it said.
RTS Link is a railway shuttle line of about 4km between Bukit Chagar, Johor Bahru, Malaysia and Woodlands in Singapore, with a capacity to ferry 10,000 passengers per hour per direction.
It is slated for completion by the end of 2026.
On May 30, in response to a report by The Edge Malaysia weekly, Ekovest said it was in ongoing discussions with relevant parties to explore a potential takeover of the RTS Link project.
Ekovest previously said all negotiations were still ongoing and appropriate announcements would be made upon finalisation of the agreed terms and conditions.
To recap, an article published on May 30 by The Edge entitled "Lim Kang Hoo could take over RTS Link to Singapore" said Tan Sri Lim Kang Hoo — who has a 30.8% stake in Ekovest — is understood to be looking to take over APSB.
Separately, Transport Minister Datuk Seri Dr Wee Ka Siong said on June 27 that the contract awarded to APSB for the RTS Link project remains, despite the changes in shareholdings.
APSB is wholly owned by Cipta Alam Sdn Bhd, which in turn is a 100% unit of Elit Intan Sdn Bhd.
Elit Intan is 40% controlled by Datin Paduka Alinah Ahmad, the former mayor of Petaling Jaya, while Amirudin Selaman, Nurul Fatin Muhammad Bukhari and Shamsudin Mohd Nor each has a 20% stake.
Shares in Ekovest closed unchanged at 40 sen, giving it a market capitalisation of RM1.08 billion.
Read also:
Lim Kang Hoo could take over RTS Link to Singapore
Wee: 'White knight' to take over the major contractor of JB-Singapore RTS Link