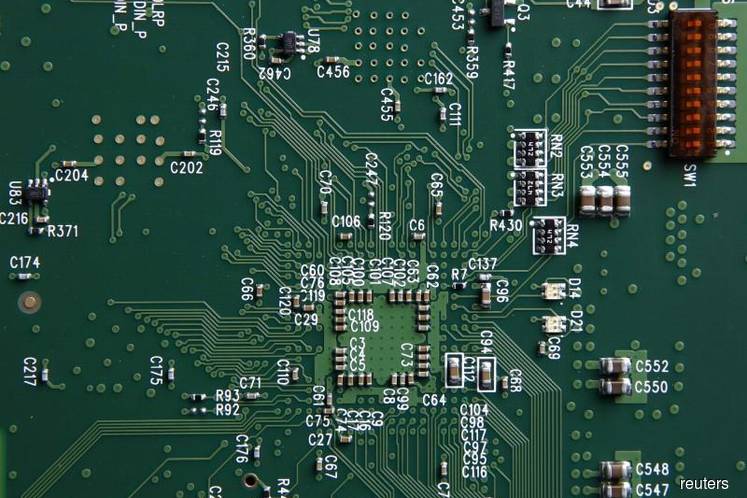 KUALA LUMPUR (Jan 10): The electrical and electronic manufacturers were caught in an unusual position today, as they fell among some of the top losers after Samsung Electronics Co reported profit that missed analysts' estimates. 
Reuters reported yesterday that Samsung Electronics Co Ltd said it would likely rake in a record fourth-quarter profit but the guidance fell short of consensus estimate, spooking investors already worried a memory chip boom could be ending sooner rather than later.
As at time of writing, Inari Amertron Bhd fell by 16 sen or 4.4% to RM3.49 with about 10.9 million shares traded. Similarly, Unisem (M) Bhd also dropped by 14 sen or 4.1% to RM3.25 as 1.8 million shares exchanged hands, while Globetronics Technology Bhd slipped lower by 10 sen or 1.4% to RM6.87, with 247,200 shares traded.  
According to Danny Wong, Areca Capital Sdn Bhd's CEO, the disappointment in earnings reported by Samsung was the trigger that led to some of the selldown seen today.
"I think that (news on Samsung's earnings) was the trigger for the selldown after a strong rally seen in the share price for most of these companies in the last few weeks. Naturally, as most of the semiconductor players are trading at a rich valuation, negative news such as this would trigger profit-taking activities," Wong said.
He however shared with theedgemarkets.com that he remained positive on the sector, moving forward, citing demand for semiconductor materials will remain relevant. 
Another analyst who wanted to remain anonymous also pointed out the latest news on security flaws in most processors also added a negative impact on the semiconductor players.
"If you look at the newsflow that has been coming out in recent weeks, you can tell that it's one negative news after another," the analyst said. 
Meanwhile, in a review of the semiconductor equipment and materials sector, U.S.-based Semiconductor Equipment and Materials International (SEMI) president and CEO Ajit Manocha said 2017 was a terrific year for SEMI members and forecast a stong 2018 as well.
In a SEMI Global update on its website on Jan 3, Manocha said chip revenues rose 22% year-on-year (y-o-y) and closed at nearly US$440 billion in 2017.
Manocha also said memory demand is nearly insatiable with the explosion in data usage, holding memory device ASPs high and prompting continued heavy investments in new capacity.
"2018 is forecast to be another terrific year. Integrated circuit (IC) revenues are expected to increase another 8% and semiconductor equipment will grow 11%," he added.