This article first appeared in The Edge Malaysia Weekly, on February 10, 2020 - February 16, 2020.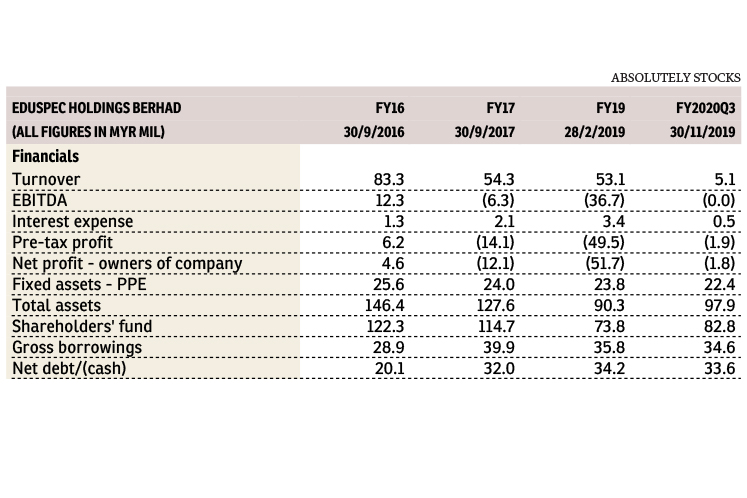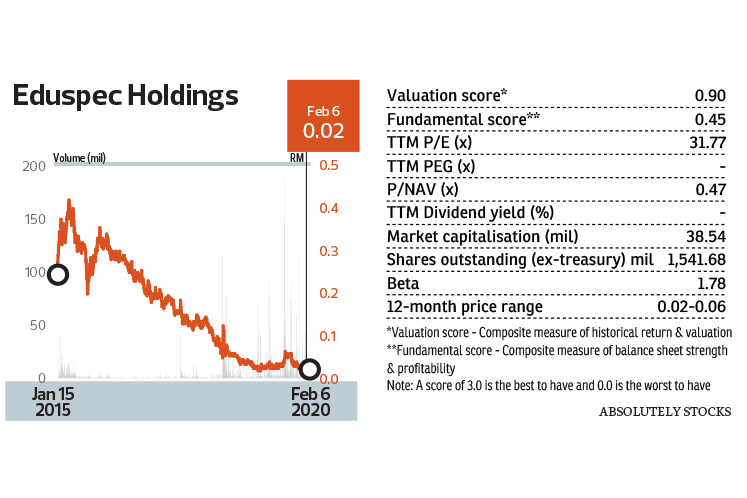 For Image Width <= 380px
AT Level 3 of The Starling Mall in Damansara Uptown, Petaling Jaya, within a 15,000 sq ft space, is Eduspec Holdings Bhd's latest venture in science, technology, engineering and mathematics (STEM) education and what it hopes will be its big break.
The area houses Eduspec's flagship 5T3M Pod & Academy — the Pod is an indoor STEM theme park for children between three and six years old while the Academy is a learning centre for those from 7 to 15.
This is just the first phase of its grand plan to create an edutainment ecosystem, which will eventually include an outdoor edutainment theme park, licensing and retail stores.
"This flagship 5T3M Pod & Academy will officially be launched on March 14 and 15 in conjunction with the school holidays. We have very high expectations about its success because we think it is a unique model," Eduspec CEO Lim Een Hong tells The Edge in a recent interview at the centre.
He believes Eduspec's STEM edutainment ecosystem is the first of its kind in the region and perhaps the world.
STEM education uses technology to teach and help students develop key skills that will enable them to succeed and adapt to changing workforce needs.
The launch of the STEM edutainment centre sets the company on a course to focus on bringing the business directly to consumers from now on — a clear shift from the ACE Market-listed company's earlier business model of providing STEM education services through schools.
The shift to market its offerings directly to consumers, Lim explains, is largely a result of the change in public school policy in Malaysia in 2018. Vernacular Chinese schools, which had been conducting computer classes during school hours, were directed to stop doing so in 2018 by the Ministry of Education (MoE) as it was said to contravene laws under the Education Act 1996 (Act 550).
"It affected a big chunk of our income and it was also why we had to resort to some cost-cutting measures. It meant we had to look for other ways to bring STEM education to Malaysia," Lim says.
"We had been very focused on STEM, doing research and development and applications in schools in various ways. So, we thought about how we could bring this to consumers directly and that was how this concept came about."
That said, Eduspec does not plan to give up on the government school segment just yet.
In fact, it announced in December last year that it had entered into a collaborative agreement with Matlamat Wawasan Sdn Bhd (MWSB) for the implementation of STEM with computer science for primary schools and STEM with robotics for secondary schools under the MoE.
"We're trying to make STEM education applicable to every student and the recent signing with MWSB is a good start. Our role is to be the exclusive partner providing R&D for the STEM curriculum. This is where we will use our experience over the years in supporting the Malaysian education system," Lim says.
It is a lucrative contract, he says, and estimates that Educspec will get revenue of 25% to 30% of the total contract value. However, this will depend on the number of schools that adopt the programme and the speed of implementation.
The operational cost for Eduspec in this partnership is low, says Lim, as its function is to provide the curriculum while MWSB will be involved in training the teachers and schools.
As to the progress of the partnership, he says that the curriculum has been approved by the MoE and the next step is implementation.
Back to Eduspec's edutainment ecosystem, it is moving quickly on to the next step of its game plan, which is to launch an indoor STEM theme park — 5T3M Lab — at the Curve in Petaling Jaya in June, catering for primary to lower secondary schoolchildren.
Next, Eduspec is planning an outdoor theme park in Port Dickson and to open several retail stores selling STEM merchandise.
Lim is not worried about competition from other theme parks. Malaysia is known to have a number of theme parks, quite a few of which do not see sufficient visitor footfall.
"We think we are unique as we are not really looking at the parks for the main income. Instead, we will be using the parks as a platform to build interaction with the children and parents. In other words, we are more interested in building a database from the visits," he says.
Lim believes Eduspec will be able to use the data to create ongoing interaction between the company and the parents that will lead to more opportunities, such as enrolling their children in STEM programmes or purchasing STEM merchandise through Eduspec.
"The strategy is not for parents to keep coming back. I want numbers. When I have big data, I can start to work with it and monetise it on the interaction with parents.
"I'm building the experience for them through the theme parks. Once you have that, you would likely want to do more of it. It is the spin-off from the park business that I want. The park business is to create excitement and to allow you to see to what extent you can be a part of it," Lim says.
This is where licensing and partnerships come into the whole ecosystem. Eduspec plans to keep operational costs low and is aware that it will have to work with partners to expand.
Lim says Eduspec's flagship indoor edutainment centres will focus on excursions from kindergartens and tuition centres.
"We are selling them the teaching aids that will help them have a proper curriculum besides the products," he adds.
The company is projecting 500,000 annual visitors in four to five years after the outdoor theme park becomes operational.
Eduspec has been in the red for the last two financial years — the financial year ended Sept 30, 2017, and the 17 months ended Feb 28, 2019. The company changed its financial year-end from Sept 30 to Feb 28.
This year, for the cumulative nine months ended Nov 30, 2019, it made a small net profit of RM359,000.
Lim only expects to see the company turn profitable in FY2021.
"We are doing internal restructuring, cutting off non-profitable units. Our new approach is to be the one managing the intellectual property and being more nimble, rather than doing full operations as the operational cost is high."
Eduspec has been funding its edutainment ecosystem through its latest fundraising activity via the issuance of 600 million 2% redeemable convertible preference shares in the group at an issue price of 10 sen each (which works out to RM60 million) to Cayman Island-registered Advanced Opportunities Fund. This marks the fifth round of fundraising it has carried out since March 2015.
Over a five-year period, its share price has shed 92%, from 32 sen to 2 sen last Thursday, giving the company a market capitalisation of RM30.8 million.