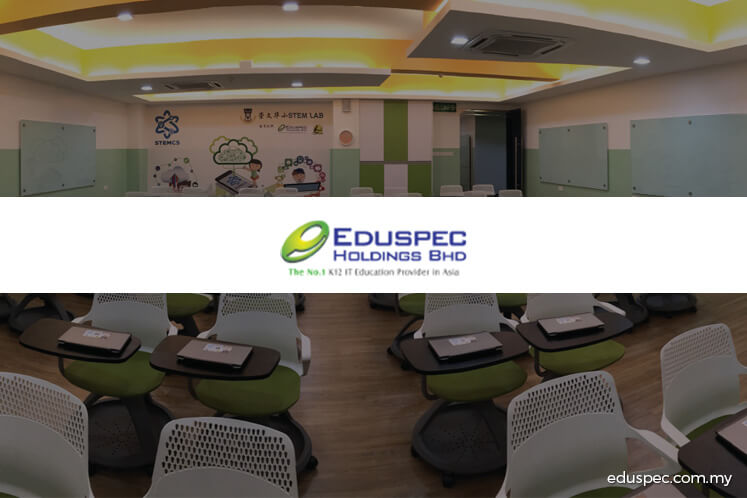 KUALA LUMPUR (June 3): Shares in Eduspec Holdings Bhd rose as much as 16.67% in active trade at mid-morning today after the group had proposed to diversify into development and operation of an edutainment theme park business. 
At 11.10am, Eduspec saw its trading volume soaring to 15.85 million shares, higher than its 200-day average volume of 4.9 million shares.  Eduspec came in eighth on Bursa Malaysia's top active list at the time of writing.
The counter was up 16.67% or 0.5sen at 3.5 sen, raising its market capitalisation to RM33.05 million.
Eduspec Holdings specialises in providing e-learning products to primary and secondary schools.
In a filing with Bursa Malaysia last Friday, the company said the move was to widen the group's target markets to the public at large and not confined to schools or other educational institutions only.
It added the venture into the edutainment theme park business would serve to diversify the group's revenue and earnings stream and is expected to provide a new earnings driver to reduce the reliance on its existing customer base. 
The company also told Bursa Malaysia that its unit Time IT E (Sabah) Sdn Bhd had entered into a lease agreement with Tanco Holdings Bhd's unit, Palm Springs Development in relation to the leasing a land located in the Port Dickson, Perak for the proposed diversification.
In addition, Eduspec and Advance Opportunities Fund have entered into a subscription agreement in relation to the proposed issuance of cumulative redeemable convertible preference shares (RCPS) to raise up to RM60 million.
The total proceeds of RM60 million, of which, RM38.10 million has been earmarked for the expenditures for STEM Edupark, RM6.1 million for the expenditures for flagship STEM EduLab and STEM learning centre, RM6 million for the repayment of bank borrowings, RM4 million utilised for working capital and RM5.8 million for the expenses incurred for the proposed exercises.