This article first appeared in Digital Edge, The Edge Malaysia Weekly, on November 1, 2021 - November 07, 2021.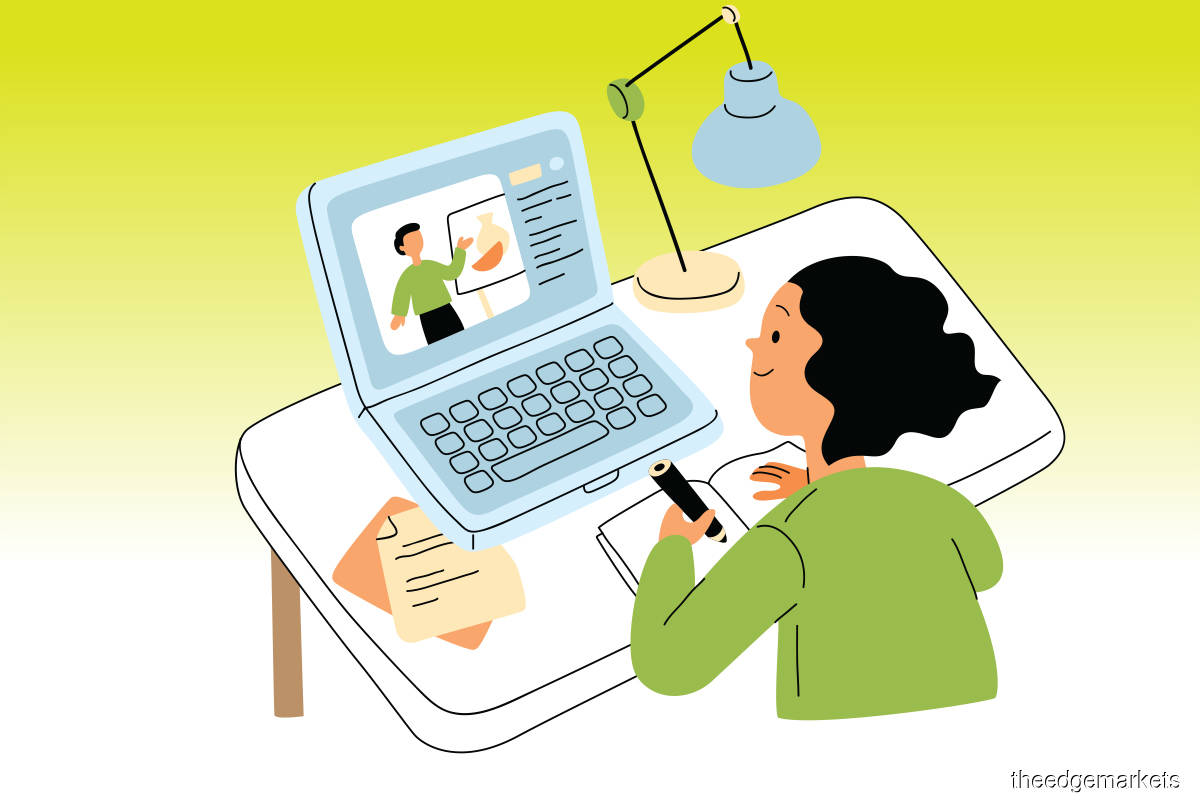 When online learning began for Malaysian schoolchildren last year, the gaps and vulnerabilities of the country's digital ecosystem came to the surface. Schoolteachers struggled to adapt to online teaching methods, having been schooled, themselves, to only operate in physical classrooms.
Coming from different backgrounds and being part of the International Council of Malaysian Scholars and Associates, Eer Kai Song and Kaveen Parthiban decided to investigate further — they discovered a worrying inequality in getting access to digital devices and broadband among the students — and subsequently set up Rakan Tutor.
Kaveen says around 40% of students had no personal device and some 35% did not have fixed broadband. Meanwhile, schoolteachers said that the students' engagement level was only at 30% in a virtual setting.
He adds that students from middle- and low-income families had to share devices to attend online classes and tuition classes were too expensive for them. An even harsher reality was that some students from low-income families had to drop out of online classes to work and support their families as their parents had lost their source of income.
"The kind of disparity that we found in Malaysia was troubling. I guess students from a more affluent background would be able to pay RM200 for private tutoring whereas on the opposite end of the spectrum, students aren't able to afford this kind of support and fall behind in classes," Kaveen points out.
Further research into the global landscape showed that learning loss continues even after schools reopen. According to a report by the World Bank, globally, there is a loss of 0.9 years of schooling adjusted for quality after seven months of school closures due to Covid-19.
Let's take a look at other phenomenon that caused learning gaps: Pakistan's 2005 earthquake caused 1½ years of learning loss. Although students missed only three months of school, four years after the earthquake, they were about 1½ years behind where they were supposed to be. With the Covid-19 pandemic, it's estimated that the learning losses would be a whopping US$10 trillion after a five-month school shutdown.
While there are as yet no studies on the learning gap in Malaysia from the pandemic-related school shutdowns, Eer says based on the World Bank's global study, a student's learning loss can go up to 100%. This means that last year's Form Five students would have had difficulty preparing for their Sijil Pelajaran Malaysia (SPM) examination carried out early this year as they had missed out on a year of education.
In January this year, Kaveen and Eer conducted studies and spoke to schoolteachers on the learning gap. On top of the lack of digital devices and broadband, Eer says a lot of students and teachers were not digitally literate enough to navigate online learning.
"Teachers didn't know how to use Zoom effectively and be interactive with quizzes and whatnot.  It's not their fault and the government didn't have the resources to upskill teachers immediately, so they had to struggle and learn these things as they went along.
"Another issue was that some students were unfamiliar with Gmail or using Google Forms, as some teachers used these to administer tests. The inability to access online learning tools actually created a barrier to properly engaging online," she points out.
For students with no internet access, Eer says some teachers conducted classes using voice messages via WhatsApp or Telegram. They would send over worksheets and students were expected to finish these without guidance.
"Combining all these methods across different platforms for different subjects can be confusing too for the students. It was chaotic, at least for the first six months of online learning, just in terms of learning how to navigate the online landscape, which in turn impacted engagement and caused learning loss," says Eer.
In April, Kaveen and Eer started Rakan Tutor, a for-youth, by-youth non-profit to provide free tutoring for those in the B40 (low income) group, to help reduce their learning gap. The pair shared the idea with friends who were interested in the cause.
Now, the movement consists of 35 core individuals and 250 tutors.
"By offering free one-to-one tutoring, we aim to empower underserved students with the skills and confidence to perform better academically and gain the motivation to achieve their fullest potential," Kaveen shares.
"All of us, the team and the tutors, have a strong passion to build a better future for our nation and we believe the foundation for that would be a good education. This is our first cohort and we received 750 applications from volunteers, but, after vetting, we have 250 volunteer tutors."
In its first cohort, the organisation is focusing on teaching Mathematics to Form Five students. Eer says they did this because Mathematics is a universally structured subject, unlike English and Bahasa Malaysia, and Form Five students were the ones needing help the most as the SPM is around the corner.
"Our tutors are required to have scored a minimum of A- in Mathematics for SPM, make a commitment to spare two hours per week for at least three months and be in the right mind to tutor. Prior tutoring experience is a bonus," she says.
"But before we onboard them, we run criminal background checks to ensure that they have no past records. Once that is cleared, they have to attend a mandatory three-hour onboarding workshop that covers empathy skills, to help them connect with the students and understand them better, as well as some pedagogical skills."
Eer says they provide tutors with resources through a repository of Mathematic materials that have been compiled online and offline. They also equip tutors with a range of online tools to make their tutoring sessions more engaging.
The challenge, however, was to get the right students into the programme. Kaveen shares that they work with teachers to identify students who cannot afford tutoring but need the help. They also had to explain the programme to teachers to get them on board.
"Some teachers don't just recommend the students but they also help with analysis of the programme, provide feedback and help mediate the process," he says.
Next, is the process of getting consent from parents. Kaveen says this part of the programme took a bit of time as they had to cold call teachers and parents in order to get students on board.
Another important factor was to make sure the parents, teachers and students understood that the goal was to help students achieve the success as they (the students) have defined it. This means breaking away from the Asian stereotype of aspiring to be a doctor, lawyer and engineer.
"If the student wants to become an electrician, they can go to a polytechnic. If they want to be a chef, then culinary school is for them. We're not here to judge, we're here to nurture and guide them on their journey," says Kaveen.
Eer says they are planning to launch a new cohort in April next year that may include Science as a subject, on top of Mathematics. She says they spent a significant amount of time developing the first cohort with the necessary materials and finding the right tutors, so they would want to replicate this for the next cohort.
"We are also looking to take this out of being a pandemic project and make it a sustainable and impactful long-term programme for students in the years to come," she says.
"We are also building an automation tool to keep track of a student's attendance. We're not exactly building it from scratch; we are utilising Google tools. Eventually, we would like to share this data with teachers so they will know the progress of their students as well."