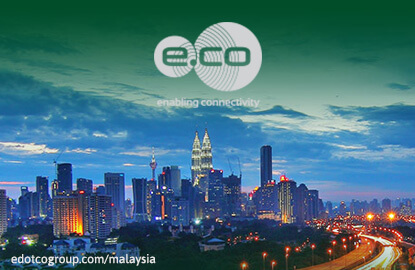 This article first appeared in
The Edge Malaysia Weekly
, on January 2 - 8, 2017.
AXIATA Group Bhd's private placement and partial divestment of shares in its tower leasing subsidiary, edotco Group Sdn Bhd, could expand beyond the US$600 million (RM2.7 billion) exercise announced last month.
To recap, edotco, a telecommunications infrastructure services company, plans to issue US$400 million in new shares to the Innovation Network Corporation of Japan (INCJ), while Axiata will divest a US$200 million stake to its controlling shareholder, Khazanah Nasional Bhd.
Noticeably absent from the placement were Axiata's other substantial shareholders — the Employees Provident Fund (EPF), Permodalan Nasional Bhd (PNB), and Kumpulan Wang Persaraan (KWAP).
However, that is likely to change in the coming month.
According to edotco's chief financial officer, Thivanka Rangala, Axiata's other substantial shareholders and other international funds could potentially take an allocation in the placement.
"We will know if they will subscribe for shares in edotco, either in a primary placement or secondary placement, by January," explains Thivanka.
A primary placement, what INCJ is undertaking, involves the issuance of new edotco shares that will bring fresh capital into the company to pursue new acquisitions. A secondary placement, what Khazanah is undertaking, allows Axiata to monetise some of its stake in edotco.
"Everyone will be given the same valuation and the shares will be placed at the same time. It has been Axiata's intention to give priority to existing shareholders from the start," he explains.
While he cannot disclose the potential size of the enlarged placement exercise, Thivanka reiterates Axiata's commitment to maintain a controlling stake in edotco.
But it is unusual for such a placement exercise to be signed if the valuation is the same and settlement happens on the same day. Why sign with Khazanah and INCJ first? This has drawn some criticism of the share placement exercise.
After all, Axiata could sign with all placees at the same time, although at a later date. This raises the question: is Axiata in a hurry to ­monetise edotco?
It is no secret that Axiata is under pressure to deleverage its balance sheet and the additional funds would certainly help. Earlier this year, the group's adjusted debt to ebitda (earnings before interest, taxes, depreciation and amortisation) shot up to 2.7 times after it acquired an 80% stake in Nepal's Ncell Pte Ltd for US$1.365 billion.
Axiata has since reduced the debt to ebitda to around 2.5 times, but aims to bring it down further in line with the expectations of ratings agencies. Moody's, for example, has a Baa2 rating on Axiata.
"It could be for practical purposes. By signing some of the placements first, Axiata has something to show ratings agencies before the end of the year — that it is addressing the gearing concerns," notes one banker.
Unfortunately, the lack of details about the placement, coupled with the apparent lack of participation from other substantial shareholders like the EPF and PNB, drew scrutiny to the exercise.
Khazanah has a 37.58% stake in Axiata, while the EPF holds 15.44%, PNB (11.94%) and KWAP (2.67%).
The participation of other major shareholders should dispel these concerns. Furthermore, the valuations should be disclosed in a month.
"Axiata is unable to disclose the valuations for the exercise at this juncture because there are still many moving parts. The valuations should be finalised and announced by end-January," explains Thivanka, stressing that all corporate governance requirements had been adhered to.
One of the so-called "moving parts" in the exercise is the injection and consolidation of edotco's Bangladeshi and Cambodian assets into the company, which is still underway. Due to the number of jurisdictions, counterparties, and regulators involved, there is a possibility that the assets may not be included in edotco's balance sheet by the time the placement is concluded.
In turn, this would affect the final valuation.
To recap, edotco owns and operates tower leasing in six countries — Malaysia, Cambodia, Myanmar, Bangladesh, Sri Lanka and Pakistan. Thivanka points out that edotco is increasing its stake in Bangladesh from 49% to over 50% to consolidate the assets. It is also moving to buy an 80% stake in its Cambodian assets that it currently manages.
In particular, the Bangladesh footprint is sizeable — making up 8,000 of the company's 25,000 towers (17,000 owned and 8,000 managed).
"It is a timing issue. If the subsidiaries are consolidated before the placement, we will have one valuation. If it's after, then we will have to use another [valuation]. Of course, the binding term sheet we signed with INCJ and Khazanah is adjusted for this so that the ultimate outcome is the same. Hence, we can't disclose the valuations right now," he says.
It is a little premature to speculate on Axiata's post-placement stake in edotco, given that more placees may join the share placement exercise and inject more money.
But based on a hypothetical ballpark estimate of edotco's full valuation (including the Bangladeshi and Cambodian assets) of around US$1.8 billion, the current placement exercise will see Axiata retain about 73% in edotco.
In the extreme-case scenario where Axiata pares down its holdings to only 51%, based on the above valuation, the exercise may raise (in addition to the announced US$600 million placement) up to US$500 million via secondary placement or up to US$1 billion via primary placement.
Keep in mind, however, that Axiata ultimately plans to list edotco. Axiata will be able to monetise edotco at substantially better valuations at an initial public offer (IPO) exercise further down the road.
"We don't have a gun to our head to list edotco. The placement does not come with any conditions that compel us to list edotco within a certain time frame. We decide when to list and we will do so when market conditions are optimal," says Thivanka.
In the meantime, the placement sets the stage for the listing.
"This placement achieves a few objectives. First, it allows Axiata to deleverage. It also brings fresh capital into edotco so that it can continue to grow.  And it also allows existing shareholders like Khazanah and EPF to invest directly in edotco at attractive pre-IPO valuations," ­explains Thivanka.