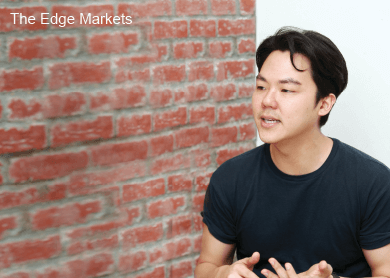 WHY Joel Neoh is rushing to claim Asian cities for his newest startup KFit
IN THE mid to late-2000s, Joel Neoh was the poster boy for Malaysia's young entrepreneurs. This was a time when there were few tech startups around.
But Neoh disappeared off the radar screen upon assuming a regional role at Groupon — after the US-headquartered bulk-buying giant scooped up his startup Groupsmore in Malaysia. He was (mostly) away for four years, managing 12 countries and a workforce of over 2,000. But he is back in the thick of things now, having recently resigned from Groupon.
Neoh and his team recently unveiled KFit, currently one of the most-talked-about startups. A fitness-sharing platform, KFit functions like an access pass to a large network of sports facilities, outdoor group exercises, fitness classes and gyms across different cities. It was launched first in Malaysia about four weeks ago and then quickly in Singapore.
By the end of this month, KFit would have landed in such major Australian cities as Melbourne and Sydney, Auckland in New Zealand as well as East Asian hubs like Hong Kong and Taipei. "Hopefully, by the end of the year, we'll be in every major Asian city," Neoh says.
What is different about KFit is that Neoh is building a regional business from the get-go. Most startups or companies begin in one country first, get the model right and then extend its reach to another country. But Neoh says that path is too slow for him. "When I look at the landscape of e-commerce, mobile, fitness, subscription, the time is now."
Sprinting from one city to the next
Why is Neoh in such a hurry? Because he knows it would be expensive to be late. "It costs 5, 10, 20 times more if you are late to the market in terms of customer acquisition cost. Being first in mind is really important in any industry, not just tech," he says.
Also, Neoh believes in executing fast and being first in the market, at least in Asia-Pacific. In some markets, KFit is already late to the game. Its model is similar to the US-based ClassPass but that giant has yet to come to town. In Asia-Pacific, there are already a handful of competitors, such as Hong Kong's ClassCruiser and Australia's FitUsin.
"I have to convince myself that this model will work in the majority of these countries because it's scaling up really fast and we have to make all these cities work at the same time.
"Through execution, we can tell whether we are failing or succeeding and every day we will keep fixing it until it's good or bad. Then, from there, we have to make a choice," Neoh remarks.
At present, KFit has small teams, anywhere between two and five people, in about 10 cities to forge partnerships with class and facility providers. Around 25 of its 60-strong workforce are based at its operational headquarters in Petaling Jaya.
"We are going to build a hub and spoke, so everything is supported from here. It's very similar to what we did at Groupon. We saved almost US$10 million last year by moving a lot of the operations to Kuala Lumpur," Neoh says of his past experience.
He sees KFit as a city-centric business as opposed to country-based, pointing out that big companies like Airbnb and Uber are the same. And the good news is that cities are becoming more homogeneous. "You find similar infrastructure in every city that has a population of a few million and above. For us, we look at a city with a high density of fitness centres and good technology adoption," says Neoh.
Numbers game
Beyond implementation, it is not just about getting the KFit team together to roll out across multiple cities at lightning speed. Neoh has to convince the investors as well. "The challenge is to persuade investors that we are going to invest in 20 to 30 cities in the next three to six months," he says.
Most investors are used to the conventional route — getting pre-seed funding to get an idea off the ground before getting seed funding to build a prototype and commercialise. Next comes the Series A and B funding to grow.
"To some extent, we are jumping all these steps. We are asking for Series A or Series B valuation at a pre-seed stage. We can't be putting it forward because that's the money we need to scale up," Neoh says.
KFit's regional spree is an ambitious task but Neoh seems to have the enviable resources and expertise for a large-scale rollout. He has managed to fund-raise "a single digit million" in US dollars from his circle of friends and associates and has the regional experience from his Groupon days.
Neoh chose to play in the fitness industry because it is a big one. Its global revenue in 2013 is estimated at US$75 billion, according to the International Health, Racquet & Sportsclub Association Global Report, and it has the lowest utilisation rate in local commerce.
In Asia, the fitness business is amongst the fastest growing, valued at US$40 billion.
KFit's target market is the majority of people in Asia-Pacific who do not yet have any fitness centre membership. According to Neoh, data shows that the fitness membership penetration in Asia is only 3.8% and in Malaysia, it is 1%.
He and his team are targeting the other 99% of the population who are not so active but would still like to work out a couple of times a month.
Neoh hopes KFit will become almost like a first fitness membership for these people if they do not have one yet because it is more affordable and they get access to fun activities that they can do with friends. "We're not trying to fight for the 1% [who already have memberships] but to grow the pie. Sometimes, growing the pie means that some people may have a few memberships. That's why the KFit price point is what it is — 50% cheaper than other gym memberships," he explains.
In Malaysia, KFit's monthly subscription price is RM99 while gym memberships at multi-outlet chains tend to range from RM129 to over RM200, depending on the package.
Crucially, no other vertical has customers who are used to and are willing to pay monthly subscription fees. You certainly wouldn't pay RM100 upfront to go to a fixed set of restaurants, Neoh quips.
"The subscription model is the most attractive e-commerce model because it means you create a great product and customers pay you RM99 every month, which means the worth of a customer is RM1,200 a year. This doesn't mean the company is going to make a whole ton of money but it will have enough for us to build a great product because with the transactional model for e-commerce, a lot of times we are chasing the next transaction," he points out.
The final question for Neoh then is, what is his end game with KFit?
In the past, he has made two successful exits from two startups that he co-founded with Ng Khai Lee. Seeing the Groupon craze in the US, Neoh and his team quickly rolled out an equivalent in Malaysia, called Groupsmore, which was later acquired by Groupon when the latter wanted a presence in Malaysia. Next, they merged SAYS.com with REV Asia Bhd.
What kind of exit would KFit be, one wonders.
"It's hard to tell because it is still early," Neoh says with a smile, although he hints at KFit having "options already" even though it is barely in its second month of operation.
"But I think this model has the potential to go long. Asia is a complex region. I realise that it's not actually easy for big tech companies to win in Asia," he adds. "If we can build this across Asia, it would be super valuable. Maybe, it's worth going long, as in 5 or 10 years."
This article first appeared in #edGY, The Edge Malaysia Weekly, on May 25 - 31, 2015.