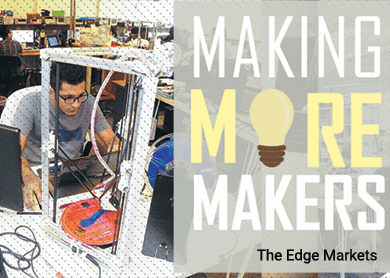 Penang Science Cluster (PSC), a small non-profit group, has been on a continuing mission to "make more makers" by getting the young excited about technology.
"Makers" simply refer to people who make things. And PSC is working hard to nurture a group of young innovators or makers who can make something out of technology.
A technology-based maker culture typically revolves around software and engineering activity such as robotics, 3D printing and electronics.
This is an extension of the more traditional maker culture with the do-it-yourself spirit, something that is not commonplace in Asia.
PSC director Datuk Yoon Chon Leong observes a cultural difference, one that will likely put Malaysians at a disadvantage.
"In places like the US and Australia, the children are a lot more innovative. They have a garage culture where they have tools ... they build and fix things," he says.
"In Asia, especially in Malaysia, our garages are not like that. We keep cars, not tools.
"Our children learn things in theory but don't learn how to draw, use tools to make things, work with drills."
Founded in 2009, PSC's broad mission is to spark interest in science and technology, innovation and entrepreneurship.
The organisation was initiated by the Penang government and the state's vibrant electronic and electrical manufacturing industry. Its sponsors and partners include the state government, Agilent, National Instruments, Motorola, DreamCatcher, Intel, HP and individuals.
Makers' space
A lot of the magic happens at PSC's Penang Science Café at Krystal Point Corporate Suites in Bayan Lepas.
It is a small office, and in the middle of a dark corridor, there's a workshop of sorts.
At the front door, there's a note inviting visitors in as it is not locked.
Inside, the space looks like a cross between a college computer lab and an arts and craft studio.
At the pantry, there's a robot with a small screen that serves as a campus tour guide. It was built for INTI International College Penang.
Multi-coloured dream catchers hang from the ceiling over workstations while tools, piles and piles of LEGO sets and other tech things lie everywhere.
The atmosphere brims with quiet enthusiasm and excitement.
On a recent Friday when #edGY visited, there were several groups of young people working on laptops and engaged in deep discussion. 
One college student was busy with a 3D printer while another was at a messy workspace building a drone.
Yoon, one of the key people behind PSC, shows us around. He runs a small consulting business, Bizwise Consulting, out of the same space but has generously given a major portion of the office to Penang Science Café.
Over the past six years, tens of thousands of people have come through Penang Science Café's doors.
"We kept count until about 7,000 after six months. Then, we decided, don't want to count already lah!" says Yoon.
"Every day, people walk in. We have classes here. Some people come and teach, some hang out, talk about ideas."
After decades of working for multinationals in Penang, Yoon has made his money. Now, he is focusing his attention on mentoring Penang's youth and providing them with the tools they need to be innovators and entrepreneurs.
A rotund, grandfatherly figure, Yoon is soft-spoken but does not mince his words.
"Children are born scientists. But somehow, the education system gets in the way," he says.
He believes that nurturing the makers' culture means starting them young.
"By the time you get to Form Five, if you're not a maker, the chances of you getting started are slim," he says.
"We want to make makers of youngsters as early as possible. Our education system never encourages or inspires that sort of thing."
Never too young for tech
PSC CEO Ooi Peng Ee says most of its programmes are targeted at children, from primary school level onwards. Under the TechMentor programme, PSC trains mentors to conduct free workshops in schools.
Children start off at a simple level with LEGO Education WeDo Construction before moving on to robotics, advanced robotics and embedded systems (see Penang Science Cluster at a glance).
Apart from that, Penang Science Café often hosts workshops for schools. Sometimes, PSC also goes to schools to hold workshops and exhibitions.
"Expose the children and get them excited. When they see all these new technologies, they get excited," says Yoon.
"You see the point here? You want to create the entrepreneurial spirit, you got to start at the school level."
PSC's model resembles a technology incubator, but where it differs is that it is not the kind that is purely focused on entrepreneurs and start-ups. Here, nobody really talks about commercialisation, venture capital funding, exiting, valuations and the likes.
"We are also developing talent for industries. Companies need people who can think like entrepreneurs," says Ooi.
Yoon prefers to describe PSC as a "sandbox" that invests in ideas. "Ideas" is a word that keeps coming up throughout the conversation.
According to Yoon, PSC provides people with a place and the tools to explore their ideas. "The value is in the ideas."
And when an idea grows big enough and can be turned into a business, PSC will help grow it into a start-up.
"We don't really care if it makes money or not. If it is a good idea, great. The idea may be a big flop, but the technology and experience in building that idea can be repurposed for other things," says Yoon.
He believes that even if an idea fails, it is the experience that counts.
"If you just do only one thing, you will lose the 'play' part of it. This may not work, but what I did or what I used can be used again. At some point, it will be a big win," he adds.
Expanding the reach
This year, PSC will ramp up efforts to expand its reach by setting up facilities in various parts of Penang, including Butterworth, Kampung Mengkuang and Penang Hill.
It also plans to open another Penang Science Café at the 93-year-old Wisma Yeap Chor Ee in George Town.
This space will be much bigger than the Bayan Lepas facility and will be more accessible to the public, Ooi says.
PSC's aim is to "democratise" knowledge and technology. Yoon and Ooi want PSC to reach out to children in rural areas and those from all income groups.
"When we start operations at Wisma Yeap Chor Ee, when we have set up all the centres, when all the rural children join in the overall conversation, we would have built something significant," Yoon says.
This, he stresses, is what Silicon Valley is all about. In Malaysia, there are not many places for people to "play with ideas", he adds.
"They say we want to duplicate Silicon Valley. But it's not just one office. The whole of California is like that. They're always talking about ideas.
"That culture does not exist in Malaysia," Yoon says.
This is crucial, especially for a state like Penang that has little natural resources to rely on.
"In Penang, we have no timber, no pineapples, we have nothing. We only have brains!" says Yoon.
"Penang's main resource is its people. So, we have to develop the human resource. The rest of the country should also go that way lah because we want to be a high-income nation."
Yoon notes that PSC is prepared to share its model with anyone. This is because the organisation's main aim is to help build an innovation ecosystem.
Ultimately, Yoon's dream is for Malaysia to have a large pool of innovators who can make a big difference in the world.
"Why do the Bill Gateses and Mark Zuckerbergs have to be American. Why can't we have one, too? It's not that we're dumb but we just haven't looked far enough," he says.
"There's one guy out there, but he's not got through the education system. It's not a lack of knowledge, but starved of knowledge." 
Penang science cluster at a glance
Main initiatives
1. TechMentor
2. Penang International Science Fair
3. Penang Science Café
4. Vocational Skills Employment Programme
1. TechMentor
PSC has more than 100 mentors to conduct training in schools, helping students work towards competitions.
Programme:
• Year One to Three — WeDo Construction
• Year Four onwards — LEGO Robotics
• Secondary school students — advanced robotics and embedded systems as well as developing coding programmes
Reach:
LEGO robotics — 51 schools in 2014 and 29 schools in 2013. This programme includes training for teachers and loan of two LEGO sets worth RM6,520.
Embedded systems — 19 schools in 2014, two schools in pilot project in 2013. Mentors are provided for six months, along with 13 Arduino kits worth RM3,120.
PSC is supporting Teach For Malaysia's northern chapter this year.
2. Penang International Science Fair
PSC and the state government organise this event to expose the young to science and engineering through a series of interactive and stimulating encounters.
The fair includes:
• Industry exhibits
• Hands-on workshops • Competitions
3. Penang Science Café
This is a social space for community interaction in science. PSC CEO Ooi Peng Ee points out that there aren't many such spaces for people who love science.
"If you love the arts, you can go to galleries, museums and theatres. If you love science and technology, where do you go?" he muses.
So, PSC plans to have a larger space at the historic Wisma Yeap Chor Ee in George Town. This Penang Science Café is slated to be opened by May and will serve as a place for people to "engage, educate, inspire and connect".
It will occupy the ground floor of the refurbished building and have a tech shop selling gadgets and science kits, an event space, a café, makers' space and workshop.
4. Vocational Skills Employment Programme
This is a work placement-cum-scholarship programme for secondary school-leavers from the lower-income groups to obtain vocational training and certification.
Participants work full-time and take part-time certificate or diploma courses.
The courses include electrical and electronic engineering, mechanical manufacturing engineering and mechatronics technology.
Course fees are paid by the hiring companies and PSC-sourced donations.
Read more here
This article first appeared in #edGY, The Edge Malaysia Weekly, on February 16 - 22, 2015.