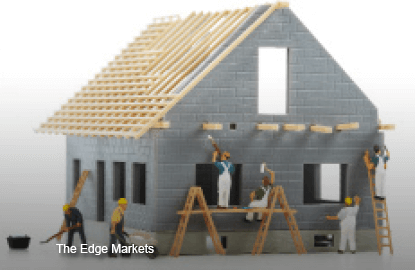 LYL Technology plans to provide Malaysia's massive pool of foreign workers with content streaming apps. It has started with content for Bangladeshis and will soon cater for Indonesians, Nepalese and Myanmar.
IN the last few decades, millions of migrant workers have come to Malaysia, taking up jobs in the construction, plantation and services sectors. So much so that there has been a boom in the remittance business, sale of goods imported from their respective countries and other services.
What about information and entertainment? Well, a new social enterprise startup thinks it has that covered.
LYL Technology Sdn Bhd has come up with an app that delivers audio content in foreign workers' mother tongues. Think Spotify for Bangladeshi migrants.
Founder Mehedi Hassan, having moved from Bangladesh to Malaysia after marrying a Malaysian, saw the potential in the streaming service for his fellow countrymen. Incidentally, the company is named after his wife, Looi Yin Lin.
Mehedi started with what he was familiar with and launched his first app, called Bangla Radio, in May. Bangla Radio currently lists over 60,000 audio items sourced from different content providers. There are music, news, jokes, drama, current affair talk shows and religious content — all in Bengali.
The second phase of Bangla Radio will include video, which will be a premium service.
Mehedi says many Bangladeshis working in Malaysia subscribe to news alerts to stay abreast of what is happening in their home country. But often, the content comes in short snippets and does not cater for those who cannot read.
"They told us that they don't really understand it (the content). From there, we knew that they wanted more and that's what we aim to provide," he says.
Foreign workers are a big part of the Malaysian workforce. Official numbers vary but Human Resource Minister Datuk Seri Richard Riot Jaem said Malaysia has 5.9 million foreign workers, both documented and undocumented.
Bangladeshi workers are among the largest groups of migrants. In 2012, they sent RM3 billion back to their home country.
For Mehedi, Bangla Radio is a good starting point but he knows that the migrant market is wide open. LYL Technology is in the process of creating other apps for migrant workers from Indonesia, Nepal and Myanmar. They have a large population in Malaysia and need content in their own language, says Mehedi.
How the app works
To subscribe to LYL Technology's streaming service, one needs to have an Android smartphone. It is uncertain how many foreign workers own a smartphone and have a data plan but Mehedi is betting that most of them do.
Once Bangla Radio is downloaded, the user can immediately access the free content. But for the premium content, which offers more variety, one has to pay a weekly subscription of RM1.
Mehedi knew that payment collection would be an issue as migrant workers typically do not have access to a credit card or PayPal. So, LYL Technology teamed up with DiGi Telecommunications Sdn Bhd so that users are able to pay for the subscription via deductions from their prepaid plan.
"Everything is in Bengali, so it's easy to understand. They just need to key in their phone number and password at the Telenor payment system," says Mehedi. The payment gateway is developed by Telenor Digital under the Telenor Group, DiGi's parent company.
However, only DiGi customers are able to sign up for the premium content. "We have an exclusive agreement with DiGi under which it will provide unlimited streaming data for subscribers.
"It's a very fair deal for them (migrants). They don't have to pay for any data when using the app," says Mehedi.
However, LYL Technology has decided not to institute an auto-subscribe function, giving users the flexibility to opt in or out week after week.
Apart from the payment gateway and data, another advantage that LYL Technology derives from teaming up with DiGi is access to its subscriber base.
DiGi's head of postpaid Praveen Rajan declines to disclose the number of foreign workers in its subscriber base but the telco is said to be the leader in the foreign market segment, owing to its affordable rates.
The telco has long had partnerships with local and international content providers. For example, the DiGi Music Freedom pass offers unlimited music streaming to DiGi subscribers without them having to use their data. This is done in partnership with content platforms and providers like Spotify, Deezer, KKBox, Rdio, Soundhound, Hitz.fm, Era.fm, MY.fm, Q.us and Be-at.tv.
"Firstly, we need to put in place the most consistent high-speed internet infrastructure for our customers, which is part of our commitment to bring 'Internet for All'," says Praveen. "Secondly, it's not good enough to merely provide the infrastructure if there is no content for our customers to enjoy."
Getting the word out
In the first month, the Bangla Radio app was downloaded more than 1,200 times. It's a modest start but the LYL Technology is ramping up efforts to promote its product.
The startup has pinpointed locations that are popular with migrant workers such as Kota Raya in the heart of Kuala Lumpur, Balakong, Klang, Shah Alam and Cameron Highlands. "I have identified 150 shops in the Klang Valley that are either owned or managed by Bangladeshis," says Mehedi.
Apart from on-ground activation, LYL Technology is planning to get the word out through word-of-mouth, which is probably the best way to secure more users.
LYL Technology's success hinges on its ability to secure more users. Mehedi is hoping to see 10,000 users this year and over the longer term, about 200,000 to 300,000, so that he will have the scale to introduce a new revenue stream — advertising.
For now, LYL Technology is relying on internal funding. Mehedi and Looi started the business last year with RM20,000 from their savings. They obtained a pre-seed funding of RM50,000 later.
For now, LYL Technology is just a small startup with a team of seven people, including four developers operating from Dhaka, Bangladesh, to keep costs low.
It has ironed out a 50:50 revenue-sharing agreement with DiGi. "Without the telco, we cannot run the service because of the payment gateway," Mehedi says.
But a big chunk of LYL Technology's earnings from the subscriptions goes towards paying the content providers.
Like Spotify and other music streaming services, content providers are paid based on how frequently their material is accessed by users.
The challenge for LYL Technology is in persuading the migrant workers that RM1 a week isn't too much for a bit of entertainment.
This article first appeared in #edGY, The Edge Malaysia Weekly, on June 29 - July 5, 2015.