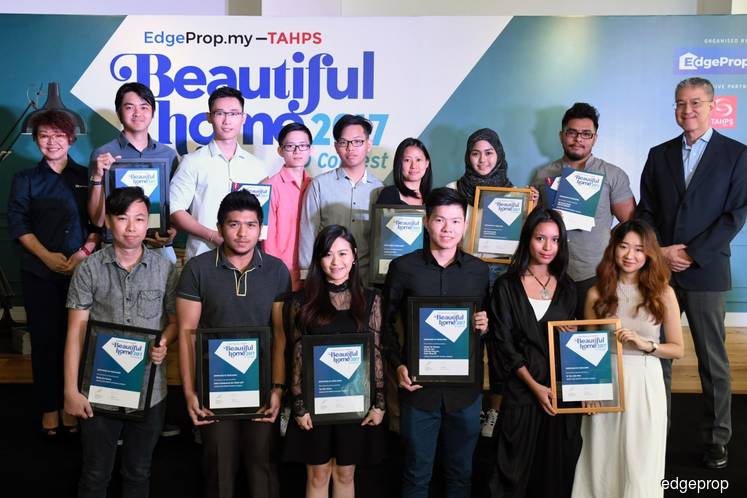 PUCHONG (Nov 18): The winners of EdgeProp.my-TAHPS Beautiful Home 2017 ID Contest were announced today at a prize-giving ceremony that took place at TAHPS Group Bhd's Bukit Puchong sales gallery.
The winners were selected based on scores by the judges as well as public votes received from Oct 23 to Nov 5 via www.zing.my.
The 25 entries in the individual and student categories garnered over 17,000 votes over the 10-day voting period. Voters also stood a chance to win a pair of movie tickets.
The contest judges are TAHPS CEO Eugene Khoo, EdgeProp.my managing director and editor-in-chief Au Foong Yee, Sarly Adre Sarkum Architecture Sdn Bhd managing director and chief architecturalist Sarly Adre Sarkum, and Spatial Factors Sdn Bhd interior designer Chris Yap Seng Chye.
"Today is the culmination of a partnership between EdgeProp.my and TAHPS to provide an opportunity for everyone — students, professionals and even non-professionals — to showcase the interior design of his or her dream home.
"And this dream home is, of course, none other than TAHPS' Epic Residence duplex unit. We have received a total of 25 entries — eight in the individual category and 17 in the student category.
"If there must be just one description of the entries, it has to be 'awesome'! The designs we have seen are, without doubt, inspiring, uplifting and liveable," said Au in her opening remarks at the prize-giving ceremony.
Participants were required to submit their designs based on TAHPS' Epic Residence duplex unit (Type C1) floor plan.
Epic Residence is a 21-storey serviced apartment built on a 2.3-acre site in the thriving township of Bukit Puchong, Selangor. The exclusive and low-density project offers 300 units in two blocks.
Meanwhile, Khoo said the objective of the contest was to appreciate the efforts of talented interior designers.
"Developers usually have showrooms to showcase their interior designs, but often many interior designers' efforts are unrecognised. So, we decided to collaborate with EdgeProp.my for this contest to recognise these talented efforts.
"We are very excited with the participation and quality of entries that we have received for this contest," he said in his welcoming address.
The grand prize winner of the individual category is Dr Tan Loke Mun of DrTan LM Architect while the grand prize in the student category was awarded to Sabrina Suhaimi and Adri Imran Ramli from University Teknologi MARA (UiTM).
Loke Mun's winning design is named Urban Designer-Lux. He was unable to attend the prize-giving ceremony, and his colleagues at DrTan LM Architect Kristy Tan Ching Yieng and Arinah Rizal collected the prize and certificate of excellence on his behalf.
When contacted by EdgeProp.my, Loke Mun said he was elated to have won the contest as he constantly seeks to transform his craft into art.
According to him, he took part in the contest because it involved finding design solutions for a better tomorrow, and he found the design brief was challenging.
"This augurs well with our current and on-going research to develop design solutions as more and more Klang Valley residents start to embrace higher density vertical living.
"We have always advocated that good design has a critical role to play to better enhance the quality of our living experience. The [winning] design concept was to create and maximise real and perceived space.
"Thus, the freeing up of floor space through the use of tensile hanging structures and screens. This gives the home greater functional flexibility and perception of larger spaces," he said.
Sabrina and Adri, who are final-year architecture students in UiTM, said they have yet to decide on how to utilise the RM10,000 cash prize but they are extremely delighted that their design, Avant-Garde Sky Oasis — Raw Modernist, took home the grand prize.
"We are studio mates in UiTM and we decided to blend in vintage aesthetics with modern rustic designs which are favoured by young homeowners. So, it's a different kind of rustic," said Adri.
The grand prize in the individual category is a paid trip to the Maison&Objet Fair 2018 in Paris worth up to RM15,000, while the three consolation prizes were RM1,000 cash each.
Meanwhile, the grand prize winner of the student category received a RM10,000 cash prize, while the three consolation prize winners took home RM800 each.
The contest was organised by EdgeProp.my and TAHPS Group.
Here is the full list of winners:
Professional (individual) category:
GRAND PRIZE:
Urban Designer-Lux (submitted by Alvin Tham on behalf of Dr Tan Loke Mun)
Consolation:
Tranquil and Contemporary (by Tan Shu Hsien)
Epic Residence (by Wong Kin Keong)
Living Large: Sky High Luxury Green Living (by Teh Boon Soon)
Student (group) category:
GRAND PRIZE:
Avant-Garde Sky Oasis — Raw Modernist (by Adri Imran Ramli & Sabrina Suhaimi)
Consolation:
Urban refuge: Neutral Hued Minimalist Home (by Pearly Lim Pei Li)
Epic Residence – Republic Of Modern Contemporary (by Cheah Jin Chyuan)
Industrial Elegant (by Mohd Zaimi Ashraf bin Mohd Latif)